Try this armpit detox with activated charcoal to help cleanse skin, purge toxins, neutralize BO and more!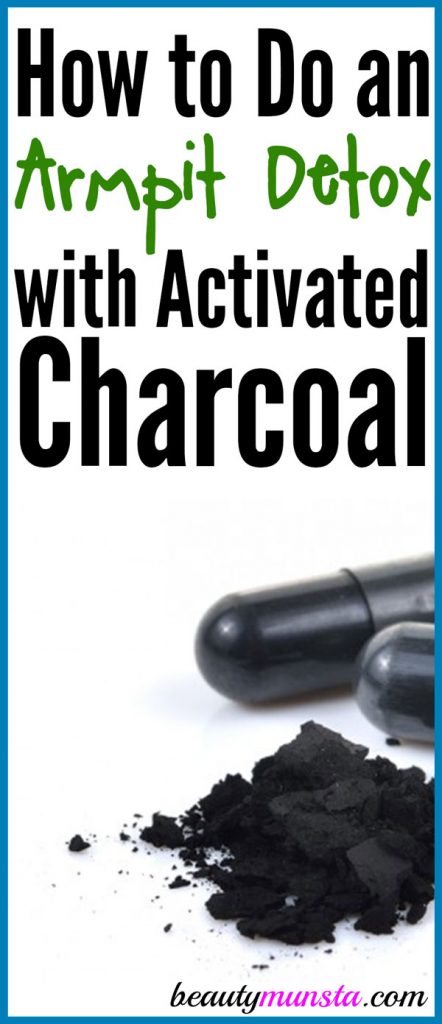 Nowadays, detoxifying your body whether internally or externally is a popular topic. The reason why a detox is necessary and very important is because now more than ever, people are accumulating hundreds of toxins on a daily basis. Through food, hygienic products, beauty products, pollution, drinking water and other sources, toxins pile up in the body leading to a host of problems!
As mentioned above you can detox your body from the inside through cleansing pH balancing and antioxidant rich foods, and externally by applying substances that help purge toxins on the outside! One of the places on your body to do a detox is the armpits. The people who particularly need an armpit detox are the following:
Those suffering from bad body odor
Those transitioning from commercial deodorant to homemade natural deodorant
Those suffering from frequent swollen lymph nodes in the armpits (you need to help your body relive congested lymph nodes by removing toxins)
Those who want to decrease the toxin load from commercial deodorants The armpit detox recipe below uses just three ingredients: activated charcoal, bentonite clay, water and grapefruit essential oil! The essential oil is totally optional but it has detoxifying properties which you can do with!
How to: Armpit Detox with Activated Charcoal
Make sure you're not allergic to any of the ingredients used mixture below by carrying out a patch test before use!
What you need:
1 tbsp bentonite clay (where to get it)
2 capsules activated charcoal (where to get it)
1 tbsp water
3 drops grapefruit essential oil (where to get it)
Non-metal bowl & spoon for mixing (use non-metal equipment because metal reacts with clay!)
Directions:
Into a small non-metal mixing bowl, add 1 tbsp of bentonite clay.
Next, twist two capsules of activated charcoal and pour the contents into the bowl.
Add enough water to create an easily spreadable but non-drippy paste.
Finally, if using, add 3 drops of grapefruit essential oil.
Mix everything properly with a non-metal spoon.
Apply the paste onto each clean under arm.
Let it sit for 20 minutes then rinse off with tepid water. Remember that grapefruit essential oil is a citrus oil, which is photosensitive so make sure to rinse off the paste very well with enough water.
Pat dry with a clean towel then apply a moisturizer since the detox can leave your underarms dry. You can use this Rose Water & Glycerin Spray as a moisturizer.
Use every day for a week. When on this armpit detox, you must not use any deodorant! Even homemade deodorants! Yes, that's right. You have to be patient while the detox purges toxins, impurities and germs that are clogging up your pits.

Have you ever tried an armpit detox with activated charcoal or other detoxifying ingredients? Share below!
You'll Also Love