Try this activated charcoal juice recipe for a natural detox at home!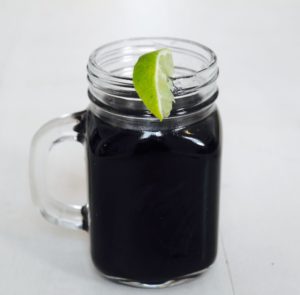 Detox is one of those popular words you hear nowadays. But is it necessary? Some people say our bodies are perfectly capable of detoxifying the body naturally, thank you very much.
However, I believe in this toxin-filled world laden with chemicals, pollution and GMO-food, a detox can be pretty helpful to  reduce the heavy toxin burden on your body!
There are a number of good ways to assist your body in its natural detox process. One of them is by drinking activated charcoal! It's a powerful toxin magnet. It absorbs a lot of toxins, wastes and heavy metals from your body!
This activated charcoal juice is easy to make yet it's very effective! You should take it for a full week on an empty stomach 2-3 hours before breakfast. Yup, it's a kinda tight rule, especially if you're someone who wakes up so hungry you could eat the whole fridge.
BUT you mustn't take activated charcoal together with food or within a short time before/after food. That's because activated charcoal sucks up everything in your gut together with toxins including nutrients of the food you eat.
Also, don't take this activated charcoal juice with any medication because it will render the medication useless – since once again, it's going to suck it all up!
Okay, now that's clear, let's check out the ingredients you'll need for this juice:
Ingredients You'll Need
We're not going to be using a lot of ingredients in this activated charcoal juice recipe because most of the nutrients will be sucked up by the activated charcoal!
Most green juice companies who add activated charcoal to their drinks don't bother with this! If you drink their juice, you'll still get some benefit since the juice contains fiber that helps get rid of junk in the colon. But the nutrients from all the veggies and fruits included aren't as likely to benefit you because they'll be absorbed by the activated charcoal! Don't forget this before you pay a hefty price for your fancy green juice with activated charcoal (or should I say black juice) next time.
Okay, check out the ingredients in this simple detox recipe:
Raw honey – This makes the drink palatable! You can also use any other sweetener of your choice like maple syrup or even stevia.
A whole lemon – Lemon also has detoxifying qualities. It'll help sweep out waste matter from your colon. It also adds a zingy flavor to your activated charcoal juice recipe!
Himalayan pink salt – Add just a pinch to boost the flavor of your juice!
Activated Charcoal Juice Recipe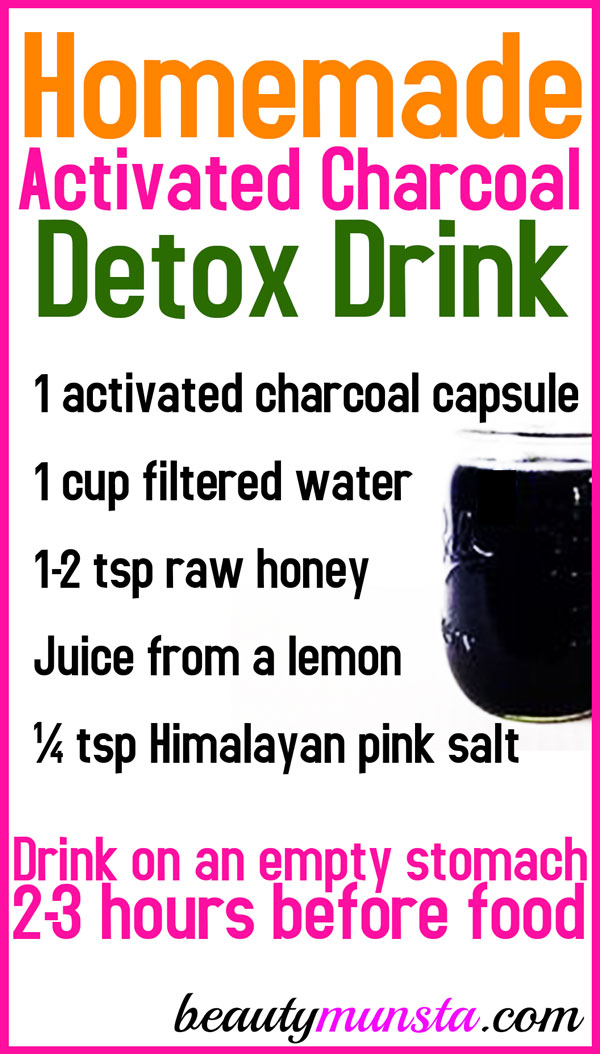 Ingredients:
1 activated charcoal capsule
1 cup filtered water
1-2 tsp raw honey
¼ tsp Himalayan pink salt
Freshly squeezed lemon juice from a whole lemon
Directions:
Slightly warm up the water then stir in the raw honey.
Now twist open an activated charcoal capsule and pour the contents into your honey water.
Squeeze the juice out of a lemon into the mixture.
Add ¼ tsp Himalayan pink salt.
Stir your activated charcoal juice very well and it's ready to drink!
Remember, it's not about the taste but about the wonderful detoxifying qualities so drink up and imagine all the nasties in your gut being sucked out by the powerful activated charcoal!

What do you think? Are you ready to try this activated charcoal juice recipe?