We live in a world that's more polluted than ever before. Show your skin some love with a homemade detoxifying mask that will draw out toxins and leave your skin radiant like never before!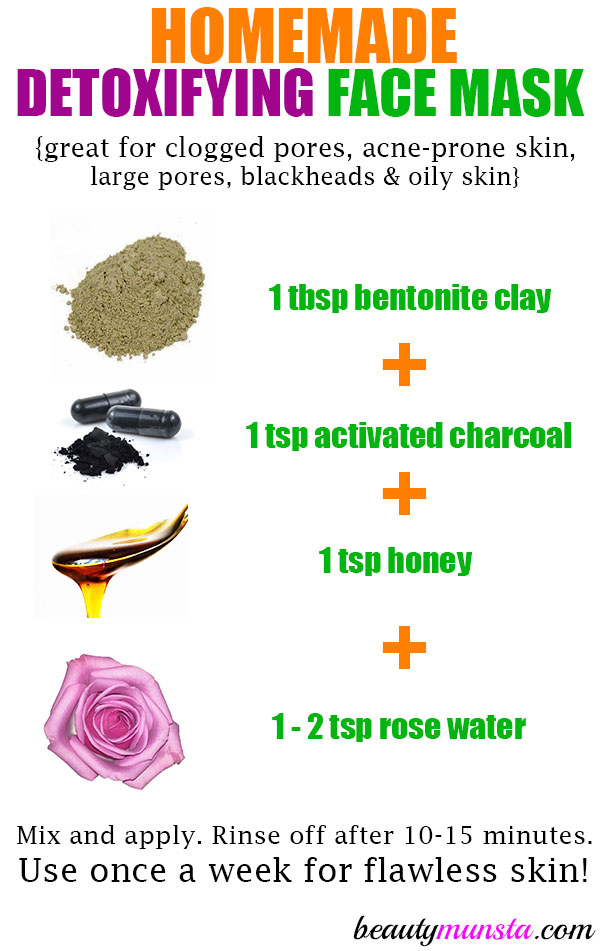 Why You Need to Detox Your Skin
Want to know the number 1 reason we are suffering from acne, pimples, dull and lifeless skin and uneven skin tone? It's because of the toxins. And we need to get rid of them!
Our body is equipped with several organs, which are charged with detoxifying our blood on a daily basis. The main detoxifying organs in our body are the liver and kidneys. The skin is also a large detoxifying organ that pushes toxins out through sweat. Many argue that our body can detox just fine without extra help.
But today, we live in a highly polluted world due to massive industrialization. We are also exposed to toxins on a daily basis through our food and the self-care products we use.
Our bodies are overburdened with detoxification work. So I say, our bodies could definitely use some detoxification help in the form of natural, safe and effective remedies.
Some of the signs that your skin could use a homemade detoxification mask include:
Dull, lackluster skin
Acne and pimples
Uneven skin tone
Scars and blemishes
Rough, scaly skin
Blackheads
How to Make a Homemade Detoxifying Mask
Making a homemade detoxifying mask is so easy and yet so effective. You only need 4 ingredients to make this mask. Once you try it, you'll never a week without it. Here are the ingredients we'll be using:
✾ Bentonite Clay – One of the most powerful and healing clays on earth, bentonite clay is composed of aged volcanic ash particles. Bentonite clay promotes healing and detoxing, and is even taken internally by many people. Used on the skin, it will help draw out impurities lodged deep within the pores and detox the skin.
✾ Activated Charcoal – Activated charcoal is charcoal that has undergone special treatment to increase its absorptive power. When applied on the skin, the activated charcoal molecules literally suck out toxins and unwanted materials from deep within the skin. Other benefits of activated charcoal include teeth whitening, reducing gas and bloating, healing bug bites and treating poisoning and drug overdose.
✾ Raw Honey – Raw honey is deeply cleansing and detoxifying thanks to its hundreds of nutrients including vitamins, minerals and live enzymes. It is highly antibacterial, anti-fungal and antimicrobial and fights and kills harmful acne-causing bacteria on the skin. I prefer to use Manuka honey, which has been proven to have the highest antioxidant value compared to other honey types.
✾ Rose Water – Rose water is a flower hydrosol that is a by-product of the rose essential oil extraction process, which is done by steam distillation. This fragrant hydrosol is soothing, calming and healing to the skin. It is rich in Vitamin C and helps fight free radical damage caused by toxins in the skin.
Now let's find out how exactly to make this homemade detoxifying mask that can be used on your face, neck or all over your body. Feel free to increase the measurements in the recipe if you want a larger quantity.
You can also use this detoxifying mask on your scalp and hair to suck out product buildup and toxins on the scalp.
Here's the recipe:
Ingredients for the Mask
Directions
Get a non-metal bowl (metal reacts with the clay and charcoal) and mix all of the above ingredients using a spoon.
Mix it until you get a thick, even paste. Adjust the rose water to get the desired consistency.
A thicker paste is better for the face and body but for the hair and scalp, a slightly thinner consistency works better.
Now using a clean makeup brush, apply this mask evenly all over your skin or hair and allow it to rest for at least 15 minutes.
Once the time is up, you can wash off the mask using warm water.
Trust me, your skin has never been this clean! Repeat this treatment once a week to give your skin all the detoxifying love it deserves!