Find out the benefits of frankincense essential oil for acne and how to use it!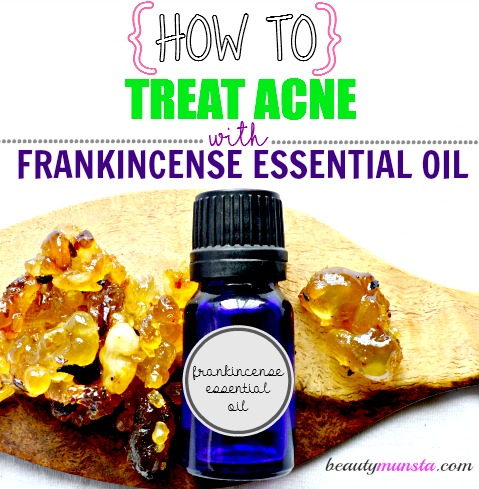 Plagued by Acne?
Acne is not just an ailment that teenagers suffer from. Today, due to our changing lifestyles, stress, improper food habits and rampant pollution, it's not uncommon to see full-grown adults suffering from acne, pimples and irritated skin. Acne can turn out to be an embarrassing fixation that hurts your self-esteem and makes you feel painfully self-conscious in public. Trust me, I know.
When I was done with high school, I expected to be done with acne and pimples, as well. But I found myself plagued by acne even through college years and up until recently in my early 20's. Oh boy, I sure did have a long battle with acne, a story which I'd love to share with you in-depth soon, but at the end of it all, I managed to cure my acne by simply making some lifestyle changes, detoxing my system, and of course, with the help of my essential oils!
Instead of going for the unnatural route of taking antibiotics internally as well as applying antibiotics topically on your acne, it is highly possible to manage, control and treat your acne using the natural route of essential oils. When it comes to essential oils for acne, frankincense is one of the best because it has a potent combination of characteristics that can transform acne-prone skin into health, radiant and rejuvenated skin.
Frankincense Essential Oil – A Rich & Deep History
Frankincense essential oil is not a modern phenomenon. In fact, it has been used since ancient times for its powerful and effective medicinal, meditational and therapeutic uses and was once considered a sacred and precious item. Frankincense has been documented as a valuable and precious commodity traded in the African and Arabian regions over 5000 years ago. It is mentioned as a powerful remedy regularly used in ancient Chinese medical texts from as early as 500 BC. It has been mentioned in the Bible, which was revealed about 3000 years ago, at least 22 times, and it was a personal favorite of the Prophet of Islam (pbuh), who lived over 1400 years ago.
Extracted by steam distillation of the resin that is harvested from the Boswellia and Commiphora trees that are native to the Arabian Peninsula and regions of northern Africa, frankincense essential oil is a remedy that is used against a myriad of ailments such as arthritis, indigestion, headaches, skin issues, feminine health issues, respiratory conditions such as bronchitis, weak immune system, infected wounds and so much more! Wow, no wonder frankincense was once considered worth more than its weight in gold!
Why Use Frankincense Essential Oil for Acne?
Frankincense essential oil has many powerful properties that make it one of the best essential oils for acne, pimples and related blemishes and scarring. Let's have a look at just some of them below;
1. Anti-bacterial: Acne is a result of skin pores getting clogged, thereby leading to the build -up of bacteria within the pores. These bacteria begin feeding on the sebum that is now trapped in the clogged pores and they begin to multiply at a fast rate, leading to inflamed, irritated and swollen pores that manifest in the form of what we know as acne or pimples. Frankincense essential oil is a powerful antiseptic, anti-fungal, antimicrobial and antibacterial essential oil that actively fights acne-causing bacteria and it can help prevent acne from forming in the first place, as well as clear already existing acne.
2. Controls Oily Skin: Excessive oil production in the skin can cause acne and pimples by default, simply because there is more likelihood of the pores getting sealed by the excessive oils, which attract dirt and grime. Once this happens, it creates a safe haven for bacteria to flourish within the pores and this leads to unnecessary and painful acne. Frankincense essential oil is very effective in controlling oily and greasy skin, without drying it up completely – and this is a very important step in fighting acne.
3. Anti-inflammatory: Acne-prone skin is often irritated, red and swollen because of the pores being inflamed with bacteria, pus and stale sebum. Inflamed skin can also be itchy, and bigger pimples often lead to bigger scars. Frankincense essential oil has great anti-inflammatory properties that cool down irritated skin, soothe inflamed acne and provide acne relief.
4. Astringent: Frankincense essential oil has potent astringent properties, which causes the contraction of body cells, including the skin cells. This is very useful in acne as it helps reduce the appearance of pores, which are often inflamed and enlarged in acne-prone skin types.
5. Anti-scarring: Don't you wish acne would just come and go without leaving a trace behind? Unfortunately, the unavoidable result of acne and pimples is that they leave behind ugly scars, blemishes and poke marks which can take ages to fade. When you use frankincense essential oil for acne, you get to enjoy its anti-scarring properties, which will fade old acne scars and prevent existing acne from leaving behind dark scars.
It is all these wonderful properties of frankincense essential oil work together to make it one of the best essential oils for acne-prone skin.
How to Use Frankincense Essential Oil for Acne
1. Overnight Zit-blasting Serum: This is one of my favorite overnight zit-blasting serum recipes. In an amber glass dropper bottle, add 1 oz of your favorite carrier oil, 3 – 4 drops of frankincense essential oil, 2 – 3 drops of lavender essential oil and 1 – 2 drops of tea tree essential oil. Shake vigorously and keep in a cool, dark place. Apply just 2 drops of this serum on your whole face every night before bed.
2. Soothing Face Mask: It's easy to soothe your sore, itchy and painful acne with this anti-acne, anti-blemish and anti-inflammatory face mask. In a clean bowl, mix 2 tsps of sandalwood powder, 2 drops of frankincense essential oil and 2 tsps of rose water to make a smooth, thick paste. Apply this evenly on your face, allow to rest for 10 – 15 minutes and wash off with lukewarm water. Pat dry with a clean towel and behold your radiant and soothed face!
3. Spot Treatment: Got pesky spots? In a clean glass jar, mix 2 tablespoons of aloe vera gel, 3 drops of frankincense essential oil and 3 drops of tea tree essential oil. Apply this onto your spots up to 3 times a day.
4. Herbal Facial Steam: Facial steaming is a great way to soften any grime and stale sebum clogging up your pores. Make your own herbal facial steam by boiling 1 ltr of water in a wide pot along with 4 – 5 basil leaves, 4 – 5 mint leaves and add 4 – 5 drop of frankincense essential oil to it after taking it off the flame. Sit comfortably on a chair and show your face over the herbal steam, preferably with a towel over your head to prevent the vapor from escaping. Do this for 5 – 10 minutes. The steam will open up your pores and the anti-acne action of the basil leaves, mint leaves and frankincense will get in your pores and kill any acne causing bacteria.
5. Mysterious Moisturizer: Add some mystery to your daily moisturizer by adding a drop of frankincense oil to it. Mix it lightly with your clean index finger and apply all over your face as usual.
Where to Buy Frankincense Essential Oil
There are many fake versions of frankincense essential oil out there in the market. Don't make a mistake of buying 'frankincense oil'. Only purchase 'frankincense essential oil' because the 'frankincense oil' is just frankincense essential oil mixed with other oils/ingredients so it's not the pure and potent one I'm talking about in this post. Please make sure to buy 100% pure and high quality frankincense essential oil.

More Anti-Acne Info