Learn how to use lemon essential oil for acne in this article. Also find out what makes lemon oil special for acne-prone skin!
Using Lemon Essential Oil for Acne
If you are suffering from acne, essential oils are a great remedy to incorporate into your skin care routine. You can choose to use lemon essential oil for acne relief because it is one of the best essential oils for acne, along with tea tree oil and lavender oil. Don't Miss: 15 Best Essential Oils for Acne
Acne forms as a result of impurities, dead skin cells and sebum clogging your pores. Clogged pores are a perfect breeding ground for acne-causing bacteria such as Propionibacterium acnes (P. acnes). There are a number of reasons that make certain people more prone to acne than others. These include:
To heal acne, you must make sure that you address the above acne-contributing factors. Along with that, you can also use lemon essential oil for acne. Let's have a look at the benefits of lemon essential oil for acne, along with 3 ways to use it.
The Benefits of Lemon Essential Oil for Acne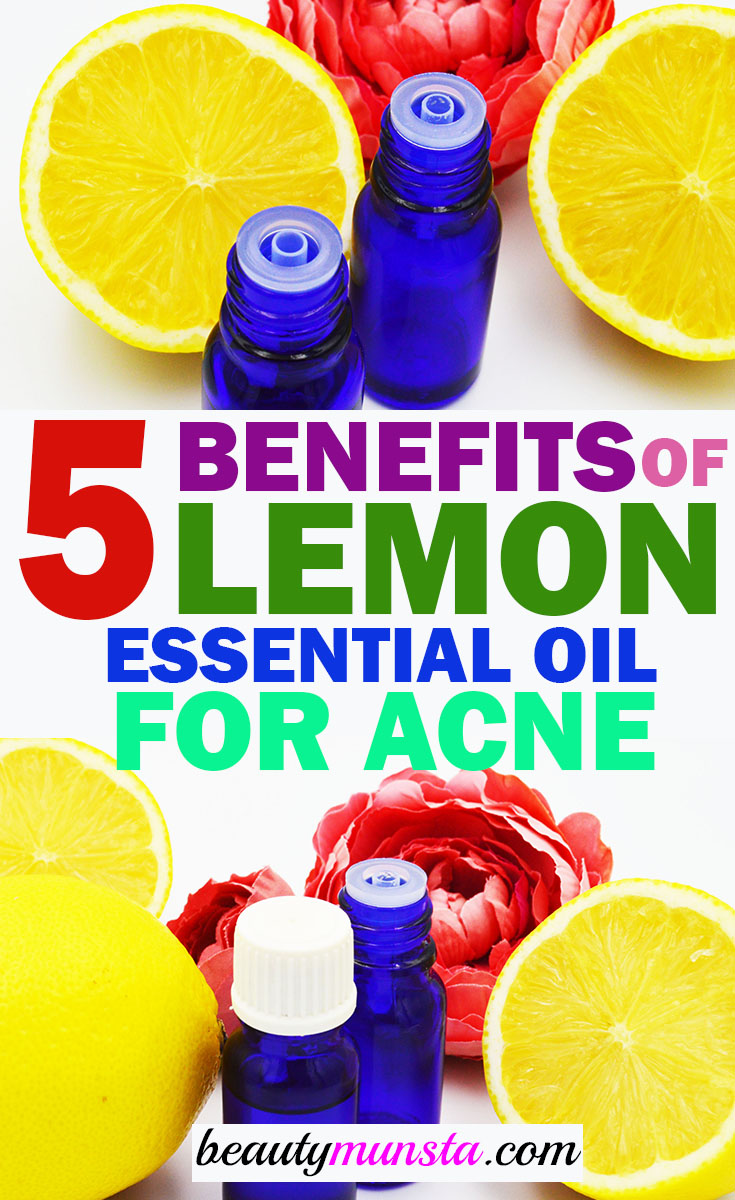 Here are the top 5 benefits of lemon essential oil for acne:
Lemon essential oil helps break down old sebum and impurities that clog the pores. It helps reduce excessive oil production in the skin.
The astringent qualities in lemon essential oil help to tone the skin, clean out the pores, minimize breakouts and improve the elasticity of the skin.
Lemon essential oil is highly cleansing, which is why it is popular in natural cleaning recipes. It deep-cleans the pores, unclogs the pores and prevents the formation of acne.
Like many essential oils, lemon oil also contains anti-fungal and antibacterial properties. Applying lemon essential oil, along with tea tree oil can help fight and destroy acne-causing bacteria.
Furthermore, lemon essential oil lightens dark spots created by acne and pimples. It reduces the appearance of scars caused by acne.
Where to Get Lemon Essential Oil for Acne
Edens Garden Lemon Essential Oil, 100% Pure Therapeutic Grade (Undiluted Natural/ Homeopathic Aromatherapy Scented Essential Oil Singles) 10 ml

How to Use Lemon Essential Oil for Acne
There are many ways you can use lemon essential oil for acne. Here are 3 great ways:
1. Toner for Acne
In my opinion, toning is an important part of a good skin care routine. To make an acne-fighting toner, follow the recipe below:
You'll need:
How to Apply the Toner for Acne:  
In a small bottle, mix all the ingredients together by shaking vigorously.
To use the toner, pour it onto a cotton ball and wipe it all over your face.
Use the toner 2 times daily, after washing your face. By using this toner, you can clear your acne within 2 weeks.

2. Spot Treatment
Sometimes all you need is a potent spot treatment to apply directly onto the acne. This is especially helpful if you have acne on only certain areas of the face.
You'll need:
How to Apply Spot Treatment for Acne:  
In a small glass container, mix all of your above ingredients. Your acne spot treatment gel is now ready! Simple, yet highly potent!
To use, simply dip a q-tip or a clean finger into the gel and apply on the spots where you have acne.
The best time to do this spot treatment is at night. Leave it overnight for best results.
3. Facial Steaming for Acne
Facial steaming is a well-kept secret for healing acne permanently. The beauty about facial steaming for acne is that it opens up the pores via the steam. Once your pores are open, any treatment that you apply on it will penetrate the skin easier and be more effective. For this reason, the essential oils in the facial steam can get into the pores and work their magic.
You'll need:
How to Steam Your Face:
Turn on your kettle and boil 1L of water.
Carefully pour this water into a large bowl.
Now pour 4 drops of lemon essential oil into the hot water.
Place your head above the bowl of steaming water such that the steam hits your face.
Put a towel over your head to create a tent, so that the steam doesn't escape.
Steam for 5 – 10 minutes
You can do this treatment 4 – 5 times a week.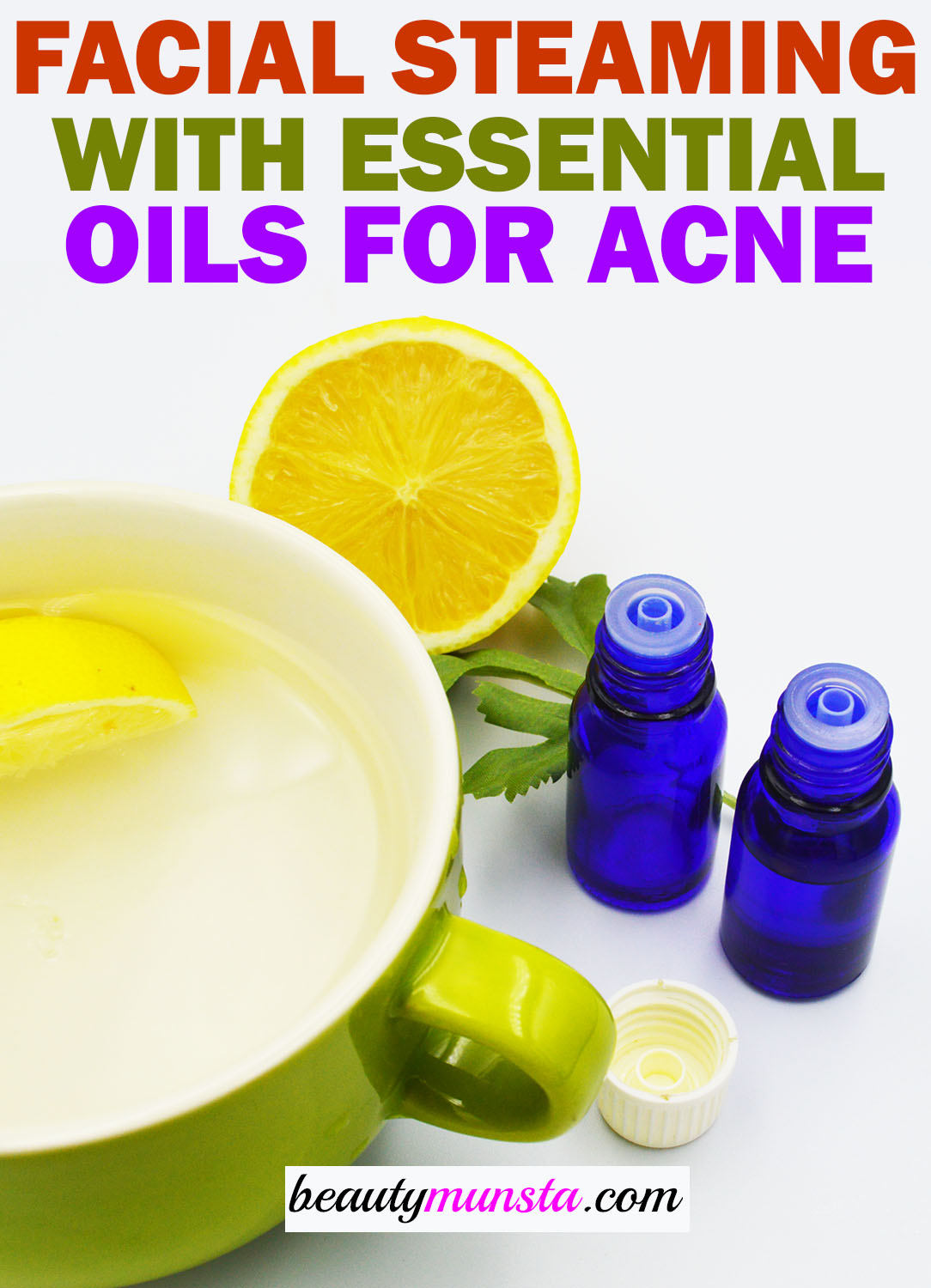 Caution When Using Lemon Essential Oil for Acne
Keep in mind that lemon essential oil falls under the category of citrus oil. Citrus oils are usually photo-sensitive. Therefore, do not go out into direct sunlight after applying lemon essential oil. Try to use lemon essential oil for acne at night, or on a day that you will be staying home in the day time.
Although it is rare, some people might be sensitive to lemon essential oil. Always do a patch test on your wrist to make sure you are not allergic to it. Check out: How to Perform a Patch Test
Read More about Essential Oil Safety: Caution with Essential Oils