Lavender oil is easily the most popularly used oil in aromatherapy and is well known for its calming and relaxing properties and its effectiveness in promoting peaceful sleep. As many people turn to natural remedies for relief from common health ailments, we have increasing testimonials from people experiencing positive results by using lavender oil on acne.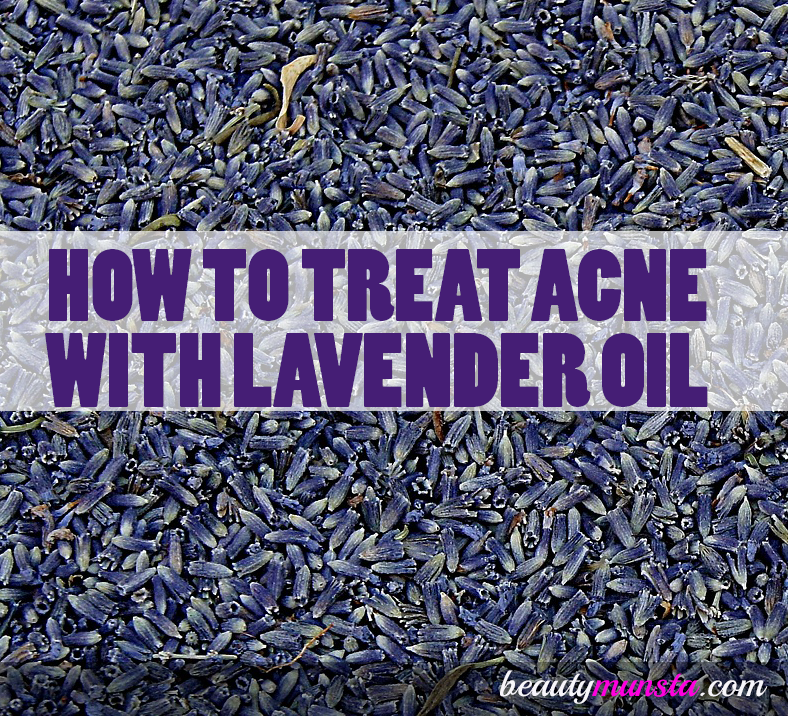 A closer look at lavender oil
Extracted via steam distillation of lavender flowers, lavender essential oil (Lavendula officinalis) is a potent extract that contains many wonderful healing substances including:
• Linalool (49%) – a naturally occurring oil terpene, linalool is found in over 200 species of flowers and spices and it is what gives lavender its pleasant floral scent. Studies have shown that inhaling linalool can reduce stress levels, even on a cellular level.
• Myrcene (0.46%) – has high anti-inflammatory and analgesic properties. It can reduce swelling, inflammation and pain. It also induces and promotes peaceful sleep.
• Eucalyptol (26%) – helps to relieve respiratory congestion, is effective in the treatment of fevers and relieves migraines and headaches. It has also been found to kill certain cancer cells.
• Camphor (13%) – is a waxy substance with a strong and distinct aroma that has minty and herbaceous notes. It is used medicinally as a local anesthetic and antimicrobial. It is also a decongestant and can help relieve fatigue. It is also very effective in the treatment of fatigue and fever.
Benefits of lavender oil
Lavender is one of the most versatile essential oils on the planet and as such, it contains a wide range of benefits useful for relieving many ailments and conditions. Some of its benefits include:
• Anti-inflammatory: relieves swelling and inflammation on the skin, in muscles, in joints and more
• Sedative: has sleep inducing properties and promotes peaceful sleep
• Analgesic: prevents pain and reduces pain by blocking pain receptors
• Antispasmodic: reduces seizures, spasms, cramping, convulsions and epilepsy
• Anti-depressant: relieves anxiety and depression
• Antipsychotic: has tranquilizing properties that relieve signs of psychosis
Research on the effects of lavender oil on acne
A study published by the Journal of Phytomedicine in 2002 showed that lavender oil contains major anti-inflammatory compounds that abate inflammation and thereby reduce inflammation and swelling. This helps reduce redness, pain and swelling caused by acne on the skin. It can also reduce the appearance of acne
A report that appeared in the Journal of Clinical Oncololgy in 2003 showed that lavender oil produced significant relaxation and calming effect on those who inhaled its scent. This can help greatly reduce stress-induced acne or acne which is made worse because of stress. It can also reduce sudden flare-ups of acne caused by mental stress and tension.
Research carried out by Hartman & Coetzee in 2002 revealed that adding lavender oil to a warm bath significantly reduced redness and inflammation in wounds and promoted faster healing. When applied to acne affected skin, lavender oil can help speed up the healing of damaged skin and prevent scars.
A study carried out by the Northeast Forestry University, China in 2001 tested the antibacterial activity of several essential oils against the acne causing bacteria, Propionibacterium acnes, and found lavender oil to be moderately active in killing the bacteria. Lavender oil, when applied on acne, can help destroy acne causing bacteria and can act as a measure to prevent acne.
The Natural Product Research Journal issued a report in 2010 showing lavender oil to have excellent antioxidant properties. Antioxidant activity is very important in the treatment and prevention of acne as it helps to fight free radical damage, helps repair and heal damaged skin cells and fosters the regeneration of new, healthy skin.
These studies help support the view that lavender oil on acne is one of the best natural remedies out there, but every individual is different, so please perform a patch test to check if you are allergic to the oil. Apply diluted lavender oil on your inner wrist and wait for up to 6 hours to notice any adverse reactions such as itchiness, redness or rash. If you don't face any negative reactions, go ahead and use lavender oil on your acne.
How to use lavender oil on acne
1. Spot treatment:
Lavender oil is one of the few essential oils that can be applied neat on your skin, meaning you can apply it as is, without dilution on your skin. Simply apply a drop of lavender oil on your acne and pimples as effective spot treatment.
2. With a carrier oil:
If you have sensitive skin, you can dilute 1 – 2 drops of lavender oil in 1 teaspoon of another antibacterial carrier oil like rosehip seed oil and apply as directed above.
3. As a face wash:
Oil cleansing is a method of washing your face using oil! That's right, oil! Many people have stopped using soap and soap products altogether in preference for oil face washing, in order to prevent synthetic chemical buildup on the skin, which aggravates acne. To use lavender oil as a face wash, mix in 1 drop of lavender oil in 1 teaspoon of carrier oil and massage a little of it all over your skin. Then run a cotton cloth under hot water, squeeze the excess water out and place the cloth flat all over face. This will help open up your pores. Now wipe off all the oil using the same cloth from all corners of your face. Repeat this process 2 – 3 times, for squeaky clean, acne-free skin.
4. As a facial toner:
Make a simple antibacterial face wash by combining 1/4 cup of witchhazel with 12 drops of lavender oil. Place this in a clean container and use it twice a day to tone your face and reduce acne.
5. As a night cream:
Make a simple night cream by blending equal parts of shea butter and aloe vera gel. Mix in a few drops of lavender oil and use daily as a night cream. Your skin will enjoy the benefits of lavender oil as you get your beauty sleep.
Using lavender oil on acne scars
Lavender oil can also be used on acne scars, pimple marks and blemishes. Regular application of lavender oil can lighten and reduce the appearance of blemishes and scars, promoting radiant and smooth even skin.