Eat these top 10 antibacterial foods for acne to help keep those ugly pimples away!
Eating powerful antibacterial foods can help treat acne from the inside! Acne is caused by bacteria, such as Propionibacterium acnes. Antibacterial foods fight off this bacteria from within the body, which prevents acne from popping out your skin!
Without further ado, let's see a list of top 10 antibacterial foods for acne and what they do:
Top 10 Antibacterial Foods for UTI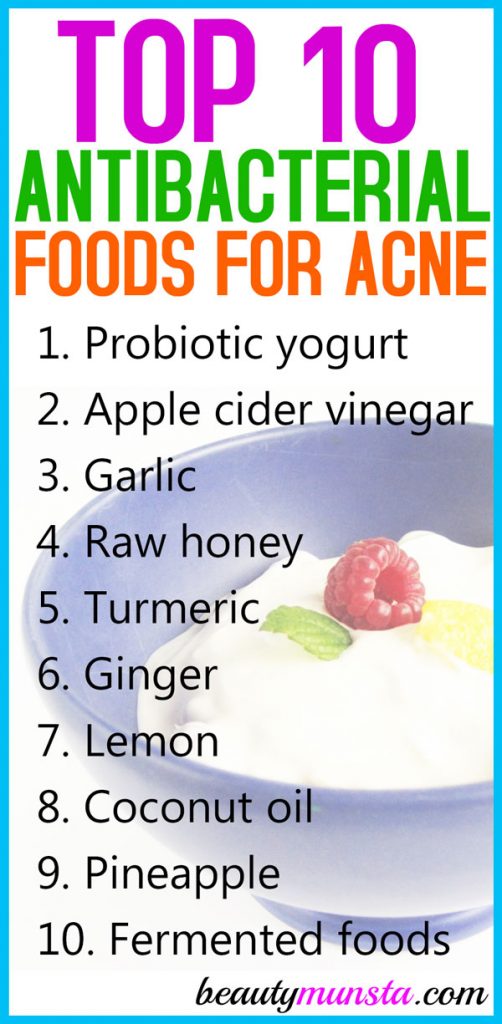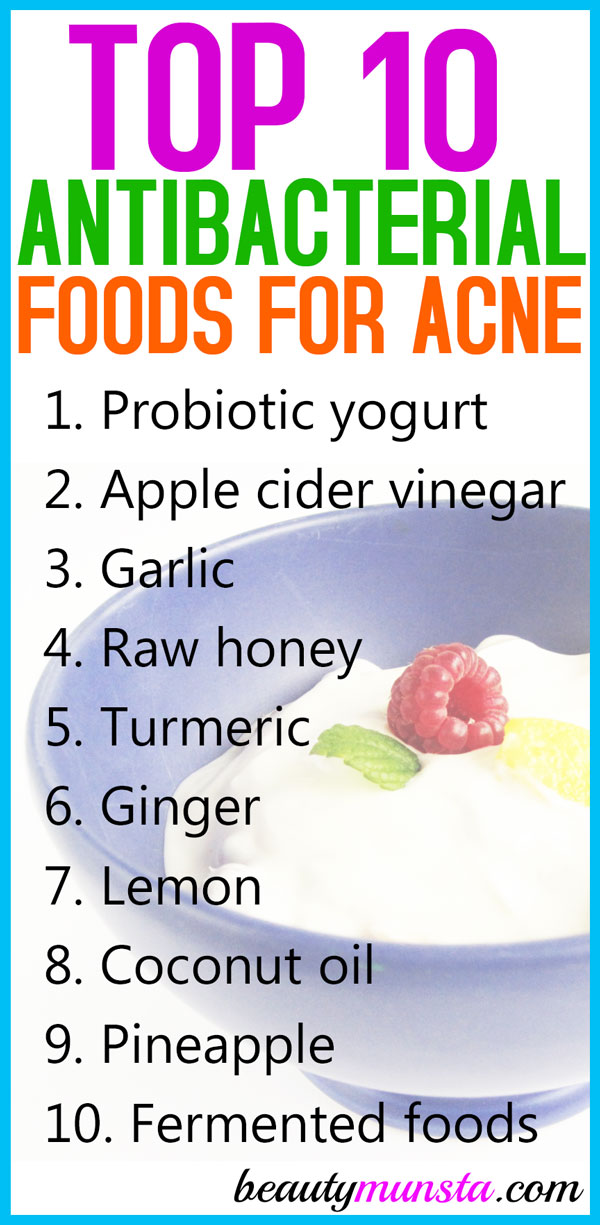 1. Probiotic Yogurt
Eat probiotic yogurt everyday to kill off acne causing germs in your body. Probiotic yogurt means one with live cultures or good bacteria in it. Plain greek yogurt is a perfect example. Add it to smoothies and enjoy a delicious but powerful acne-fighting food!
2. Apple Cider Vinegar
Apple cider vinegar is another probiotic food! Look for raw unfiltered apple cider vinegar because this is the type that is useful against acne. It has cleansing and antibacterial properties that rid the body of harmful bacteria and pathogens.
3. Garlic
Garlic is one of the top antibiotic foods on earth. When consumed internally, it helps fight off all kinds of pathogens and disease-causing germs from colds to acne. You can make garlic capsules by filling an 00 capsule with crushed garlic. Garlic can also be chopped into tiny pieces and quickly swallowed with water. Consume about 2 garlic cloves in a day, not more.
4. Raw Honey
Raw honey is another strong antibacterial food for acne. It is also rich in antioxidants and has powerful anti-inflammatory properties that help reduce acne inflammation. You can even make garlic-infused honey and take a tsp every day to fight off acne. Make it by chopping up 10 garlic cloves and infusing it in ½ cup of raw honey. Store this mixture in a cool dry place and consume after letting it sit for 3-5 days.
5. Turmeric
Turmeric is a powerful pain and inflammation fighting food. Its main ingredient is curcumin, which has even been shown to actively fight cancer! Add turmeric powder to your food like curries (it has a mild taste). Whenever you're consuming turmeric, also add a pinch or two of ground black pepper. Black pepper makes turmeric so many more times bioavailable to the body!
6. Ginger
Ginger is a warm spice that we love consuming in foods such as ginger snaps, ginger beer and even ginger tea. It has been shown to have strong anti-inflammatory properties that reduce acne inflammation. What's more is that it is an antibacterial food as well! The compound gingerol in ginger is the one that's been shown to help fight infections.
7. Lemon
You know how they say drinking warm lemon water first thing in the morning is good for cleansing the system?! Well, it also helps get rid of acne! Lemon not only alkalizes the body but also helps fight off bacteria. This is because it contains two compounds called coumarin and tetrazine, which help defeat several infectious pathogens.
8. Coconut Oil
Yes, coconut oil is also an antibacterial food! It contains a number of essential fatty acids such as lauric acid that's what gives coconut oil it's bacteria-fighting effects. Use coconut oil as a cooking oil instead of sunflower oil to improve your chances of fighting acne naturally.
9. Pineapple
The sweet tropical fruit pineapple is also another amazing antibacterial food for acne! It's main component bromelain has antimicrobial properties that kills germs. Pineapples are also rich in fiber which clears the body of toxins that if accumulated in the body, lead to pus-filled acne.
10. Fermented Foods
Fermented foods like kefir, sauerkraut and kimchi among others, are all antibacterial and antimicrobial foods. They are filled with good bacteria (probiotics) that eat up the bad bacteria that cause acne. Incorporate these foods into your diet and see dramatic changes on your acne prone skin!
Consume these top 10 antibacterial foods for acne and you'll see your skin starting to clear up!