Discover 20 beauty benefits of apple cider vinegar in this post!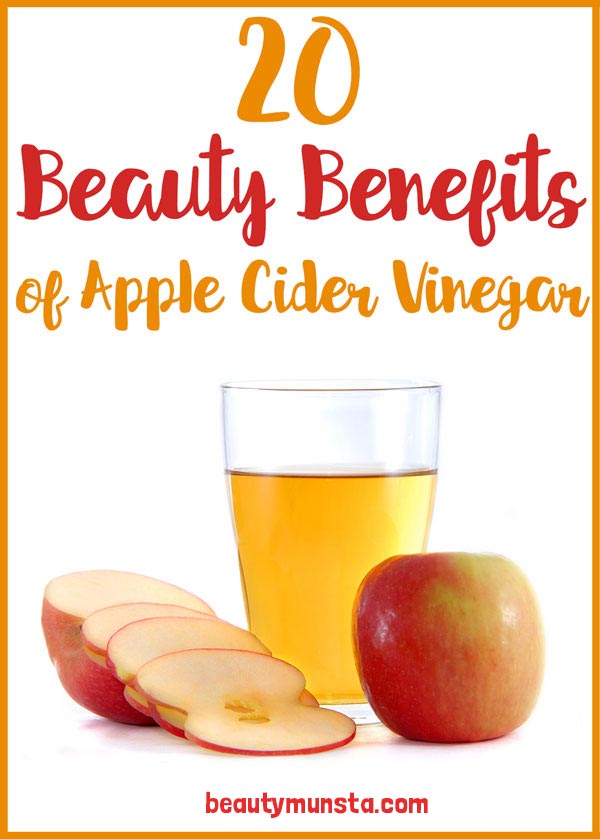 What is Apple Cider Vinegar?
Raw unfiltered apple cider vinegar (ACV) is a powerful substance. It is made from organic apples though a process called double fermentation. In this special process, the active enzymes, good bacteria and other nutrients combine together and deliver unique therapeutic properties for good health!
In this post, we shall see 20 beauty benefits of apple cider vinegar for skin, hair and more!
Where to Buy Apple Cider Vinegar
Before we explore the beauty benefits of apple cider vinegar, it is VERY important to know which kind of ACV you should buy. Do not buy the synthetic apple cider vinegar you normally find in the store. They do not contain the nutrients and therapeutic properties that raw unfiltered ACV imparts for skin and hair.
Look for raw unfiltered apple cider vinegar. This is the one that contains a spidery white film/substance in it. This substance is filled with good bacteria or probiotics and it is called 'the mother.'
The best apple cider vinegar you can purchase is Braggs Organic Raw and Unfiltered Apple Cider Vinegar. Buy a 32 oz bottle and use it for a multitude of purposes from cooking to green cleaning to beauty uses!
Top 20 Beauty Benefits of Apple Cider Vinegar
Note: It's best to always dilute apple cider vinegar before applying it for your skin and hair. Unless you're using it to treat a small area for example, wart, skin tag, hive or nail fungus, ensure to dilute apple cider vinegar with water.
1. Face Cleanser
You can use apple cider vinegar as a natural face cleanser. It helps remove dirt, grime, dead cells, stale oils and germs from the skin which leaves it feeling clean and fresh.
Natural Face Cleanser: In a bottle, pour 1 cup of warm water combined with 2 tsp apple cider vinegar. Place some onto a clean cotton ball and use it to cleanse your skin. This is a non-soapy face wash. You can also see this soapy DIY pH-Balanced Face Wash using apple cider vinegar.
2. Facial Toner
A natural astringent, apple cider vinegar also acts as an excellent facial toner. It tightens skin, diminishes large pores, removes excess oiliness on skin and helps tone & firm it.
Face Toner: Combine 1 tsp apple cider vinegar with ½ cup of distilled water in a 4 oz amber spray bottle. Now add ½ tsp vegetable glycerin and 3 drops of lavender essential oil. Shake well to combine. Mist onto your face after cleansing.
3. Exfoliates Dead Cells
Need some exfoliating action on your skin? Use apple cider vinegar! It contains natural acids that gently dissolve dead cells and flaky skin on the face. Try this amazing Himalayan Salt Face Mask/Scrub for smoother skin!
4. Fights Acne & Pimples
Got acne? It's time to start using apple cider vinegar on your face! It is a natural disinfectant which makes it good for killing acne causing germs. It also removes excess oiliness from skin. Use apple cider vinegar as a facial toner or face cleanser to treat acne naturally.
5. Skin Soother
It may be surprising to know but apple cider vinegar is also a good skin soother. It calms down irritated skin in form of skin rashes, itchy skin, eczema, bumps and others.
Skin Soothing Bath: Simply add ½ cup of apple cider vinegar into a warm bath together with 1 cup of baking soda. Soak for 20 minutes to help soothe your skin.
6. Makes Hair Shiny & Soft
If you have dull lifeless skin, you can instantly rejuvenate it using apple cider vinegar! It makes hair shiny, soft and smooth. Here's an easy hair rinse recipe to try:
Hair Rinse: In a Pyrex measuring cup, add 1 cup of water, followed by 2 tsp apple cider vinegar and 4 drops of your favorite essential oil.
7. Clarifies Hair
Did you know of the hair clarifying properties of apple cider vinegar?! They're truly amazing for scouring off product build-up on your scalp and hair strands!
Hair Clarifier: Use the above hair rinse to act as a hair clarifier or add 1 tsp of apple cider vinegar to 2 tbsp of non-sulfate shampoo and lather up.
8. Sunburn Relief
Sunburn can also be soothed using apple cider vinegar. It helps remove the flakiness and promote faster healing. To use apple cider vinegar for sunburn relief, you can either make a spray solution or add a half a cup to a bath.
Sunburn Spray: In a spray bottle, add ½ cup distilled water, 1 tsp apple cider vinegar, 2 tsp aloe vera gel and 2 drops peppermint essential oil. Shake well and spray on the sunburn as necessary to cool it down and get rid of it fast.
9. Dissolves Warts & Skin Tags
Plagued with an ugly wart or skin tag? You can use apple cider vinegar to dissolve it in a matter of days! Just soak a cotton ball in raw apple cider vinegar and tape it to the wart/skin tag overnight for about 5-9 days. The wart or skin tag will shrivel and dry up, making it fall off faster.
10. Relieves Razor Bumps
Razor bumps can be itchy and irritated! Don't worry when you have ACV at home though! You can bring sweet relief to those irritating razor bumps! Just mix 1 tsp of apple cider vinegar in 2 tbsp of water and spray it on your razor bumps.
11. Dandruff Treatment
Itchy white flakes on the scalp can be gotten rid of using apple cider vinegar. This special vinegar has probiotics that help eat up the excess yeast Malasezzia that's causing dandruff. You can do the hair rinse mentioned in Number 6 above to help beat dandruff.
12. Foot Deodorizer
The problem of stinky feet can be solved with regular apple cider vinegar foot soaks. ACV neutralizes the stink by killing the bacteria responsible for it. It also refreshes feet.
Foot Soak: Fill a foot soak tub with a gallon of very warm water then add 2 tbsp Epsom salts, 2 tbsp apple cider vinegar and ¼ cup lemon juice. Soak for 15-20 minutes every weekend.
13. Bug Bite Soother
Bug bites from mosquitoes, spiders, fleas, ticks and beg bugs can be soothed using apple cider vinegar. You can use it directly on a clean cotton ball on your bug bites or dilute it in a little water for a milder solution.
14. Reduces Age Spots
Another amazing benefit of apple cider vinegar is that it can help gradually lighten and reduce age spots on the skin! Use it as a toner on your age spots every day and notice the skin lightening effects!
15. Balances Skin pH
Another reason why people love apple cider vinegar is that it helps balance the body's pH. It also balances the skin's pH too! That's why after washing your face or shampooing your hair with the highly alkaline conventional face washes or shampoos, it's advised to bring the balance back to your skin's pH by using an ACV face toner or ACV hair rinse!
16. Fights Nail Fungus
Nail fungus can be stubborn to fight off. Thankfully, apple cider vinegar has proved to be an effective remedy time and again. It has powerful disinfectant properties and it is filled with probiotics that fight off nail fungus. You can apply ACV directly on the problematic nail using a cotton ball or have regular foot soaks with it.
17. Poison Ivy Relief
Poison ivy stings and rashes can also be treated very effectively with apple cider vinegar. You can make a spray solution by combining 1 tbsp of apple cider vinegar in ½ cup of water. Spray onto the poison ivy rashes as many times as necessary to promote quick drying and healing of the blisters.
18. Heals Hives
Apple cider vinegar is a miracle when it comes to healing hives! Even the itchiest hives can be gotten rid of fast using apple cider vinegar! You can add 1 cup to your bath or apply it directly onto hives using a clean cotton ball. You'll be sure to see get relief from the horrid itching instantly!
19. Natural Deodorant
Did you know that some people use apple cider vinegar (diluted) alone as a deodorant?! And yes, it works! Don't worry about the smell because it goes away once the solution dries up. Besides, you add some nice smelling and deodorant essential oils to mask up the vinegary smell. ACV works as a natural deodorant because it contains probiotics that eat up the bad bacteria that cause body odor. It is also an astringent which helps reduce excess sweating.
See this Underarm Detox Recipe if you want to transition from using harmful conventional deodorants to natural ones such as our favorite DIY Deodorant with Shea Butter & Lemongrass
Natural Deodorant: Combine 2 tsp ACV in ½ cup of distilled water then add ½ tsp witch hazel and 4 drops of your fav smelling essential oil. Spray on underarms as a natural deodorant.
20. Good Oral Health
Use apple cider vinegar as a teeth stain remover or mouthwash for good oral health. It fights the cavity-causing bacteria in the mouth, protecting teeth from cavities. Apple cider vinegar also helps whiten teeth by removing yellow and brown stains.
Mouthwash: Mix 2 tsp of apple cider vinegar with 1 cup of warm water then dissolve 1 tsp salt in it. Store in a bottle and use as a natural mouthwash.

Use apple cider vinegar and enjoy beautiful skin & hair!