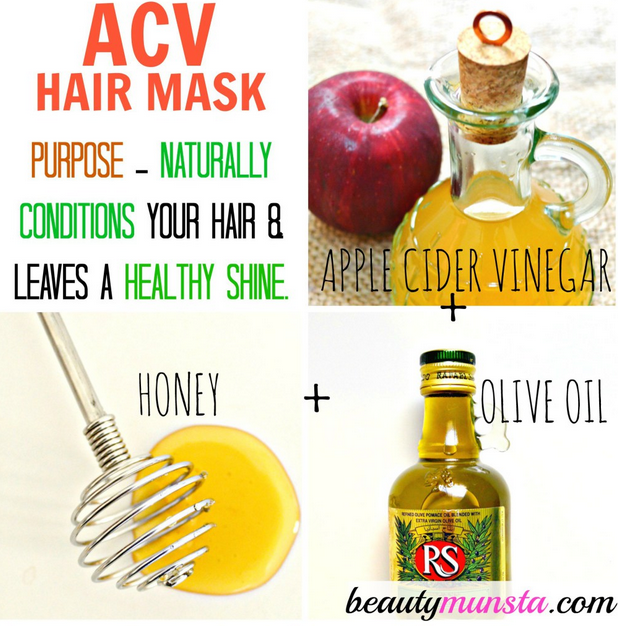 What Makes Apple Cider Vinegar for Good for Hair?
Apple cider vinegar is a popular natural hair care ingredient: it is used for hair rinses, hair masks and is one of the main ingredients for the no 'poo method! What makes it so good for hair is its rich nutrient content, probiotics and powerful antioxidants.
ACV Nutrient Profile
Vitamin C – It contains vitamin C which fights dandruff, promotes shiny hair, strengthens hair strands, promotes hair growth, increases blood circulation in the scalp as well as protects hair from free radical damage.
B-vitamins – B-vitamins nourish hair follicles and stimulate blood circulation, promoting growth. They also hydrate hair by sealing in moisture.
Ascetic Acid – This ingredient clears product-build up from the scalp, adds a shine to hair and fights off dandruff, lice and itchy scalp issues.
Note: Make sure to buy raw and preferably organic apple cider vinegar with the 'mother' and avoid the synthetic red store-bought versions.
How to: Apple Cider Vinegar Hair Mask
Do this apple cider hair mask just before a shower so that you can wash it off well.
Ingredients
– 1 tbsp raw apple cider vinegar
– 2 tbsp water
– 3 tbsp organic liquid honey
– 1 tbsp extra virgin olive oil
– 3-5 drops lavender essential oil
What Each of the Ingredients Does
► Honey – Being a natural humectant (substance that draws moisture from its surroundings), honey moisturizes and hydrates hair. It also has powerful antioxidants that protect the hair from free radical damage. Honey is also a natural deep conditioner as well!
► Olive Oil – Olive oil is great for healing damaged, dry, frizzy and brittle hair. It's rich in vitamin E that protects the hair from free radicals while its fatty acid content nourishes hair and lubricates dehydrated strands.
► Lavender Essential Oil – Lavender is good for hair of all types. It also has hair growth stimulating properties and relaxes a tired scalp. Lavender also adds a nice scent to mask the smell of apple cider vinegar.
Directions
In a medium-sized bowl, add all the ingredients and stir very well to form a mixture with a liquid consistency. That's it! Your apple cider hair mask is ready for application! Store in an applicator bottle or spray bottle so you can easily apply on your scalp and hair.
How to Apply this Apple Cider Vinegar Hair Mask
Stand over a sink and section your hair into 2 parts. Now get the applicator bottle and start slowly squirting the hair mask onto your scalp.
When your whole scalp is saturated, move on to your hair strands. Don't forget to keep wringing your hair to remove the excess liquid so that it doesn't drip.
When you're done applying, clip your hair up and put on a shower cap or plastic bag.
Let it penetrate and work its magic for 10-15 minutes!
When the time is up, rinse thoroughly and wash your hair as usual, preferably with a sulfate-free shampoo.
My Tips
You can substitute lavender essential oil with lemon, if you have oily hair and tea tree for dandruff & itchy scalp.
All Natural Hair Care Guide with Essential Oils!
Want to know more about essential oils for hair and how to make scalp & hair care recipes with essential oils? Check out our Complete Guide to Using Essential Oils for Scalp & Hair Care that talks about the magical properties, benefits & uses of essential oils for your scalp and hair with over 100 recipes to make your own chemical-free hair products for a healthy scalp and beautiful hair.