Apple cider vinegar or ACV is good for a lot of things. You can take a tsp in warm water first thing in the morning as a detox drink, you can use it to dissolve warts, you can use it to remove bubble gum on clothes…and you can use it to promote hair growth!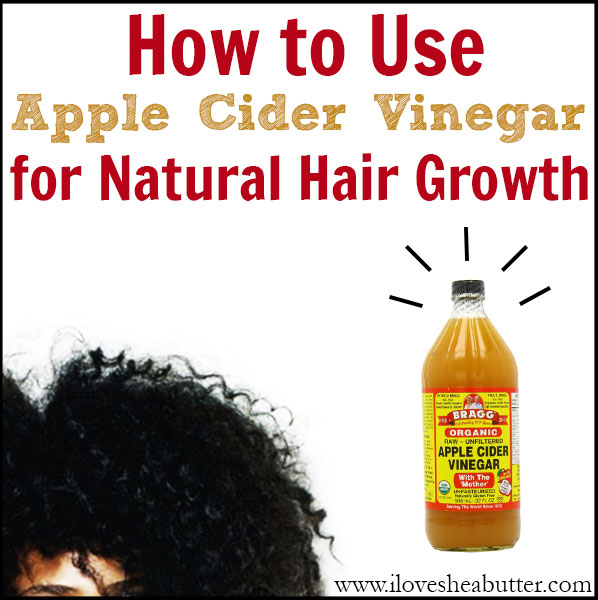 How Does Apple Cider Vinegar Promote Hair Growth?
When applied to the scalp, it has a follicle-stimulating effect that invigorates the hair follicles. This encourages them to produce healthy long hair.
Apple cider vinegar is also rich in nutrients such as vitamin C, B-vitamins and ascetic acid. It also contains good bacteria. All these help nourish the scalp and fortify the hair strands.
The good bacteria helps breakdown residue on the scalp and hair, allowing room for healthy hair to grow through.
How to Use Apple Cider Vinegar for Natural Hair Growth
1. Refreshing hair rinse. I wrote a post about this a while back! Apple cider vinegar hair rinses are simply magical for natural hair growth. They don't just promote hair growth but also make hair appear shiny and conditioned. Basically to make the ACV hair rinse for natural hair, you need 1 part apple cider vinegar, 3 parts water and 10 drops lavender oil. You can read more about it here.
2. Nourishing ACV Hair Mask. Into your high speed blender, add 3 tbsp shea butter, 2 tsp apple cider vinegar and 2 tbsp aloe vera gel. Now blend till white and creamy. Pour it into a clean plastic container. Then add 15 drops of rosemary oil. Now mix with a chopstick till you get the oil combined. Store this hair mask in a cool dry place. Apple liberally on your scalp then cover your hair with a shower cap. Wait 2 hours before washing your hair. Ideally, do this hair mask on your wash day. It can be done monthly/bimonthly.
3. Hair Grower Spray. A hair grower spray is just what you need if you have no time to get messy with hair masks. All you need to do is pour 2 tsp of apple cider vinegar and 1 tsp liquid coconut oil into an amber spray bottle, then add 5 drops rosemary oil, 5 drops lavender oil, 2 drops thyme oil and 3 drops cedarwood oil. Now add ½ cup of distilled water. Cap the bottle and shake well to combine. Continuously spray your scalp with this mixture to promote hair growth. I'd spray this about 5 times a day.
Okay, my lovely naturalistas, that's how you use apple cider vinegar for natural hair growth! Tell me how you use it. Or other remedies you have for gals suffering from thinning edges and stuff, please!