Many beauties have used this DIY glycerin hair mask and ended up with soft, silky tresses! Try it out now!
Glycerin is an ingredient that is super hydrating for hair. It's especially helpful for dry, damaged, frizzy and curly hair types. Why it works is because of its natural humectant properties that extract moisture from the surroundings and lock it into hair strands. It's also soothing for the scalp and naturally conditions hair!
In this post, I'll share a popular recipe with glycerin, egg, apple cider vinegar and castor oil. I added 7 drops of ylang ylang essential oil for it's beautiful scent (which masks the egg-y smell) plus extra hair conditioning properties! Ylang ylang makes hair so soft and silky for me!
Okay, let's check out the DIY glycerin hair mask recipe!
DIY Glycerin Hair Mask Recipe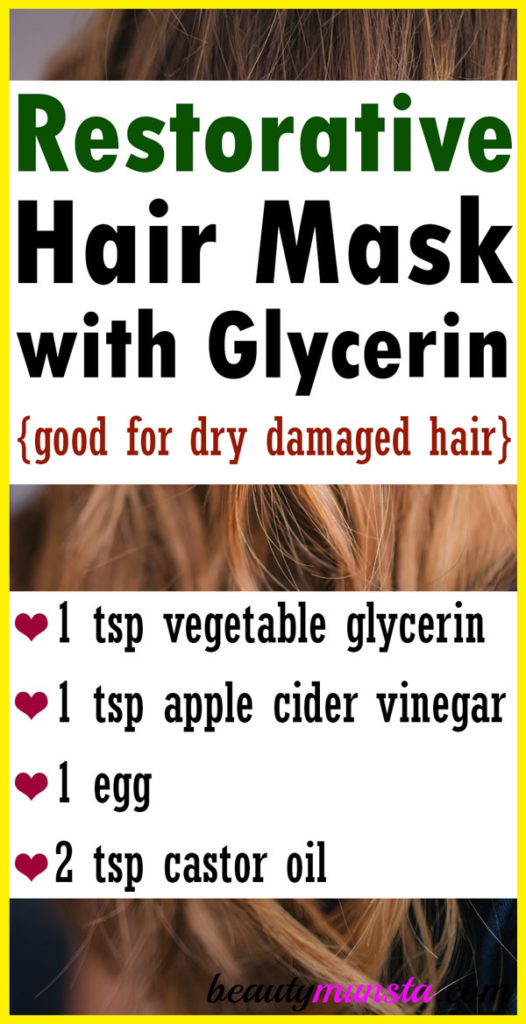 What you need:
1 tsp vegetable glycerin
1 tsp apple cider vinegar
1 egg
2 tsp castor oil
Optional: 7 drops ylang ylang oil
Bowl & whisk
Disposable shower cap or plastic wrap
Directions:
Into a bowl, crack a whole egg then add 1 tsp of vegetable glycerin, 1 tsp apple cider vinegar and 2 tbsp castor oil. If using, add 7 drops of ylang ylang oil.
Whisk well to form a well combined mixture.
Now stand before your kitchen or bathroom sink and apply the hair mask to your scalp & hair.
Twist your hair up and clip it then put a disposable shower cap on top. This will prevent drips and trap heat so the nutrients penetrate deeper.
Let the goodness sit on your head for 15-20 minutes. During this time, you can watch some Netflix, shave your legs or soak in a bath!
When the time is up, gently wash your hair in tepid water in the shower. Then shampoo as usual (preferably using a sulfate-free shampoo). You may shampoo twice if you feel the need to.
Let your hair dry naturally and voila! When it's dry, you'll have luscious silky tresses!
Use once every week for a month then once a month for maintenance.

This DIY glycerin hair mask never disappoints so you must try it out soon!