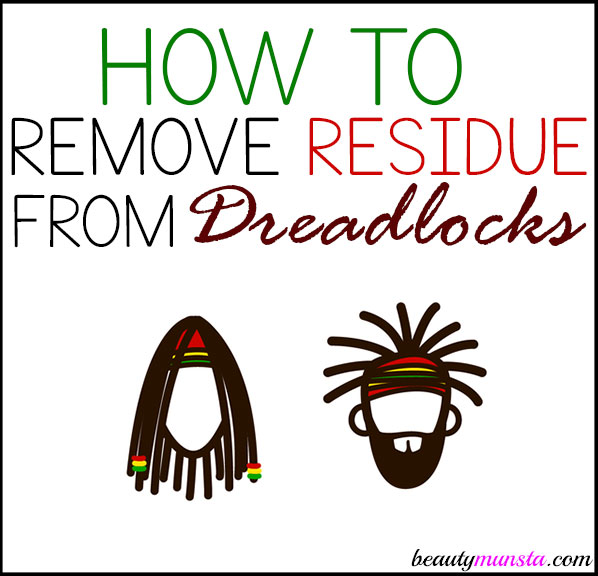 Deep cleansing your dreadlocks from time to time is a must. That's because locs are prone to product build-up and residue overtime. Especially if you use butters/oil to moisturize your locs.
You can do this deep cleanse once in 2-3 months. Make sure you do it at least twice a year. That way, your locs won't collect a lot of residue and start harboring gross stuff like mold!
Now the recipe below is one I recommend for effectively removing wax/oil residue from dreadlocks. Many dreadlock hair care products even the DIY ones use butters and oils that leech into the locs and clog them up.
The wax/oil removing deep cleanse below contains scouring agents such as baking soda and apple cider vinegar.
Let's look at what each of the ingredients in this recipe do:
Ingredients Needed
Baking soda – Baking soda is slightly abrasive and helps scrub off grime, dead cells and stale oils from your locs.
Apple cider vinegar – The apple cider vinegar deodorizes your locs, fights off germs and balances scalp pH.
Witch hazel – This substance is a natural astringent so it helps reduce greasiness. It also tightens the locs. So if you have young dreadlocks, it will help tighten your dreads faster.
Orange & Lavender essential oils – These essential oils serve their purpose as a great scent. They neutralize any musty scents and make your locs smell nice. Orange provides a citrusy scent while lavender a fresh floral scent. They also have antibacterial and antimicrobial properties that keep your locs free from any nasties.
Okay, check out the recipe! Recipe credits go to RagingRootsStudio.
How to Remove Residue from Dreadlocks | DIY Deep Cleanser
What you need
Directions
Dump the baking soda, ¾ cup of witch hazel, 15-20 drops of lavender essential oil, 15-20 drops of lemon eucalyptus oil or orange essential oil into the bucket that you're going to soak your dreadlocks in.
Now fill the bucket ½ way full with warm water. Use your hand to mix everything up to form a solution.
Soak your dreadlocks for 10-30 minutes in the bucket. Then rinse well and empty the bucket.
The next step is to pour the apple cider vinegar, 15 – 20 drops of orange essential oil, 15 – 20 drops of lavender essential oil, and ¾ cup of witch hazel into the same bucket. Fill the bucket ½ way with warm water. Mix well with your hand.
Submerge your dreadlocks for 10-30 minutes. Then rinse well and empty the bucket.
After this deep cleansing session, wash your locs very well using warm water and dry them thoroughly.
Tip: A good recipe for DIY Dreadlock Shampoo is this one. Here's to clean and pleasant smelling locs!