You'll be surprised to know that there are this many beauty benefits of white vinegar for skin, hair and more!
Everyone raves about apple cider vinegar when it comes to natural beauty but white vinegar is also a gem with its amazing beauty benefits! White vinegar is also easily available for many people compared to apple cider vinegar, and cheaper!
So if you see organic white vinegar at the store, grab a bottle because it's going to make you beautiful with less effort, time & money!
25 Beauty Benefits of White Vinegar for Skin, Hair & More
Below are 25 surprising beauty benefits of white vinegar for your skin, hair & more!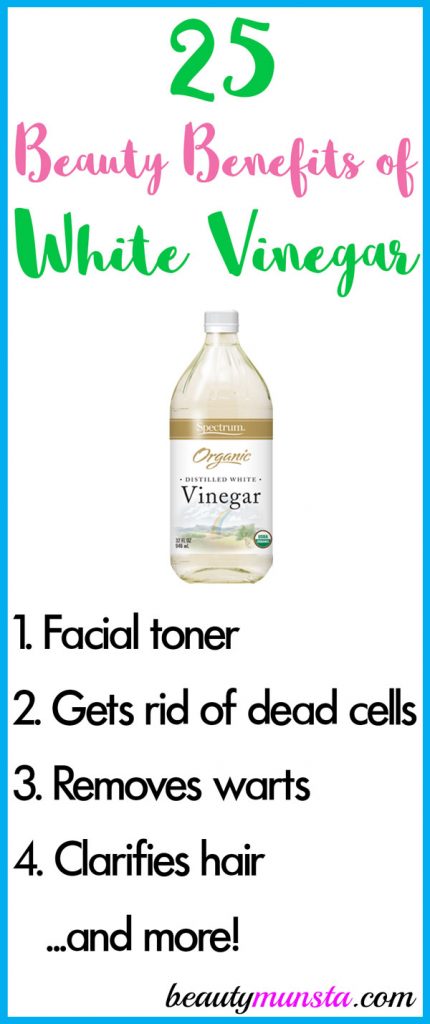 1. Face Wash
The easiest face wash you can make is using white vinegar and water! It deeply cleanses pores by dislodging dirt, grime, dead cells and excess oils. And this leaves you with squeaky clean, fresh and oil-free skin. A white vinegar face wash is good for those with acne prone skin, normal skin & oily skin.
Soap-Free Face Wash: Into a clean bottle, pour ½ cup of filtered water and 1 tsp white vinegar. Store in your bathroom cabinet. To use, pour a little on a washcloth, cotton pad or cotton ball and gently wipe your face. Rinse off with cold water then moisturize as usual.
2. Skin Soother
Believe it or not, white vinegar can act as a skin soother. It has a pH level similar to that of the pH of our skin's acid mantle which is the protective layer of skin. This makes it able to restore balance to skin, which soothes it and heals irritation. If you have irritated skin like skin rashes, bug bites, poison ivy rashes, pour 1 cup of organic white vinegar into a bath. Soak for 15 minutes for relief.
3. Facial Toner
White vinegar is a natural astringent. This means it removes excess oils on the skin. It also helps tighten & minimize pores too! To make a vinegar facial toner, follow the instructions:
Natural Facial Toner: In a spray bottle, add ½ cup of distilled water, ½ tsp white vinegar, 1 tsp witch hazel and 3 drops lavender essential oil. Replace the spray top onto the bottle and shake well. Spray on your freshly washed and dry face, with your eyes closed. Let it dry then moisturize as usual. Try this DIY Green Tea Face Moisturizer.
4. Remove Dead Cells
White vinegar is exfoliating because it is acid. It sloughs off dead cells on the top layer of skin, which leaves skin looking and feeling smooth. If you have flaky skin, try this exfoliating face mask:
Exfoliating Face Mask: In a small bowl, add 1 tsp white vinegar, 1 tsp Himalayan pink salt and 1 tsp raw honey. Mix everything together. Apply it on your face, avoiding the eyes. Let it sit for 10 minutes then rinse off with tepid water. Tone with the facial toner above and moisturize with a pea-sized amount of shea butter.
5. Tight, Firm Skin
You can get tighter and firmer skin using white vinegar on your face. Use it as a facial toner or face mask.
5. Purifies Pores
White vinegar purifies pores by removing dirt, grime and pollution from deep within them. It also helps with blackheads and whiteheads! So if you have clogged up pores, use it to as a facial scrub! Make a scrub with vinegar as follows:
Purifying Pore Scrub: Into a small non-metal bowl, add 1 tsp bentonite clay, ½ tsp white vinegar and 1 tsp water. Now add 1 drop tea tree essential oil. Mix everything together with a non-metal spoon to form a paste. Scrub this paste on your face, avoiding your eyes. Rinse off with tepid water then tone and moisturize your skin.
6. Acne Fighter
Got acne? White vinegar is your friend! It kills acne causing bacteria on the face, reduces excess oiliness on skin, tightens pores and minimizes inflammation and redness! Use it as a facial mask, facial toner or face scrub.
7. Whiter Teeth
Improve your smile with whiter brighter teeth using white vinegar! It removes plaque and tartar from teeth and also fights decay-causing bacteria. You can either make a mouthwash with it or make a teeth whitening treatment at home. Here's the recipe:
Teeth Whitening Treatment: In a small bowl, add 1 tsp baking soda, ½ tsp white vinegar and ½ tsp coconut oil into a bowl. It's optional but you can also add 2 drops of peppermint essential oil. Mix well with a spoon then apply it onto your clean teeth. Leave it on for 5 minutes then rinse your mouth. Repeat just once a week or even once in two weeks.
8. Conditions Hair
Vinegar is amazing when it comes to hair care. Most people use it as a hair rinse for natural conditioning! It makes hair silky, soft and shiny! Here's how to do a vinegar hair rinse really quick:
Conditioning Hair Rinse: In a Pyrex measuring cup, add 2 cups of water, 2 tbsp white vinegar and 3 drops of your favorite essential oil. I like adding hair conditioning essential oils like geranium oil, ylang ylang oil or rose otto oil. Mix well then pour over your head and hair length as the final hair rinse.
9. Relieves Razor Bumps
It's so frustrating when you get tiny bumps all over your legs after you shave! You can easily prevent this by shaving with coconut oil. You can even try a Homemade Shaving Cream with more nourishing ingredients. But if you already have razor bumps, make a spray combining 1 tsp of white vinegar, ¼ cup water and 4 drops lavender essential oil. Shake well and spray on your razor bumps to relieve itching, reduce their appearance and prevent more.
10. Teeth Whitener
Remove unsightly stains from your teeth using sea salt! It has an abrasive texture that helps whiten teeth by scraping off plaque, food stains and tartar. Here's a teeth whitening recipe you can use:
Teeth Whitening Scrub: In a small bowl, add ½ tsp sea salt, ½ tsp baking soda and ½ tsp coconut oil. Now add a drop of peppermint essential oil. Mix this up and scoop it up with your toothbrush. Brush your teeth with it then let it sit for 2 minutes before rinsing off thoroughly. Use once a week.
11. Remove Yellowness from Nails
Yellow nails are unsightly and you need to whiten them ASAP! Sometimes when you're trying to grow your nails longer, they can become yellow looking. Not to worry though! White vinegar can come to your rescue! Here's a nail brightening soak:
Nail Soak: Into a medium-sized bowl, add 1 tsp white vinegar, 1 tsp olive oil, ½ tsp liquid soap and ¼ cup of water. Mix well and soak your fingers for about 10 minutes. Rinse off and gently scrub them with a nail brush. Pat dry and moisturize with olive oil.
12. Kills Lice
Vinegar contains acetic acid which helps dissolve the 'glue' that enables nits to stick to hair strands. It also kills lice with its acidic nature. You can spray a solution of white vinegar and water in the ratio 1:3 all over your hair. Also add a few drops of tea tree essential oil. Leave it for 1 hour before saturating your entire scalp and hair with olive oil. This suffocates nits & lice. Next use a lice removal comb to help remove dead lice and nits. Wash your hair very thoroughly, shampooing twice/thrice as needed to remove all the oils. Repeat every three days until your hair is clear of lice.
13. Miracle Hives Cure
Vinegar is a miracle cure for hives! You have to try it out! You can use it directly but for more sensitive skin, first dilute it with water then apply. Keep applying throughout the day and watch your hives disappear! You should see them clear up within maximum 3 days.
14. For Cracked Heels
Soften up cracked heels and remove flaky skin on them by making a foot soak containing vinegar! Here's the recipe:
Foot Soak for Cracked Heels: Into a bucket or foot soak tub, add ¼ cup of vinegar, ¼ cup sea salt, 2 tbsp coconut oil and 2 tsp liquid soap. Now fill the tub with hot water. Soak your feet in for 10-15 minutes then rinse well and moisturize your heels with a Homemade Tea Tree & Peppermint Foot Cream.
15. Clarifies Hair
One of the best natural ingredients you can use to clarify hair and get rid of product build-up is vinegar! Use it as a hair rinse as follows:
Clarifying Hair Rinse: Into a Pyrex measuring cup, add 4 cups of water, ¼ cup white vinegar and 7 drops of your favorite smelling essential oil – I like lemongrass, bergamot, geranium and rose. Mix well and pour this on your head in the final hair rinse after washing your hair.
16. Natural Deodorant
You can use apple cider vinegar as well as white vinegar as a natural deodorant. I know what you're thinking – how the heck can stinky vinegar work as a deodorant?! But it does! And the vinegary smell doesn't linger! It works by balancing the skin's acid mantle which reduces sensitive underarms & killing odor-causing bacteria. Here's a deodorant spray with vinegar:
Deodorant Spray: Into a spray bottle, add 1 tsp vinegar, 1 tsp witch hazel, ½ cup distilled water and 15-20 drops of lavender essential oil (or your favorite essential oil). Other good choices include bergamot essential oil (this one's photosensitive so do not expose underarms to sunlight), peppermint essential oil and lemongrass essential oil. Shake well and spray onto clean underarms. Wait for it to dry and enjoy a fresh day ahead!
17. Bug Bite Healer
Plagued by bug bites?! Relieve that terrible itch and minimize redness by applying vinegar! Soak a cotton ball with vinegar and directly apply it onto your bug bites. For more sensitive skin, dilute vinegar with water before application.
18. Foot Deodorizer
Kick out nasty foot odor by using vinegar in your foot soak or bath! It kills bacteria that causes bad odor, fights foot fungus & neutralizes stinky smells. Simply add ¼ cup of vinegar to your foot soak or 1 cup of vinegar to your bath. Also add essential oils such as 10 drops of lavender essential oil mixed in with the vinegar for a pleasant scent.
19. Fights Skin Fungus
Apply vinegar straight onto skin fungus to kill it off. If you have sensitive skin, first dilute it with water then apply.
20. Sunburn Relief
Vinegar can give relief to sunburn, believe it or not. To get relief, mix ¼ cup of white vinegar into 3 cups of water. Soak a washcloth into it then apply it on your sunburn. Repeat 3 times a day. Or, simply pour ½ to 1 cup of vinegar into a cold bath and soak for 15 minutes.
21. Removes Warts & Skin Tags
Apply white vinegar directly onto a wart or skin tag several times a day. This will dry it up, making it turn black. It'll soon fall off. Make sure to protect the surrounding healthy skin with Vaseline or a lotion so that it doesn't get burned.
22. Relieves Eczema & Psoriasis
Itchy dry and flaky eczema and psoriasis patches can be relieved using white vinegar. Simply add 1 cup of white vinegar to a warm bath, or douse a washcloth with a solution of white vinegar and water in a 1:3 ratio then apply it gently on the affected areas for a few minutes.
23. Kills Nail Fungus
Vinegar is a strong acidic product which makes it good for killing nail fungus. Soak a cotton ball with white vinegar, add 2 drops of oregano essential oil then tape it to the affected nail. Use overnight for a week.
24. Softens Rough Skin
When combined with sugar, vinegar can be used to soften rough skin on the elbows, knees and heels! Try this skin softening scrub:
Skin Softening Scrub: Pour ½ cup of granulated sugar into an air tight jar followed by ¼ cup of vinegar and 10 drops of lavender essential oil. Mix them all together and store in a cool dry place. To use, place 1 tbsp of the scrub into a bowl and take it to the shower with you. Wet your skin and scrub it gently onto your elbows, knees and heels for 2 minutes then rinse off.
25. Lightens Acne Scars & Dark Spots
Vinegar lifts off dark dead cells on scars and dark spots revealing fresh new lighter and softer skin. Mix it up with sugar, salt or baking soda for a skin lightening face scrub.

Are you ready to use white vinegar in your beauty regimen?! Share your thoughts in the comments below!