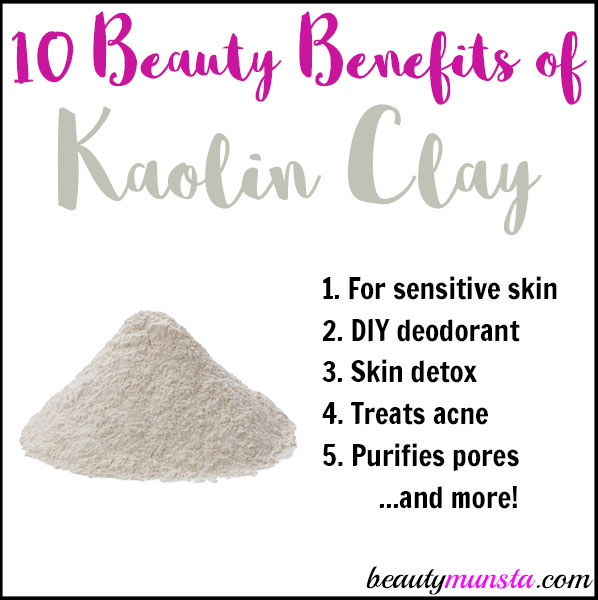 Kaolin clay is a type of soft white cosmetic clay. It is named after the Kao-ling mountain in China, where the clay was mined for centuries.
In the beauty department, it has been used for facial masks, poultices, soaps, scrubs, deodorants and facial powders.
Where to Get Kaolin Clay
If you're buying kaolin clay, make sure it's 100% pure and high quality. You can get pure kaolin clay here:
10 Beauty Benefits of Kaolin Clay
Find out 10 beauty benefits of kaolin clay for skin, hair and more below!
1. Reduces Oily Skin
Kaolin clay is a fine and light clay that has natural absorbency properties. When applied on skin, mixed with a little warm water, it will soak up excess oils and stale sebum on the skin and within the pores. Don't miss: DIY Face Wash with Tea Tree Oil for Acne, Oily Skin & More
2. Purifies Pores & Detoxes Skin
Since it has detoxifying effects, kaolin clay sucks out impurities such as grime, dirt, pollution and germs from the pores. This cleanses out the pores and prevents them from clogging up and causing breakouts. Try this deep cleansing & pore purifying kaolin clay face mask. You can also make your own face mask: Homemade Detoxifying Mask for Radiant Skin
3. Cleanses Skin
Kaolin clay can be used as a daily facial cleanser. It is gentle and can be used in place of harsh facial cleansers.
To make a facial cleanser with kaolin clay, place ¼ cup of kaolin clay, ½ cup of colloidal oatmeal and 7 drops of lavender oil in a bowl. Whisk them together then store in a clean jar in your bathroom cabinet. To use, place a little on your palm, mix it with water to form a paste then scrub it on your face. Rinse off with tepid water.
Interested in making your own cleansers at home? Try these recipes:
4. Good for Irritated Skin
Whether it's poison ivy, bug bites or red rashes, kaolin clay can help. Simply run a warm bath then throw in 1 cup of kaolin clay and 2 cups of colloidal oatmeal. Stir well and soak for at least 15 minutes to get relief.
5. Soothes Sensitive Skin
Being the mildest of all clays, kaolin clay is suitable for sensitive skin types. It soothes easily irritable skin and skin prone to breakouts, rashes and redness.
Make a soothing facial mask by mixing up 1 tspkaolin clay and with 1 tsp of liquid honey in a small bowl. Slather this lightly onto your face and leave it for 5 minutes. Rinse off with warm water first, then cold water.
6. Treats Acne
Kaolin clay is good for treating red blotchy painful and pus filled acne. You can treat acne effectively with kaolin clay by making a weekly acne treatment:
In a mixing bowl, add 1 tsp of kaolin clay, 2 tsp of pure aloe vera gel and 2 drops of tea tree oil. Mix well with a cosmetic brush then apply gently all over your face. Avoid the areas around your eyes and mouth. Now leave it for 7 minutes then rinse off with warm water. Splash your face with cold water and pat dry.
Don't miss: How to Use Essential Oils for Acne – 10 Ways
7. Natural Hair Shampoo
Because it can suck out dirt, oils and other impurities, kaolin clay acts as a good natural shampoo! It can be mixed with other cleansing ingredients to form a hair and scalp cleansing paste.
In a bowl, add 3 tbsp of kaolin clay, one capful of organic apple cider vinegarand 7 drops oflavender oil. Now slowly add in rose water while stirring with clean fingers to form a lump-free paste. It shouldn't be too thick. Slather this paste onto your dry scalp and hair. Let it sit for 2 minutes then rinse off with tepid water first, then cold water to seal hair cuticles.
8. Exfoliates Dead Cells
With its slight abrasive texture, kaolin clay makes a good exfoliant. It scrounges off dead cells and flaky skin, keeping skin looking smooth and soft.
Make a gentle but effective body scrub with kaolin clay by mixing together ½ cup of kaolin clay, ¼ cup of fine white sugar and ½ cup of liquid coconut oil. Add 10 drops of geranium oil for beautiful scent. Now scrub this on wet skin in the shower and rinse off well.
9. Used in Deodorant
When used in deodorant, kaolin clay soaks up sweat and oils from the underarms and neutralizes bad body odor. It also pulls out toxins from deep within. All these keep underarms clean and fresh.
I have a great DIY deodorant recipe on the blog which simply combines coconut oil, corn starch, baking soda and essential oil. It works wonders! Add a tsp of kaolin clay to this recipe to benefit from its deodorizing and detoxifying properties.
10. Cleanses Teeth
Did you know that kaolin clay is used in toothpastes? It gives a cleansing effect, drives out toxins and scrapes off plaque and tartar from teeth. Don't miss: Homemade Essential Oil Toothpaste recipe.
To make a DIY toothpaste for cleaner and whiter teeth, combine 1 tsp kaolin clay, 1 tsp coconut oil, 5 drops of liquid stevia and 3 drops of peppermint oil in a bowl. Use as your toothpaste for the day: once in the morning and at night. You can do this once a week.
Use Kaolin Clay In A Charcoal Face Mask to Detox Your Skin

Natural and Organic Bamboo Charcoal Face Mask with kaolin clay, rosehip oil and Vitamin C: