Throw out those harsh face washes and learn how to make your own. This soothing aloe vera cleanser is a mild foaming face wash that works just as well as conventional face washes. But of course, it's much safer, non-toxic and provides tons of benefits for your skin!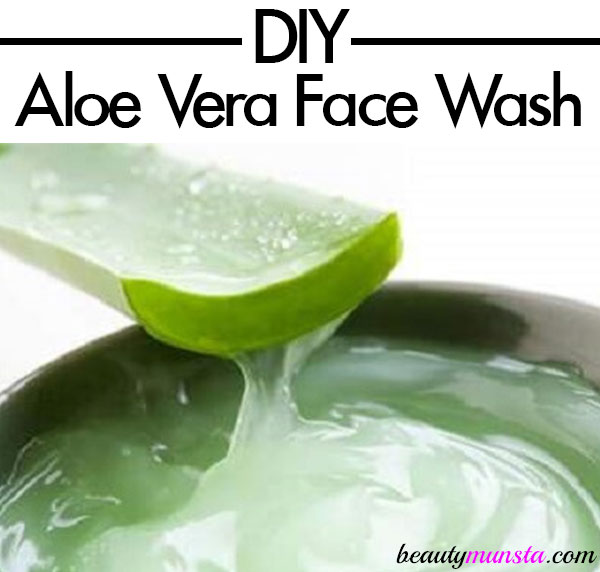 What is Aloe Vera Gel?
There's nothing quite like aloe vera gel in the world!
It's completely natural, plant-based and has a translucent gel-like consistency. Nature is really cool, huh?!
Aloe vera gel is the substance that's found within the succulent leaves of the aloe plant. It's healing properties have been known to man since ancient times!
Even ancient Egyptian scrolls have documented the medicinal uses of aloe vera gel, dating back thousands of years. They used it for all sorts of ailments from boils and sores on the skin, to treating burns, disinfecting wounds and boosting hair growth.
What are the Benefits of Aloe Vera for Skin?
The benefits aloe vera gel offers for skin are so numerous! It's easy to see why aloe vera is a darling in the skin care world.
Here are just a few of the healing compounds found in aloe vera gel that make it a wonder remedy for all sorts of skin issues:
Vitamin A – Popularly known as retinol or retinal, vitamin A is a major component in many anti-aging and anti-acne creams. It helps take care of the delicate skin under the eyes, reduces dark circles, and keep the skin supple and moisturized
Vitamin B12 – Vitamin B12 is a rare vitamin that is abundant in aloe vera. It plays a major role in skin health, reducing redness, dryness, itching, dark spots and blemishes
Vitamin E – Popular in the skin care world, this antioxidant vitamin is also known as the "skin protector". It helps repair damaged skin cells and protects the skin against UV damage.
Vitamin C – Known as citric acid or ascorbic acid, vitamin C is a powerful antioxidant that rejuvenates and vitalized dull and tired skin
Salicylic Acid – This popular type of plant acid is actually well-known in the acne world. It is very effective against acne and pimples, making aloe vera a favorite remedy in naturally treating acne.
Polysaccharides – A type of plant based sugars, these compounds can help cleanse the skin by binding to grime, dead cells and impurities. They also act as gentle exfoliators, revealing bright, young skin
Amino acids – These are proteins which help to fill in cracks and microscopic dents in the skin, giving you a plump, flawless look. Helps you look youthful and vibrant
Homemade Aloe Vera Cleanser Using Natural Ingredients
Why make your own cleanser when you can buy a fancy, branded one from the store, right?
Here is how each natural ingredient contributes to your skin in this cleanser:
Raw Honey – Raw honey is brimming with thousands of compounds, some of which are still being studied by scientists to date. It is highly antibacterial, cleanses and disinfects pores, a natural humectant that hydrates and moisturizes skin and has profound antiaging properties.
Liquid Castille Soap – Conventional face washes have SLS (sodium laureth sulfate) as a foaming surfactant – but it is toxic and is a known DNA destroyer, endocrine disruptor and irritant. Castille soap is made from completely natural ingredients like saponified olive oil and is non-toxic, safe and gentle on skin.
Evening Primrose Oil – Extracted from the seeds of the evening primrose plant, this oil is as sexy as it sounds! It is a hormone-balancing oil that helps balance the skin and clear hormonal acne. It is non-comedogenic, meaning it will not clog pores or cause acne and blackheads. It is also a wonderful, light moisturizer that will leave your skin feeling supple and nourished.
Essential Oils – Essential oils are completely natural and highly aromatic oils that are a perfect substitute for those artificial fragrances found in conventional face washes. They also come with amazing benefits for skin! Read: 7 Best Essential Oils for Skin Brightening
How to Make Homemade Aloe Vera Cleanser
Making a homemade aloe vera cleanser could not get any easier than this! This cleanser is non-toxic, works great for sensitive skin and uses totally natural, minimal ingredients.
Ingredients:
Directions:
Mix all of the above ingredients thoroughly in a bowl.
Now transfer to a recycled container or a soap dispenser.
Use to wash your face twice a day, in place of conventional face wash / cleansers.