A DIY serum with aloe vera?! You've totally got to try this out!
Aloe vera is something that we at beautymunsta.com love with all our skin (and hair!) cells! It is super soothing and has been used for centuries for its medicinal benefits. When applied on skin, it acts as a sealant by drawing moisture from the atmosphere and locking it into the epidermal layer of skin. This keeps skin fresh, hydrated and looking supple. In this post, I want to share with you how to make an easy DIY serum with aloe vera – yes, it's very easy!
DIY Serum with Aloe Vera
Refrain from using fresh aloe vera gel directly from the plant. This is because using this fresh aloe will make your serum spoil faster. I recommend buying 100% pure organic aloe vera gel from Lily of the Desert, Fruit of the Earth and my favorite Amara Organics!
*The recipe yields 1.5 oz of facial serum. Making smaller batches of this facial serum is the way to go when dealing with water-based ingredients like aloe vera!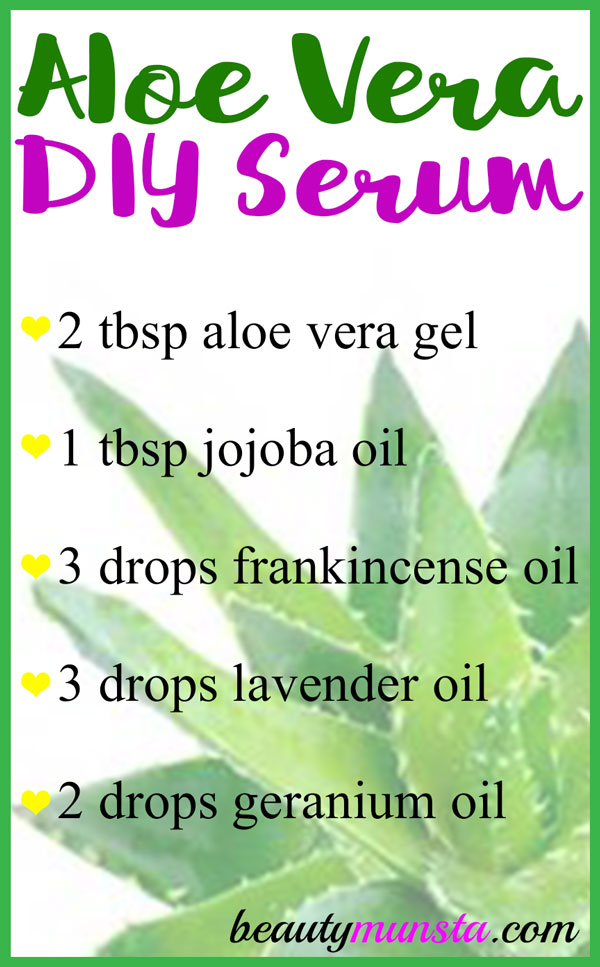 What you need:
2 tbsp pure aloe vera gel
1 tbsp jojoba oil or any of your fav skin care oils
3 drops frankincense essential oil
3 drops lavender essential oil
2 drops geranium essential oil
Small funnel
2 oz amber glass dropper bottle
Directions:
Into a 2 oz amber glass dropper bottle, pour 2 tbsp of aloe vera gel using a small funnel.
Next pour 1 tbsp of jojoba oil, or your favorite skin care oil. If you have acne prone skin, I recommend non-comedogenic oils such as argan oil, prickly pear oil, safflower oil and watermelon skin oil.
Finally, add the essential oil drops: 3 drops frankincense, 3 drops lavender and 2 drops geranium. Feel free to use any other anti-aging essential oils of your choice.
Now remove the funnel and cap the bottle tightly.
To mix all ingredients, do not shake but rather roll the bottle between your palms. Shaking the bottle will create air bubbles that can make your serum spoil.
To use, place 4 drops of the serum on your palm then dot it all over your face. Gently massage it in your skin for a minute. It can be applied on damp skin for long lasting moisturization.

Go ahead and enjoy nourishing and moisturizing your skin with this DIY serum with aloe vera!