If you're a fan of water-based face moisturizers, you're going to love this DIY aloe vera juice moisturizer!
Water-based facial moisturizers are always a good choice for people with oily/acne prone skin. They ensure well-moisturized and soft skin without the use of heavy-duty ingredients like butters/wax that can clog up skin pores. They're also light and can be used for the summer months, where you wouldn't want your moisturizer to be melting on your face.
What's great about aloe vera juice is that it has a lot of beauty benefits for gorgeous skin. Here are just a few of them:
Balances the skin's pH
Reduces overly oily skin
Tightens and shrinks pores
Seals moisture into skin
Doesn't clog up pores
Fights acne
Reduces redness & inflammation
Looking at the above benefits, what's not to love, right?! You can read more here: 10 Beauty Benefits of Aloe Vera
Okay, now let's go ahead and check out the easy-peasy recipe for how to make a DIY Aloe Vera Juice Moisturizer for your precious facial skin!
DIY Aloe Vera Juice Moisturizer for Facial Skin
Even though this is a water-based moisturizer, I've added two oils to this recipe. That's because the oils will help lock in the moisture from the aloe vera juice. This increases hydration and keeps skin moisturized for a very long time. Don't worry about the oils. I chose non-comedogenic oils (they totally won't clog pores, make you greasy or cause breakouts). If you choose to omit the oils, your moisturizer won't turn out as moisturizing. It might even make your skin feel dry! Trust me on this one, babes!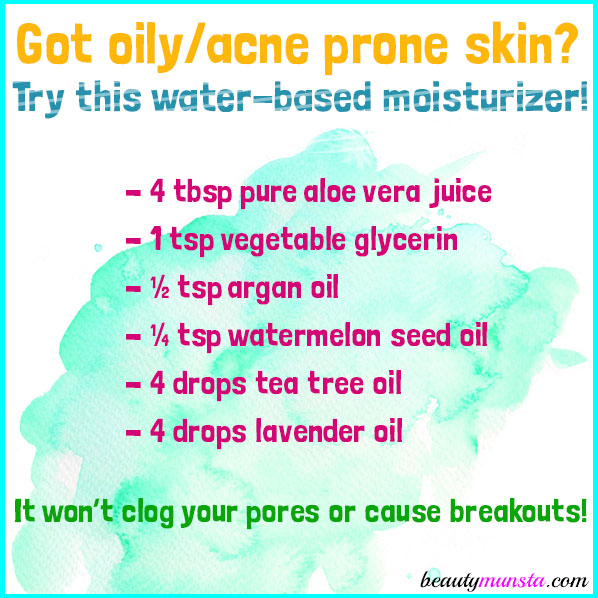 What you need
Directions
Using a small funnel, pour the measured amounts of aloe vera juice, vegetable glycerin, argan oil and watermelon seed oil into your amber dropper bottle.
Now add the optional essential oils, if using.
Close the bottle and shake well to combine everything.
To use, place a few drops (3-4 drops) on your palm, rub both palms together then apply it on your face. It's best applied to wet skin, just before you pat it dry.
Please try this DIY aloe vera juice moisturizer and come share your results with me! xoxo