Try a chamomile tea mask for acne to get rid of those pesky pimples!
Acne is something every one suffering from wants to get rid of ASAP! No one likes having to look in the mirror only to see angry red marks staring back at them. Thankfully, there are several home remedies that help significantly reduce the appearance of acne and make it disappear fast! One of these effective home remedies is chamomile! Don't miss: 12 Beauty Benefits of Chamomile Flowers for Skin, Hair & More
An amazing way to use chamomile to soothe your acne is by applying chamomile tea to your face. You can apply cooled chamomile tea directly on your face by spraying it on using a spray bottle. Or, use this chamomile tea mask for acne which combines other acne-fighting ingredients like aloe vera and tea tree!
Chamomile Tea Mask for Acne
You can use this face mask every single day. It's immensely helpful for cooling down angry red acne. If you want it to be disinfecting as well, add just one drop of tea tree essential oil. Tea tree is a powerful acne fighter! Just one drop is enough because it is very concentrated!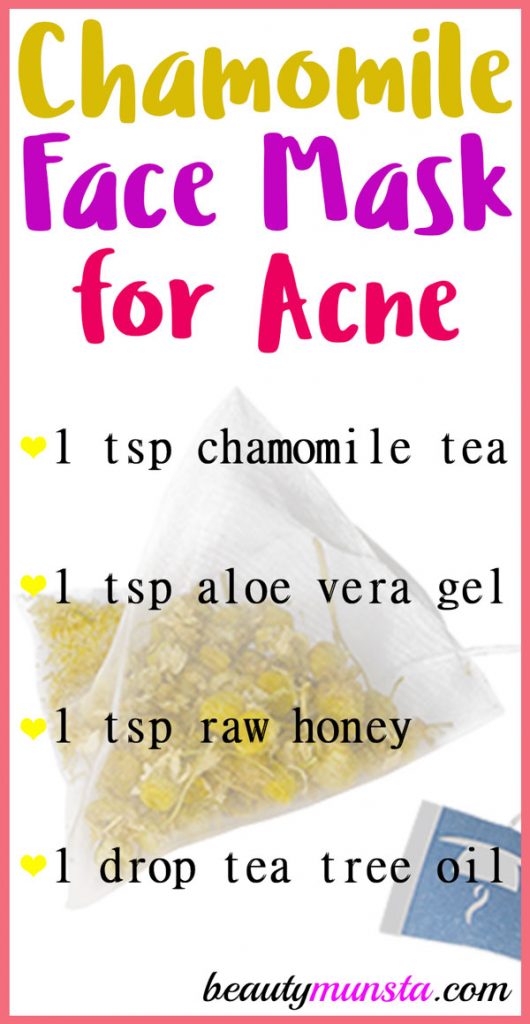 What you need:
Directions:
Begin by brewing a cup of chamomile tea by steeping one chamomile tea bag in one cup of boiling water for 20 minutes.
When the 20 minutes are up, scoop out just one tsp of chamomile tea and put it in a small bowl.
Now add 1 tsp of pure aloe vera gel. You can use fresh aloe vera gel straight from the plant or if you don't have a plant, just buy 100% pure and organic aloe vera gel from your local pharmacy or online. I like Lily of the Desert, Fruit of Earth and my favorite: Amara Organics aloe vera gel.
Finally, add 1 tsp of raw honey. You can even use manuka honey which is the best type of healing honey out there – it's excellent for acne!
Mi up all your ingredients with a spoon to form a mixture.
Apply the mixture on your clean face using your finger tips. Avoid the eye and mouth area.
Wait for 7 minutes for the mask to sink in. Now would be the perfect time to sip up the rest of your chamomile tea while waiting for the mask to do its magic!
When the time is up, rinse it off with tepid water then moisturize. You might want to check out my Green Tea Face Moisturizer. It's water-based so it's good to use for acne prone skin especially!

This chamomile tea mask for acne is very soothing and non-irritating so go ahead and try it now!
More Helpful Face Masks for Acne:
Get Your Dedicated Facial Bowl and Brush Set