Try this DIY overnight face mask for acne prone skin to help reduce stubborn zits and freshen your face!
What is an overnight face mask? It's a face mask you apply before going to bed and remove when you wake up the next day! The purpose of an overnight face mask is to deliver nutrients at night time (or rather all night long), which is when the skin takes time to regenerate and repair itself. These masks, rich in nutrients, help renew skin cells, plump up skin, soften it and encourage collagen production so you can wake up to healthy glowing skin!
Overnight is a very important time to treat your skin which is why things like night cream exist! And when you have acne prone skin, overnight face mask is a way to help soothe your skin and improve it all night long so you can wake up with diminished acne and little to no inflammation and redness.
The ingredients we shall be using in this DIY overnight face mask are aloe vera gel, grapeseed oil and essential oils for tea tree, lavender and geranium. All these ingredients are safe and effective for acne prone skin!
DIY Overnight Face Mask for Acne Prone Skin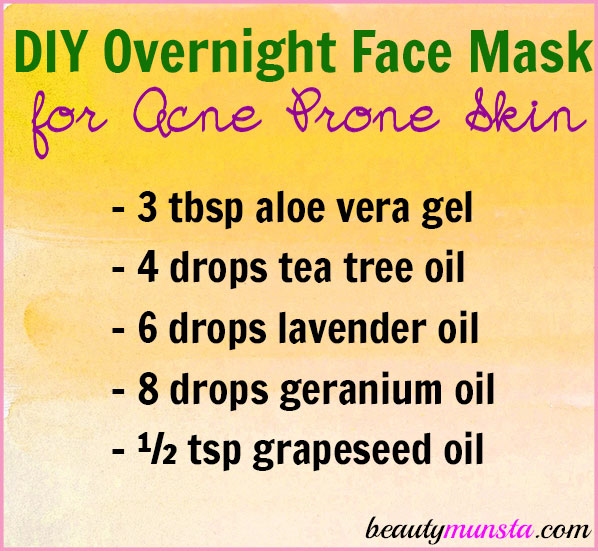 What you need
Directions
Place your aloe vera gel into the container then add the rest of the ingredients.
Stir everything up using a chopstick to form a gel-like emulsion.
Store in a cool dry place, away from sunlight. You can store it in your bathroom cabinet but make sure not to ever get water into it!
To use, rub a pea-sized amount or more all over your skin.
Let it dry up somewhat then go to bed!
Wake up the next morning and wash your face as usual. Admire your fresh and happy looking skin!
Go ahead and use this DIY overnight face mask for acne prone skin every single night! You'll definitely be pleased with the results!