Make this DIY face mask for hormonal acne! It is cleansing, soothing and balances out excess sebum!
Hormonal acne is characterized by huge, painful and pus-filled pimples. It usually appears on one part of your face recurrently, like the cheeks, forehead or jaw line. For females, it can appear at a particular time, that's before, during or after periods.
One of the things you can do to naturally manage hormonal acne is by making a soothing and sebum-regulating face mask:
DIY Face Mask for Hormonal Acne
Here are the ingredients used in this face mask and their benefits:
Manuka honey: Is cleansing in nature and a powerful antibacterial substance. It fights acne causing germs, soothes inflammation and lightens acne scars.
Pure aloe vera gel: Has incredible skin soothing properties. It cools down angry red and painful hormonal acne. It also reduces oily skin.
Tea tree essential oil: A powerful disinfectant, tea tree is the number one essential oil for acne. It destroys acne causing germs and keeps skin fresh and firm.
Geranium essential oil: Has hormone-balancing properties. It regulates excess sebum production on the skin, which is one of the characteristics of hormonal acne.
Okay, onto the DIY face mask for hormonal acne!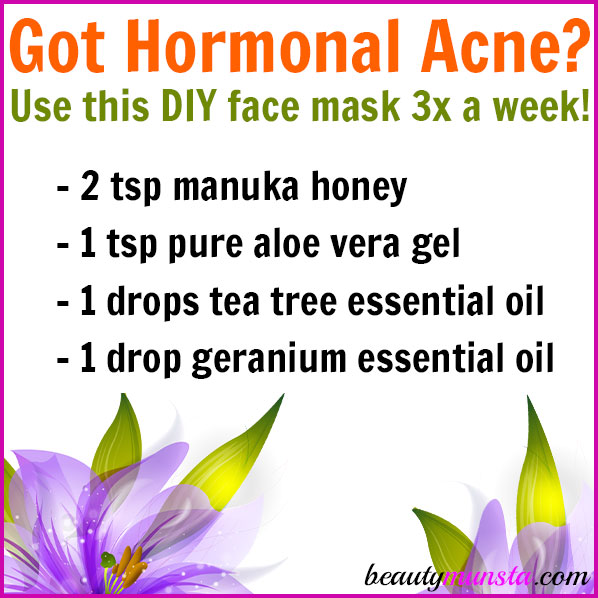 What you need
Directions
Mix all ingredients in a small mixing bowl.
Apply using clean fingers gently onto your clean face.
Wait 10 minutes, then rinse off with warm water. Splash your face with cold water at the end of rinsing to close off pores.
Pat your face dry with a soft face towel, tone (if you do it) then moisturize. To make a DIY face moisturizer for hormonal acne, mix up ¼ cup of hemp seed oil with 6 drops of tea tree essential oil and 6 drops of clary sage essential oil. Use 2-4 drops to moisturize your face.
You can use this DIY face mask for hormonal acne three times a week!
Further Reading