If you want to treat your hormonal acne naturally, follow this DIY hormonal acne protocol! It uses natural ingredients and simple holistic approaches to manage hormonal acne!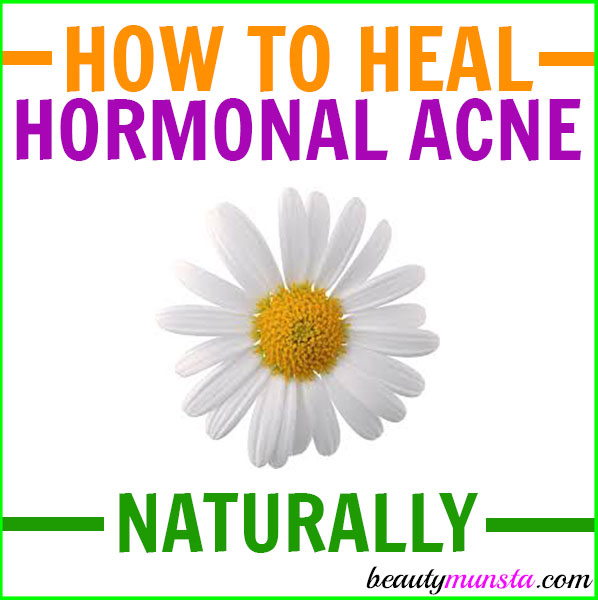 Causes of Hormonal Acne
What is hormonal acne? It's simply acne caused by excess hormones in the body, especially the hormone testosterone. Now both men and women have this hormone in their body, it's necessary for healthy body functioning in both sexes. However, for the body to be well-functioning, hormones have to be in balance. Acne happens when hormones are out of whack. This can happen during hormonal body changes in puberty, pregnancy, menstruation and menopause.
When there is excess testosterone in the body, it's purged out of the body in the form of pus-filled acne (cystic acne). The excess testosterone travels in the blood stream all the way into the skin cells. It also promotes over production of sebum which clogs pores and leads to breakouts.
That's how hormonal acne is formed!
Characteristics of Hormonal Acne
How do you know if the acne you've got is hormonal acne? If any of the factors below are affecting you, then there's a high chance your breakouts are hormonal in nature:
You're going through puberty.
Your acne is pus-filled, deep and painful.
Your breakouts are always in the same spots (cheeks, forehead, jaw line).
For females, breakouts occurring at the same time each month, like the time nearing your period.
DIY Hormonal Acne Treatment Protocol
Follow these 7 simple but effective steps in this DIY hormonal acne treatment protocol:
1. Detox your Body
To purify your blood and cleanse your system of toxins, include more fresh fruits into your diet. Citrus fruits like oranges and grapefruits are cleansing and rich in Vitamin C which is good for your skin. Also, ensure to drink enough water. I have a water purification system that is very effective at removing impurities in water while keeping the mineral content. A water purifier ensures you're not just taking any kind of water but high quality pure water.
2. DIY Face Cleanser
Make your own face cleanser using hormone-balancing natural ingredients such as geranium essential oil. Here's how to make it: Into a squeeze bottle, pour in ¼ cup of manuka honey. Now add 12 drops of geranium essential oil and 12 drops of tea tree essential oil. Shake the bottle to mix everything up. To use, clean your face with warm water to open pores. Then squeeze a little honey onto your palm and gently massage the honey onto your face for a minute. Rinse off with warm water then splash your face with cold water to close pores. Pat your face dry with paper towels or a clean face towel.
3. DIY Face Moisturizer
A simple 3-ingredient face moisturizer is all your need to control and heal hormonal acne. Into a 4 oz amber glass dropper bottle, add 3 oz of hemp seed oil. Now add 6 drops clary sage essential oil, 6 drops tea tree essential oil and 6 drops geranium essential oil. Close the bottle and shake well. Apply 2-4 drops on your face to moisturize.
4. Supplements
Evening primrose oil is a hormone-balancer that helps treat hormonal acne. Buy a bottle of 100% pure evening primrose oil capsules and take 500mg twice a day after food. Of course, be sure to consult your doctor before taking these capsules.
5. Limit Refined Sugar
High blood sugar increases hormone production. This happens when the excess (in form of energy) is given to the ovaries, which go into an overdrive producing hormones. This increased production puts excess testosterone into the bloodstream, making the body purge it through pus-filled acne. So limit your intake of sugar, especially refined white sugar and you'll help balance your hormones. Use natural sugars in moderation, such as maple syrup, jaggery, liquid stevia and raw honey.
6. Stop Stress
Yup, stress invigorates hormonal acne. Calm down, meditate and diffuse stress-relieving essential oils like lavender and cedarwood in your room: Just place 8 drops of lavender essential oil in a high quality essential oils diffuser, following the manufacturer's instructions. Breathe in the calming scent and just relax…
7. Eat Organic Animal Products
Nowadays, meat and diary is pumped full of hormones! Yikes! That's why I always opt to buy free range eggs and pasture-raised meat. Stop eating factory farmed eggs from caged chicken and processed meat so that you can prevent excess hormones from getting into your body!
This is a very simple DIY hormonal acne treatment protocol but it's very, very effective if you follow it correctly. What other things are you doing to naturally help your hormonal acne? Please share!
More Acne Help: