What are the best vitamins for hormonal imbalance in women?Hormonal imbalance is a cause for many health disorders in women. Women undergo many hormonal fluctuations throughout their lives – during menstruation, PMS, pregnancy and menopause.
These hormonal shifts can cause irritability, food cravings, low energy levels, depression and cystic acne. They can also lead to female disorders such as PCOS.
Causes of Hormonal Imbalance in Women
There are many causes of hormonal imbalances in women.
Due to the natural aging process in women, from menstruation to menopause, hormonal fluctuations occur.
However, other factors in the environment such as pollution, chemical laden foods, toxic cleaning and beauty products, factory reared meat are well known hormone disruptors.
Nutrition also plays a big part in hormonal health. Eating too many foods high in sugar, unhealthy fat, simple carbohydrates, artificial preservatives while ignoring foods rich in vitamins, minerals and antioxidants such as fresh fruit, vegetables, healthy fat, organic meats and nuts deprives the body of the nutrients it needs to keep hormones stabilized. If your diet is lacking, you can take vitamin supplements to gain the necessary nutrients you need.
While you should consult your doctor to get proper diagnosis and treatment of hormonal imbalance and their associated problems, you can incorporate these top vitamins for hormonal balance into your diet. They will help balance out hormonal irregularities naturally.
Now let's take a look at the most important vitamins for Hormonal Imbalance in women:
Top 4 Vitamins for Hormonal Balance in Women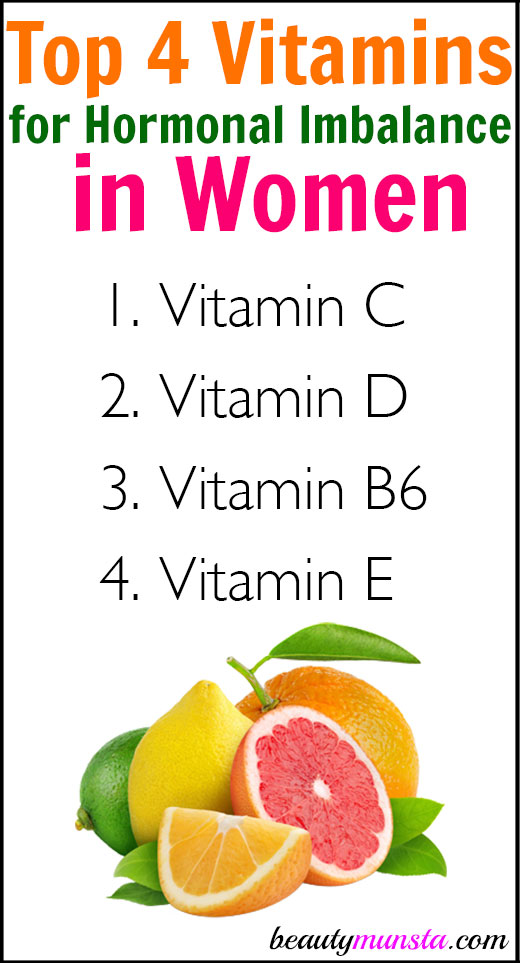 1. Vitamin C
Vitamin C is considered to be the number one nutraceutical to assist the body in producing more progesterone. A large growing number of women over 35 experience low progesterone levels. Low progesterone leads to depression, insomnia, anxiety and emotional turmoil!
How Much You Need: 500 – 1000 mg per day.
Citrus fruits are rich sources of Vitamin C. You can eat oranges, tangerines, kiwi, strawberries and pineapples to get your daily dose of vitamin C.
2. Vitamin D
Many women suffer from vitamin D deficiency yet it is a very important hormone! I myself was diagnosed with vitamin D deficiency and take Vitamin D supplements to help me gain enough Vitamin D. Vitamin D deficiency causes body and joint pains, low energy, depression and thyroid problems. The Vitamin D Council recommends 5000 IU per day of Vitamin D for adults. However, please get checked for low Vitamin D with your doctor because the proper dosage depends on your current levels.
3. Vitamin B-6
One of the best vitamins for hormonal imbalance in women is Vitamin B-6, also known as pyridoxine. This study shows that vitamin B6 is helpful for reducing PMS symptoms in women including moodiness, irritability, forgetfulness, anxiety and bloating.
How Much You Need: 100mg per day
Good sources of Vitamin B-6 include chickpeas, beef liver, fish & poultry and fortified grains
4. Vitamin E
Vitamin E is a powerful antioxidant. It is very necessary for women undergoing menopause because they experience low estrogen levels. Taking 50-400 IU per day can help manage hot flashes, vaginal dryness and mood swings which are all low estrogen problems.
How Much You Need: 50-400 IU per day
Good sources of Vitamin E include vegetable oils, beans, whole grains and nuts like almonds. If you're in menopause take one 400 IU Vitamin E Capsule every day. You can get Nature Made Vitamin E Capsules if you want a  good vitamin E supplement!
Please consult your doctor before taking any vitamins for hormonal imbalance in women.