Discover the 7 best essential oils for varicose veins below!
Varicose veins are caused when veins dilate and their valves weaken, leading to build up of blood on top of the valve. This is what makes the veins appear like they are bulging out. Varicose veins normally appear in individuals who stand for long periods of time without breaks due to poor circulation of blood in the legs but they can also arise due to poor diet and lack of exercise. Women are also commonly affected by varicose veins due to pregnancy, menopause and hormonal factors.
There are a few select essential oils that help improve blood circulation and flow, maintain the elasticity and strengthen the veins as well as prevent accumulation of blood near the valves and in the veins – these essential oils are great for naturally treating varicose veins.
Essential Oils for Varicose Veins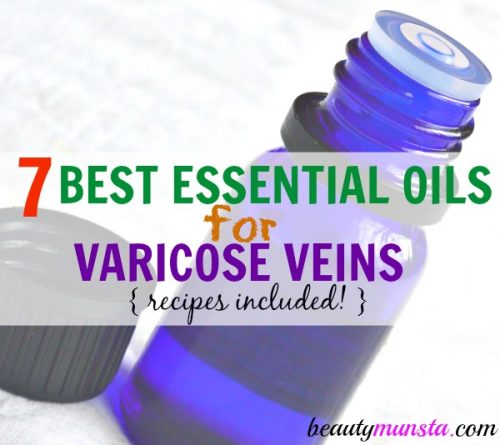 1. Lemongrass Essential Oil
I've talked about how lemongrass essential oil works amazingly for ingrown hairs but it's also one of the best essential oils for varicose veins! Since it promotes healthy blood circulation and helps dilate blood vessels, it can be used to treat varicose veins.
► Easy Roll-On Recipe: Fill a small roller bottle (10ml) with fractionated coconut oil and about 5 to 10 drops of lemongrass essential oil. Shake well and gently apply to the varicose vein once or twice a day.
2. Cypress Essential Oil
Having a clear and refreshing scent, cypress essential oil is great for calming anger & stress, as well as balancing the mind. It is powerful against varicose veins because it greatly improves blood circulation and has vaso-constricting properties.
► Cooling Cypress Cream: In 3 tbsp of raw mango butter, add about 5 drops of cypress essential oil and 3 drops of peppermint essential oil. Stir well with a spatula then store in a small glass container. Apply twice a day to soothe and cool down the affected area. If your mango butter is hard, soften it first using the double boiler method.
3. Helichrysum Essential Oil
Helichrysum essential oil is not only great for healing scars & inflamed skin but it also helps reduce varicose veins! It stimulates blood circulation in the veins, thereby enabling proper blood flow which reduces varicose veins.
► Healing Helichrysum Blend: Mix about 5 to 7 drops of helichrysum essential oil in a 2 ounce amber dropper bottle filled with jojoba oil. Shake well and gently massage just a dime sized amount to the problematic area.
4.Geranium Essential Oil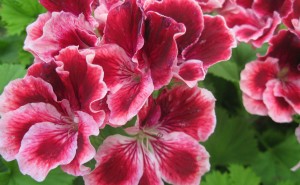 One of my most favorite essential oils, geranium essential oil is also in the list of best essential oils for varicose veins. It helps by improving blood circulation, reducing inflammation as well as promoting healthy smooth skin. Read more benefits of geranium essential oil in my post here.
► Homemade Ointment: Melt 1 tbsp of beeswax, 3 tbsp of raw shea butter and 1 tbsp of coconut oil in a double boiler. Once melted, place in the refrigerator to harden. This will take about 15 to 20 minutes. Then add 10 drops of geranium essential oil and whip with a hand mixer till fluffy. Store in a clean mason jar and apply twice daily.
5. Clary Sage Essential Oil
Clary sage essential oil is obtained from the leaves and flowering tops of the clary sage herb. It is great for healing many women's problems such as painful cramps, PMS and menopause. For varicose veins, it helps decrease swelling and promotes proper blood circulation.
► Clary Sage Compress: To reduce swelling, inflammation and pain, alternate warm and cold compresses. First fill a bowl with 3 cups of hot water and add 5 drops of clary sage essential oil. Soak a clean cloth and apply it on the affected areas. Repeat until the water gets cold. Follow with a cold compress using cold water. After the compress, gently massage with a carrier oil of your choice then elevate the affected area for about 15 minutes.
6. Lemon Essential Oil
Lemon essential oil is well known for its astringent properties that help control oily skin but combined with its rubafacient properties, it also assists in promoting proper blood circulation and tightening the vein walls, thereby strengthening them.
► Night time Massage Oil: In a 2 ounce amber glass dropper bottle, add grapeseed oil and 5 drops of lemon essential oil. Shake well. Place a few drops and massage around the varicose veins gently to stimulate blood flow.
7. Yarrow Essential Oil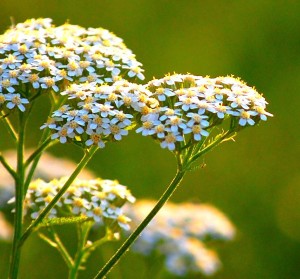 Yarrow is another essential oil that I must include as one of the best essential oils for varicose veins. It's especially good for the treatment of varicose veins because it is a stimulant for the circulatory system which helps move the stagnant blood in the veins.
► Warm Bath: Warm baths are relaxing, help with the pain and reduce swelling as well. Run a warm bath and pour in a mixture of 2 tbsp of wheat germ oil and 5 to 7 drops of yarrow essential oil. Stir the water and soak in it for about 20 to 30 minutes.
Take Care
First check with your doctor to see if essential oils are okay to be used by you if you suffer from hypertension, skin allergies and other medical conditions.
Always use 100% pure and high quality essential oils
Never use essential oils 'neat' onto your skin. Always dilute first with a carrier oil (3 drops of essential oil in 1 tbsp of carrier oil).
If you are pregnant or breastfeeding and would like to use essential oils for varicose veins, please first consult your doctor as most essential oils are not safe to use for pregnancy/breastfeeding.
How to Formulate Your Own Varicose Vein Roll-On Blend
Make your own varicose vein vanishing roll-on blend recipe with essential oils to help relieve your specific varicose vein problem (pain, feeling of fullness in veins, bulging unsightly veins, etc). It lists the essential oils you can use for each problem like cypress for feeling of fullness in veins, helichrysum for swollen and inflamed veins, etc. Also discover how to use it for best results.
References
http://www.themiracleofessentialoils.com/essential-oils-and-varicose-veins/
♥ Heal with Essential Oils ♥