Varicose veins mostly appear on the legs. That's because our legs pump blood against gravity to the heart. So if there is additional pressure on the veins or legs (such as excess weight), there will be slowness in the flow of blood, thus causing buildup. In turn, the blood veins become large, twisted and weak, resulting in what is known as varicose veins.
Varicose veins occur when there is an additional pressure in the veins or when the veins become weakened. Varicose veins may come about as a result of:
blood clots
weight gain
pregnancy
prolonged standing
injury
insufficient exercise
Some homemade remedies have been found to work for varicose veins. For instance, shea butter has been found to be effective. I always recommend using shea butter for varicose veins. The best way to naturally eliminate varicose veins is to prepare your own DIY balm with shea butter. You can also use Essential Oils for Varicose Veins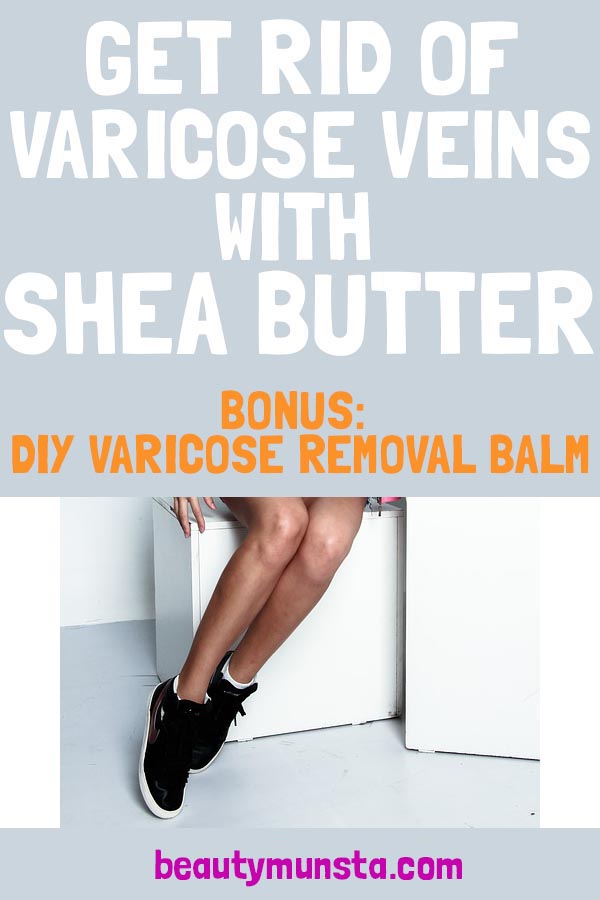 Shea Body Butter for Varicose Veins
Here's the quick and easy recipe to make your own DIY varicose removal balm:
Ingredients:
Procedure:
In a double boiler, melt the shea butter together with the coconut oil over a low to medium heat source.
Stir the two ingredients together to achieve an even mixture.
Turn off the heat source.
Add the essential oils, vitamin E liquid and jojoba oil. Allow the mixture to solidify a little by keeping it in the refrigerator for 1 – 2 hours. Use a hand mixer to mix it thoroughly until you have a fluffy mixture.
Transfer it in a storage jar.
How to Apply Shea Butter for Varicose Veins
Apply the mixture by massaging it through your skin in an upward direction so as to encourage the flow of blood (you can massage from your wrist to your shoulder, from your ankle to your legs, from your stomach to your chest, just ensure to work the body butter in an upward direction).