In the quest for natural remedies to heal your skin, you'll find that one of the best ingredients is shea butter for melasma. That's because shea butter has exactly the right properties to take care of excess melanin production. It is also an excellent carrier for other melasma treating ingredients like raw honey, carrot seed essential oil and others.
What is Melasma?
Melasma is a skin condition that gives off symptoms in the form of dark to gray-brown patches on the skin. Melasma usually appears on the face; like the cheeks, chin, above the upper lip, forehead and bridge of the nose. Other parts of the body that are exposed to sun rays like the neck and forearms, can also be affected by melasma.
Although, the actual cause of melasma is not known, professionals believe that a number of factors could cause it. Apart from sun rays that is sensed as the major cause of melasma, other factors that could cause the outbreak of melasma may include:
Hormone replacement therapy
Race
Pregnancy
History of melasma in the family
Birth control pills and
Anti-seizure medications.
Melasma occurs more in women than men and it is sometimes known as the marks of pregnancy in women.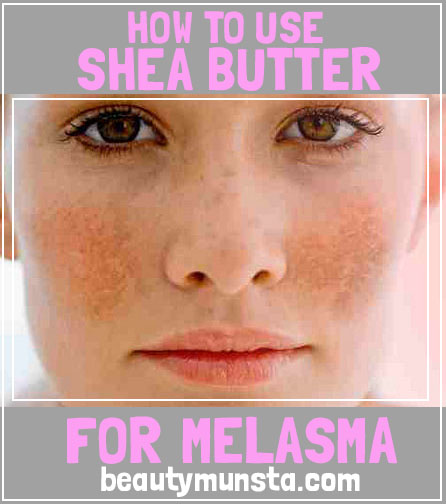 There are different types of melasma, 4 of types to be specific, which are: mixed, dermal, epidermal and one with no name, which is common in dark people. Mixed melasma is a combination of the dermal melasma and epidermal melasma. Dermal melasma has the presence of melanophages, which are cells that ingest melanin through the dermis. Epidermal melasma is distinguished by the excessive presence of melanin in the skin's superficial layers. The no-name melasma is characterized by the excess of melanocytes in a dark person's skin – it affects dark-skinned people.
Why Shea Butter Is Good For Melasma

Shea butter has a lot of properties that makes it useful in the beauty and medical fields. For instance, shea butter has great content of vitamin A, vitamin E and vitamin F. It is also rich in fatty acids. Shea butter has properties that can prevent the skin from cracking, wrinkling, ultraviolent light, burning and drying. Shea butter likewise possesses anti-inflammatory and moisturizing properties that will not only clear skin problem but will also improve the overall healthy state of the skin.
It helps to know more about the properties of shea butter that make it so helpful for skin conditions like melasma. Read more of these informative articles for a better understanding:
The Effectiveness of Shea Butter for Melasma
Shea butter appears to be an alternative to hydroquinone – a natural alternative at that. This special nut butter is a very good treatment for skin discoloration. Shea butter is an all-natural alternative and it is safe for usage. It counterbalances free radicals that damage the skin, it also helps in restoring the cells in the skin, thereby helping with many skin conditions, melasma inclusive.
Shea Butter Creme For Melasma Relief
Shea butter can be used as a regular moisturizing cream for the face and other parts of the body, but we can use shea butter for treating melasma as well. In using shea butter for melasma, you should definitely add other melasma-healing ingredients to it. You can try this homemade remedy of shea butter for melasma.
Ingredients:
Tools Needed:
Procedure:
Blend up the shea butter, rose water, raw honey and buckthorn oil in a blender – blend for some 2 minutes, or till you have a white and fluffy mixture.
Put the mixture into your storage container and add the essential oils to it – the carrot seed essential oil, geranium essential oil and lavender essential oil; then stir everything together. Seal up the storage container properly to prevent the loss of the body butter potency.
Apply a generous amount of the butter to your face and other affected skin surfaces twice daily.
Other Remedies for Melasma
There are other natural remedies for melasma other than shea butter for melasma. These remedies include the use of:
Aloe Vera gel
Turmeric, oatmeal
Lemon juice
Onion juice and
Apple cider vinegar