Of course 100 isn't the maximum number of benefits shea butter has – if I was to list ALL the benefits of shea butter in the world (some of which I'm sure haven't yet been discovered XD), it'd be a SUPER long article that could go on and on! This article is already very long as it is so without further ado, let's jump into this extensive list of 100 benefits of raw African shea butter!
100 Benefits of Raw African Shea Butter for Skin, Hair & More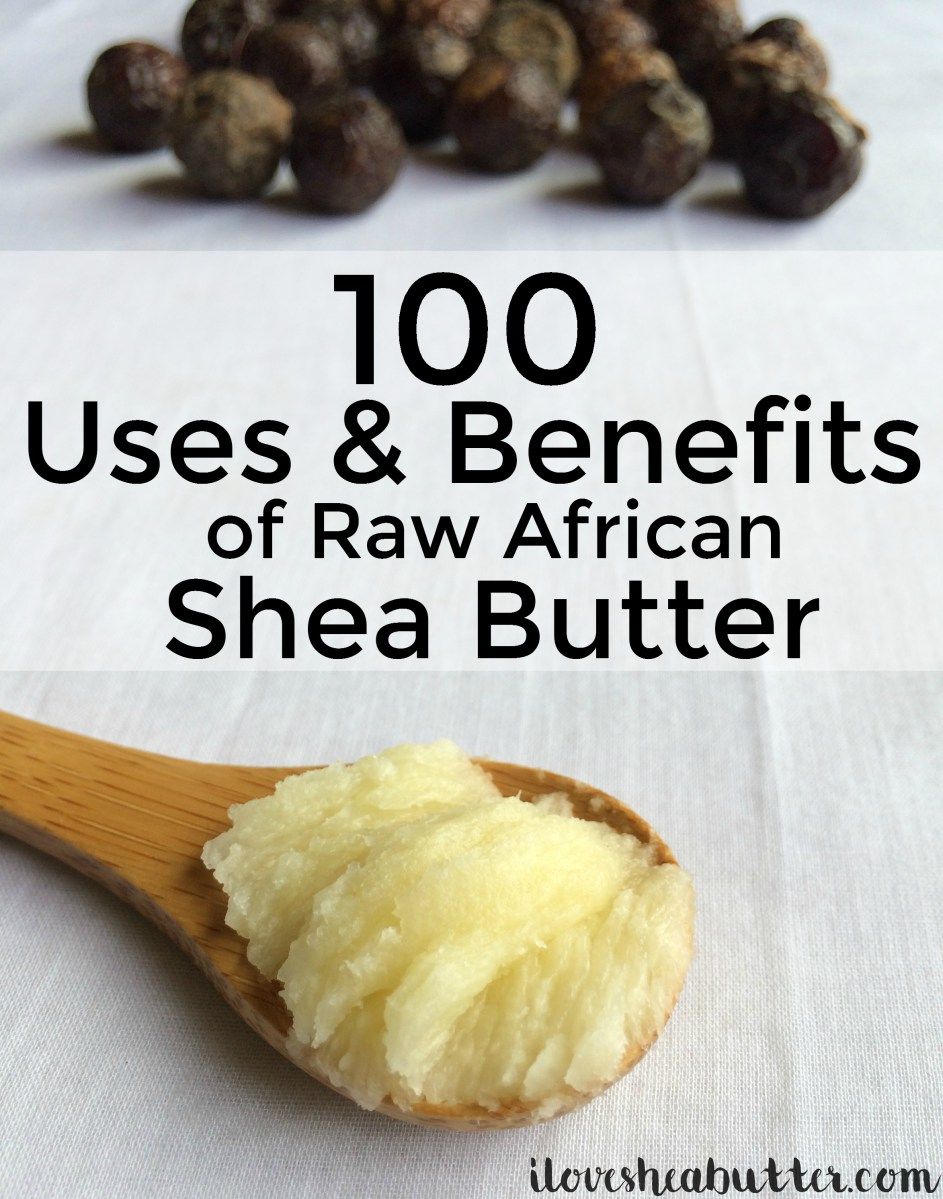 For Skin
1. Intense Moisturizer. Rich in vitamin F, a.k.a, healthy fatty acids, shea butter provides intense moisturization to dry flaky skin.
2. Treats Eczema. Shea butter contains powerful anti-inflammatory nutrients: cinnamon acid esters and lupeol cinnamate, which help reduce inflamed, dry and itchy eczema.
3. Soothes Sensitive Skin. Got sensitive skin that reacts to any beauty product?! It's time to use shea butter – use a pea-sized amount on your face after cleansing to protect your sensitive skin from irritation.
4. Immediately Calms Bug Bites. Any time I get a mosquito bite or other bug bite, I immediately apply some shea butter and within mere seconds, the itchiness & swelling are reduced to nothing.
5. Natural Sunscreen. Shea butter protects skin from harmful UV rays due to the cinnamic acid esters it contains.
6. Relieves Itchy Skin. Rub a bit of shea butter on the itchy area and you'll get relief in mere seconds, take it from me!
7. Good for Acne-Prone Skin. With its comedogenic rating of ZERO, shea butter can effectively be used as a good light moisturizer for acne-prone skin. It also helps fade off acne scars faster and soothes painful and inflamed acne.
8. Fades Away Stretch Marks. Traditionally, pregnant women rubbed a lot of shea butter on their bellies which helped keep their skin smooth and stretch-mark free!
9. Gives Skin a Natural Glow. Want a natural glow on yo' face?! Gently slap a little shea butter on your cheek bones.
10. Prevents Bumps After Shaving. Because it soothes sensitive skin and has anti-swelling properties, shea butter is good for keeping shaving bumps away.
11. Non-Pore Clogging Moisturizer for Oily Skin. Can't find a suitable moisturizer that doesn't break out your skin? Try shea butter! It has a comedogenic rating (pore-clogging ability) of ZERO.
12. Smoothes out Wrinkles & Fine Lines. Shea butter increases collagen production and deeply moisturizes skin, thereby reducing the appearance of wrinkles.
13. Promotes Supple Skin. Eliminate dry flakes and bring out supple smooth skin with a quick shea butter application.
14. Relieves Diaper/Nappy Rash. Put some shea butter on the sensitive and itchy skin to protect skin from further irritation.
15. Treats Dermatitis. Hydrate skin and heal it faster with shea butter.
16. Soothes Razor Burn. Gently slide on a small amount on razor burn to reduce redness and take away the sting.
17. Lubricates & Heals Cracked Heels. Place a dime-sized amount each on both heels and rub in for a minute. Cover with socks and go to bed. You can also add a few drops of anti-fungal tea tree essential oil for quicker relief!
18. Heals Burns. Apply to small or first-degree burns with a mix of a little lavender essential oil to speed up healing time.
19. Revitalizes Sun Damaged Skin. Shea butter repairs and soothes sun damaged skin by reducing inflammation and promoting cell regeneration.
20. Softens Rough Skin. Knees, elbows and knees can be softened by deeply rubbing a dollop of shea butter on them.
21. Restores Skin Elasticity. By boosting collagen and promoting cellular regeneration, shea butter promotes supple skin, free from saggy eye bags and droppy cheeks.
22. Gradually Gets Rid of Acne Scars. Scoop a tiny piece of shea butter with a Q-tip and dab it on acne scars to speed up their healing process.
23. Calms Irritated Skin. Whether it's a bug bite, rash developing or red itchy skin, shea butter is your savior!
24. Lubricates Itchy & Scaly Psoriasis. Get quick relief from itchy and scaly psoriasis patches by slathering on a sufficient amount of shea once you step out of the shower and before toweling off.
25. Soothes Skin Inflammation. Due to its high content of nourishing fatty acids and cinnamic acid esters, shea butter is an ultimate healer of skin inflammation.
26. Moisturizes Painfully Dry Rosacea. Just massage an adequate amount of shea butter on your whole face after cleansing it for immediate relief.
27. Plumps Up Dry Skin. Make a sugar scrub with shea to plump up skin cells and exfoliate flaky skin!
28. Reduces Skin Swellings. Bug bite swelling or weird bump from nowhere? Quickly dab some shea butter and watch it shrink away!
29. Can be used as Shaving Cream. Toss out the chemical shaving cream and spread a layer of shea butter before shaving for a natural and less expensive shaving cream. Or whip it with some essential oils and aloe vera gel for a extra healing cream!
30. Banishes Blemishes. Place a little shea butter on a Q-tip and apply on blemishes before bed to lighten them over a few nights!
31. Use as Hand Cream. After washing your hands, rub shea butter on your hands to keep them soft and moisturized.
32. Natural Tanning Oil. Apply a little shea butter all over your body before going out into the mild sun for a natural tanned and golden skin.
33. Fade Hyperpigmentation. Even out your skin pigmentation by religiously applying shea butter especially before heading out to protect your skin from sun exposure.For Hair
34. Keeps Hair Well-Moisturized. Smooth enough shea butter on your wet hair immediately after a shower before drying it to lock in moisture and keep it hydrated.
35. Fights Frizz. Tame frizzy hair by weekly applying a mask of shea butter and avocado after wetting your hair. Keep it on for 15 minutes then wash off thoroughly.
36. Deeply Hydrates Thick Curls & Kinks. Thick curls need deep hydration which shea butter readily provides! When you step out of the shower, immediately apply shea butter to wet hair to seal in the fresh moisture.
37. Adds Beautiful Sheen to Dull Hair. Rub a pea-sized amount or more between your palms and smooth it over the length of your hair to give it a beautiful sheen.
38. Promotes Hair Growth. Shea butter has nourishing nutrients that aid in healthy and thick hair growth. Rub some into your scalp an hour before washing your hair.
39. Lubricates Dry Flaky Scalp. Wintery days can flake up the skin on your head so make sure to apply a generous amount to your hair after mixing in some of your favorite smelling essential oils.
40. Fights Scalp Fungal Infections. The antimicrobial and antifungal properties of shea butter ward off scalp fungal infections including ring worm.
41. Combats Dandruff. Keep the flakes away by adding a tsp of shea butter to your shampoo. Shake well before using.
42. Seals Split Ends. To a split end treatment by slathering a small amount of shea butter on your split ends, wrap your hair on your head with a scarf or put a shower cap and go to bed. Wake up in the next morning and wash your hair thoroughly.
43. Smoothes Back Fly-Aways. Put flyaway hairs back in place with a quick smear of shea butter.
44. Rejuvenates Heat-Damaged Hair. Nourish and bring the life back to your heat-damaged strands by applying an overnight treatment of shea butter, coconut oil and honey whipped together.
45. Softens Rough Brittle Hair. Use enough shea butter to moisturize your wet hair as soon as you step out of the shower to seal moisture and soften rough curls.
46. Reduces Hair Breakage. Strengthen weak breakage-prone hair by adding a little shea butter to your conditioner or doing an overnight treatment with it weekly.
47. Instantly Soothes Scalp Inflammation. The anti-inflammatory properties of shea butter help soothe scalp inflammation as soon as it's applied.
48. Helps Calm Pain from Tightly Braided Hair. Braids are neat and pretty looking but man, sometimes they feel and look mighty painful! If your scalp is screaming with pain from your tightly braided hair, then you can apply shea butter on it to relieve pain.
49. Conditions Hair. Mix with your conditioner or whip it using a hand mixer with your favorite oil and use it for silky knot-free hair.
50. Protects Forehead from Stains During Hair Color Application. Apply a dab of shea butter on your hair line to protect your skin from color bleeds.
51. Keeps Bangs from Curling. Get a tiny amount of shea butter, rub between your palms and smooth it over your bangs to keep them straight when they seem to be curling.
Other Beauty: Lips, Nails, Eyes, Makeup, Perfume & More
52. Moisturizes & Heals Dry Chapped Lips. Use a soft-bristled toothbrush to gently remove dead skin on lips, rinse well then apply a light layer of shea butter to keep your lips moisturized.
53. Makeup Remover. Use this natural cream with a clean cotton, cloth or tissue paper to wipe off eye makeup super fast + without any irritation! Bonus: Get luscious looking lashes as well!
54. Shiny Nails. Apply to nails after a manicure or nail painting to give them a natural shine.
55. Strengthens Cuticles & Nails. Got peeling cuticles and weak nails? Apply shea butter after washing your hands and before bed to strengthen and nourish them.
56. DIY Matte Lipstick. Mix a small amount with your blush to make a quick, DIY matte lipstick that's non-sticky and keeps your lips soft and kissable!
57. Multi-Purpose Beauty Product. Keep a small tin of shea butter in your purse or travel bag so any time you run out of/ don't have lip balm, moisturizer, hair conditioner or skin moisturizer, you have a trusty backup.
58. No More Under-Eye Circles. Erase under-eye circles and purple bags by carefully applying a little shea butter under each eye before bed.
59. Naturally Long & Volumized Eyelashes. Apply some shea butter on your eye lashes to give them natural definition and help boost eyelash growth and volume.
60. Well-Groomed Beard. Use a pea-sized amount of shea butter to moisturize your beard when grooming after a shower/washing your face.
61. Tattoo Care. Place some shea butter on your tattoo and rub it in to keep your tattoo itch-free and fasten healing.
62. Use as Eye shadow Primer. Gently rub a little shea butter on both eyelids before applying eye shadow to intensify color.
63. Intensify Scent of Body Perfume. Before spraying on body perfume directly on your skin, apply a thin layer of shea butter, which intensifies the fragrance and keeps you smelling gorgeous longer.
64. Lip Primer. Exfoliate the dead skin on your lips then smooth a thin layer of shea butter on your lips before applying lip color/lipstick to prevent color bleeding.
65. Neat Eyebrows. Bushy eyebrows? No more with shea butter! Slide some on with a finger then brush them for neat and tidy brows.
66. Natural Cheek Highlighter. If you're going makeup-free but want to look polished, swipe a bit of soft shea butter on your cheek bones for natural highlights and glowy look.
Wellness
67. Massage Balm Before Working Out/Jogging. Keep calf muscles from getting tired or sore quickly before a workout by deeply massaging shea butter.
68. Heals Minor Cuts & Wounds. Whether it's a popped pimple wound or paper cut, shea butter will soothe and heal it and leave behind no scars.
69. Eases Congestion from Colds. Apply a little on the inside of your nostrils to heal inflammation and help with breathing problems. Add a few drops of tea tree and eucalyptus to a small amount of shea butter and rub on chest to ease congestion and speed up healing.
70. Reduces the Severity of Allergic Reactions. When you notice a rash beginning to form on your skin or if it's starting to break out in hives, just dip your hand into your shea butter jar and apply a generous amount.
71. Alleviates Fatigued Muscles. Melt shea butter by rubbing it in between your palms and then massage it gently but with just a little force on fatigued muscles to alleviate pain and soreness.
72. Gives Relief for Poison Ivy/Oak. As soon as you notice irritation from poison oak, lightly apply a layer of shea butter to subdue the rash.
73. Soothe Canker Sores or Mouth Wounds. Dab a little shea butter on your throbbing gum wound or canker sore to reduce inflammation and provide relief.
74. Heals Frost Bite. Get rid of the pain and numbness of frost bite by applying shea butter which instantly sinks in and warms skin as well as soothes the damaged skin.
75. Prevents Pregnancy Stretch Marks. Gently massage raw shea butter on your pregnant belly. This will moisturize the growing skin and keep away stretch marks.
76. Varicose Veins. Apply a little shea butter on and around the varicose veins then elevate your legs. This helps alleviate pain as well as reduce the appearance of varicose veins.
77. Soothes Itchy, Dry & Tired Eyes. For itchy, irritated and dry eyes, place a teeny weeny amount of soft shea butter on your index finger. Then run it along your lower eyelid for instant fresh and soothed eyes.
78. Protects Skin from Harsh Winds & Cold Temperatures. In addition to wearing a scarf & mittens to protect your nose and hands from the biting cold and dry winds, apply a dollop of shea butter for its extra-moisturizing powers.
Medical Issues
79. Has Anti-Tumor Activity. Shea butter contains lupeol cinnamate which has shown to demonstrate anti-tumor proliferation.
80. Calms Skin After Radiation Treatment. After radiation therapy for health issues like breast cancer and others, apply a liberal amount of shea butter to cool and calm skin.
81. Keloids. Moisturize the keloid about five times a day using a shea butter & tea tree oil mix.
82. Reduces Allergic Reactions. Lupeol cinnamate, a major nutrient in shea butter has been shown to inhibit overproduction of IL-4 (interleukin-4) which is a protein responsible for bringing about harsh immune system reactions in the presence of common allergens.
83. Treats Alopecia. Do a vigorous head massage with nutrient-rich shea butter and few drops of hair growth promoting lavender, rosemary, cedarwood essential oils every night to treat alopecia.
84. Relieves Joint Pain & Arthritis. Shea butter massaged on painful and swollen joints associated with arthritis is said to give immense relief. Add a numbing analgesic essential oil like peppermint for an increased healing effect.
85. Treats Yeast Infection. Whip up shea butter, coconut oil and tea tree oil (all are antimicrobial, antifungal and anti-inflammatory) and use it on the rashes and infected skin to immediately soothe the areas and start the healing process.
86. Genital Herpes. Apply liberally on affected areas for soothing relief.
87. Vitiligo. Coat a thin layer on your skin for deep skin moisturizing benefits as well as soothing sensitive skin and helping with discoloration.
Practical Applications
• FOOD
88. Substitute for Cocoa Butter in Chocolate. Used in the chocolate industry to replace cocoa butter when making chocolate.
89. As an Ingredient in Cookies & Confectionery. Has a rich and creamy texture that makes it an ingredient in some cookies & confectionery.
90. Used as Cooking Oil. Provides a nutty flavor plus is rich in healthy fatty acids which make it a healthy cooking fat.
• WOOD & LEATHER
91. Polishing Wood Surfaces. Rejuvenate and make wood surfaces and furniture shine using a swipe of shea butter.
92. Dry Cleaning Wooden Kitchen Utensils. Clean up your wooden spoon or bowl with shea butter because water can spoil them, making them get a whitish dull look.
93. Get Rid of Creaky Doors. Get some shea butter on your hand and rub it along the hinge of annoying creaky doors.
94. Shoe Polish. Give your dusty shoes instant shine with a cloth and little applications of shea butter.
95. Dirt-Free Wooden Combs. Keep wooden combs looking clean and new by placing a pea-sized amount on a toothbrush then brushing the shea onto the teeth of the combs. Remember to first use the toothbrush alone (with the shea) to remove any dead skin and dust bunnies.
96. Non-Toxic Leather Treatment. Softens and maintains moisture in your leather products whether it's your black leather biker jacket or horse riding saddle.
• OTHER
97. Candle Making. You can make a scented candle by melting & combining shea butter, cocoa butter, soy wax, carrier oil of choice and a selection of essential oils then simply pour into a container and place wicks.
For Pets
98. Horse Grooming. Shea butter will nourish your horse's hooves and give it a shiny coat! You can also use it to  moisturize its mane and tail!
99. Parched Puppy Paws. Apply shea butter to moisturize your puppy's parched and cracked paws. And also to keep its fur healthy and shiny!
100. Kitty with Irritated Fur. Rub shea butter on your cat's fur to keep it moisturized. It also helps alleviate any itching and irritation.
Where to Get Shea Butter
This is the ivory shea butter from West Africa. It has a harder consistency and smells stronger than shea butter from East Africa, which I've linked also below.
Unrefined African Shea Butter – Ivory, 100% Pure & Raw – Moisturizing and Rich Body Butter for Dry Skin – Suitable for All Skin Types – Use Alone or in DIY Whipped Body Butters – 16 oz (1 LB) Bar

This is shea butter from East Africa. It has a smooth consistency that you can scoop with your hands. It also has a less strong smell compared to West Afrcian shea butter.
USDA Certified Organic Shea Butter: Highest Quality Unrefined Rare Nilotica, Certified Fair-Trade – Nourishes, Replenishes and Protects Skin and Hair – 8oz

Thank you for Reading!
I hope you enjoyed reading this master list of 100 benefits of raw African Shea Butter, one of God's most amazing gifts to the world! Don't forget to share this post with friends and family 🙂