It's no surprise that here are www.ilovesheabutter.com, we LOVE shea butter! It's our favorite multipurpose beauty product. So much so that if there was only one item you could save from your beauty pantry, ours would be shea butter! Here are 55 ways to use shea butter:
55 Brilliant Ways to Use Shea Butter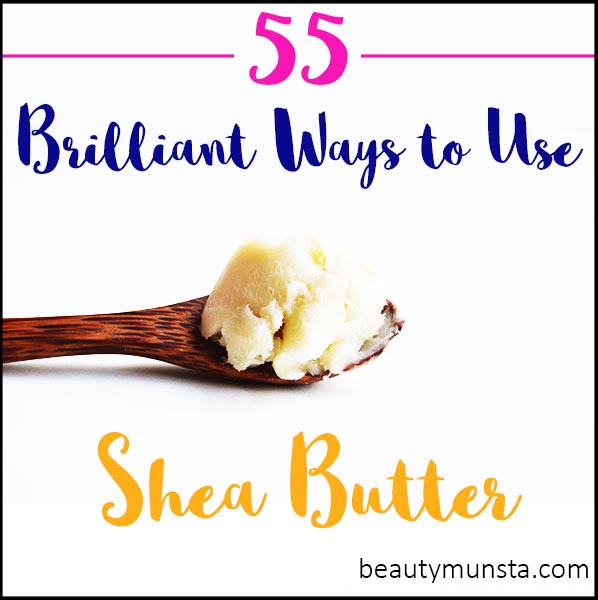 1. Use straight on as a moisturizer. Seriously, get your hands on some shea and rub it straight up on your clean face. It's an amazing moisturizer on its own. But I like to add some essential oils to make mine a more nourishing facial cream. Simply add 2 tbsp of shea butter into a clean container, then add 12 drops of frankincense oil. Mix vigorously using a spoon then store in a cool dry place. Use a pea-sized amount all over your skin.
2. Nourishing hair mask time. Your hair needs some good ole shea if it's looking dry and dull! The nourishing fatty acids and vitamins help hair thrive by moisturizing and rejuvenating it. Try making your own shea butter hair mask by combining 2 tbsp of shea butter, 1 tsp raw honey and 2 tbsp aloe vera gel. Mix everything up using a high speed blender. Apply on your scalp and hair strands for 10 minutes then wash as usual.
3. Give your pouters some shine. Apply shea butter on your dehydrated lips to make them look plump, shiny and kissable! You can get a tsp of shea butter and store it in a tiny lip balm container.
4. Cracked sole saver. Dry cracked heels and chaffed soles are not pretty! Make a soothing balm for your tired soles by whipping up 3 tbsp shea butter, 2 tbsp coconut oil, 5 drops peppermint oil and 5 drops tea tree oil in an electric stand mixer. Store in a clean container and rub on your soles before bed. Cover with a pair of comfortable socks and get some beauty sleep!
5. Eyelash grower. Yup, shea butter can make your eyelashes grow long and thick! Simply get a sliver on your clean index finger and run it along your upper lash line!
6. Baby bum balm. Has your baby got a yeast infection? Try rubbing some shea butter on the irritated area to soothe and heal it. You can also whip a diaper rash cream: Blend together ¼ cup shea butter, 2 tbsp bentonite clay, 2 tbsp aloe vera gel and 5 drops tea tree oil.
7. Hand softener. If you're someone who suffers from dry itchy and tight skin on your hands, shea butter is your new savior. After washing your hands, smear on some shea butter to keep the skin moisturized.
8. Nail & Cuticle Cream. Peeling cuticles and easily breakable nails? Try shea butter! It has essential fatty acids that renew damaged skin cells and promote stronger nails. Find a DIY cuticle cream here.
9. Sunburn soother. You've been in the sun a little too long and the next thing you know – ouch! You've got a sunburn! But not to worry when you've got some shea! Simply whip together 2 tbsp shea butter, 2 tbsp aloe vera gel and 1 tsp sea buckthorn oil. Your sunburn will magically disappear in a few days with this miracle skin soother!
10. Heal scars. Whether it's acne scars or surgery scars, use some shea butter. It's rich in vitamins A, E and K that help regenerate skin cells and promote new skin growth.
11. Stretch mark eraser. Slather shea butter on your pregnant belly to prevent the growing skin from forming stretch marks. You can make an extra effective stretch mark cream by whipping some shea butter with lavender oil.
12. Eye shadow primer. Get yourself some shea butter and make your own primer! All you need is 1 tsp shea butter, 1 tsp foundation and ½ tsp arrow root powder. Mix up well. Apply on eyelids and on top add eye shadow.
13. Mild SPF sunscreen. If you're a dark skinned gal or don't burn in the sun, then apply shea butter straight up as a sunscreen. I do this all the time, trust me it works. Or, if you're looking for something more sunscreen-y, check out my DIY Shea Butter Sunscreen Recipe
14. Add to a warm bath and get velvety soft skin. Add 2 tbsp of shea butter to your warm bath and have a long soak. Your skin will for sure be like velvety goodness! You can also make your own bath melts: DIY Shea Butter Bath Melts
15. Post workout balm. Sore muscles after a hardcore workout? Use shea butter as a balm. Simply scoop up 2 tsp on your palm then add 6 drops of peppermint oil. Massage on the sore areas. Wake up the next day with a pain-free body!
Where to Get Shea Butter
One of my best brands so far for West African Shea Butter is Plant Therapy 100% Pure Organic Shea Butter. It comes in a 18 oz jar so you can easily scoop it up and slather on your skin, hair, etc.
16. Protect skin from harsh winds. You know why your skin gets so dry and chaffed when a cold breeze is blowing? Apply some shea butter and it'll act as a barrier, protecting your skin.
17. Intensify perfume. When spraying on perfume, first apply some shea butter then spray for a more intense fragrance.
18. Make a skin softening bath bomb. Yup, you can make bath bombs with shea butter. Things just got more interesting, isn't it?! Go here: DIY Shea Butter Bath Bomb Recipe
19. Decogestant. When you have a hacking cough, cold or sore throat. Make use of shea butter. Simply get 1 tsp on your palm and add 5 drops of eucalyptus oil. Rub on your throat and chest for relief.
20. Lip primer. To prevent lip color from bleeding out, first apply shea butter on and around your lips.
21. Bug bite balm. Got bitten by pesky mosquitoes? Apply shea butter on the swollen bites for immediately soothing relief.
22. Use as an all-purpose beauty product when traveling. Seriously, if you have no space in your handbag, a tiny jar of shea butter can be a lifesaver. You can use it as a facial cream, lip balm, bug bite balm, rash cream, body moisturizer, cracked heels cream, cheek highlighter, mild sunscreen, makeup remover, hair cream for glossy locks and even mascara! Dare I say, even as a face wash: simply rub on your face to remove dirt then rinse with hot water.
23. Hair end moisturizer. Have dry unappealing hair ends? Apply some shea butter to breathe a new life into them!
24. Beard groomer. Sport a well groomed beard by moisturizing it using shea butter. Simply get a pea-sized amount on your palms, rub together and apply on beard.
25. Cheek highlighter. I LOVE shea butter for highlighting my cheek bones. It looks unbelievable – like you've contoured.
26. Paw moisturizer. Prettify your pet's paws by rubbing them with shea butter.
27. Wound healer. Got a cut? Gently apply some shea butter on it. It will speed up the healing process!
28. Dog shampoo. Yup, you heard that right. Make some dog shampoo to make your pet's fur shine like the sun! Go here: DIY Dog Shampoo with Shea Butter
29. Wood polish. Polish up your wood and make it look cleaner by rubbing some shea butter on it. Just scoop some shea butter on a microfiber cloth and rub your wood.
30. Leather conditioner. Whether it's your leather jacket, leather couch or whatever, you can use shea butter to condition it. No need for fancy store-bought conditioners. If you don't like the scent of raw shea, then add a few drops of cedarwood oil to it before use.
31. Solid perfume. Fancy making yourself a solid perfume? Try this: combine 2 tbsp of shea butter, 15 drops rose oil, 15 drops patchouli oil and 10 drops cinnamon oil. Store in a small container. Use on key areas like behind ears, wrists, hair ends, collar bones, behind knees and inner elbows. PS: First do a patch test to make sure you ain't allergic to anything.
32. Eczema treatment. Many people are using shea butter to treat eczema naturally. And it's working! Go here: 3 DIY Eczema Treatment Recipes with Shea Butter
33. Psoriasis soother. I have some psoriasis soothing recipes on the blog. You should check them out: DIY Shea Butter Recipes for Psoriasis
34. Fungal infections. You can make a fungal cream for candida or skin infections with shea butter. Go here: Shea Butter for Candida
35. Body butter. Duh, shea butter = body butter! Whip up some body butter using shea butter. Go here: 3 DIY Shea Butter Body Butter Recipes
34. Acne cream. Shea butter does not clog pores. It has a comedogenic rating of zero, making it one of the few oils good for acne. So make it your moisturizer if you have acne!
35. Oil cleansing. Yeah babes, you can oil cleanse with shea buttah! Go here: How to Oil Cleanse with Shea Butter
36. Tattoo care. Got a new tattoo that feels itchy and painful? Use shea butter to heal the irritated skin faster.
37. Anti-aging treatment. Boost your collagen and smooth out wrinkles using shea butter as an anti-aging cream. Into your blender, add 3 tbsp shea butter, 1 tbsp rose water, 5 drops sandalwood oil, 5 drops neroli oil and 5 drops frankincense oil.
38. No more dander. Make a shea butter shampoo to destroy dandruff. The recipe's here: DIY Shea Butter Shampoo (instead of geranium oil, use tea tree oil).
39. Night cream. Make a nourishing night cream using shea butter. Just blend together 2 tbsp shea butter, 1 tsp rosehip oil and 5 drops lemon oil. This will brighten your skin, no kidding!
40. Hair grower for thinning edges. Don't be surprised! Shea butter can help your hair grow! Go here: How to Grow Thinning Edges with Shea Butter
41. Curl pudding. For those with curly hair, shea butter can be your greatest asset to making your own curl pudding. Get beautiful curls now: DIY Shea Butter Hair Pudding
42. Shaving cream. Prevent nicks and cuts when shaving by rubbing some shea butter on hairy skin. Then shave. No more cuts!
43. After shave. Want to prevent razor burn and red sensitive skin after shaving? Smooth shea butter on your freshly shaven skin.
44. Rough knees and elbows. Got rough and bumpy knees and elbows? Use shea butter to soften that tough skin!
45. Before coloring your hair…first apply some shea butter on your hair line. This will prevent it from leaking out onto your forehead!
46. Eyebrow groomer. Apply a slick of shea butter to your eyebrows then comb them. Ta-da! Presentable eyebrows!
47. Naturally treat burns. Got a first degree burn on the stove? Try applying shea butter to heal the damaged skin.
48. Before concealer. Moisturize skin and make it easier to cover up blemished skin by applying shea butter before concealer.
49. Rough hands. Gardening, sports, chores can all make a woman's hands a bit rough. So soften them up by slathering them with ½ tsp of shea butter. Put some socks over them and go to bed!
50. Frizzy hair fighter. Tame wild frizzes by using shea butter!
51. Itchy scalp relief. Get a tsp of shea butter then add 3 drops of tea tree oil and 3 drops peppermint oil. Rub this all over your scalp to stop itching.
52. Hair conditioner. Add a tsp or two to your usual conditioner to make your hair more gorgeous. Or make your own Shea Butter Hair Conditioner!
53. Flyaways or baby hairs. Smooth away flyaway hairs back using shea butter!
54. Foot fungal cream. Mix up ¼ cup of shea butter and 20 drops oftea tree oil. Use as a fungal foot treatment.
55. Eat some! Just kidding! But I've done it before…raw shea butter of course and it had a nice smoky flavor. Anywho, you can use shea butter in place of your vegetable oil! People from Africa (the locals who make shea butter) do this all the time! Just make sure you're using 100% pure shea butter. Not the kind with additives, please. Even better, try shea oil! A nourishing and flavorful oil that can be used as vegetable cooking oil.
And there you are! 55 brilliant ways to use shea butter! Hope you enjoyed and don't forget to share on Facebook or Twitter with your friends and fam! PS: Do you have any other ways of using it?! Share below!