Bath bombs are simply magical! The way they fizz around the bath is amazing. Plus they have numerous benefits for your skin and well-being.
When you add essential oils to your bath bombs, you can benefit from their therapeutic properties as you relax in your bath. And when you add shea butter to your bath bombs, your skin will become baby soft and smooth!
In this post, I'm sharing with you guys an easy-to-follow DIY shea butter bath bomb recipe!
DIY Shea Butter Bath Bomb Recipe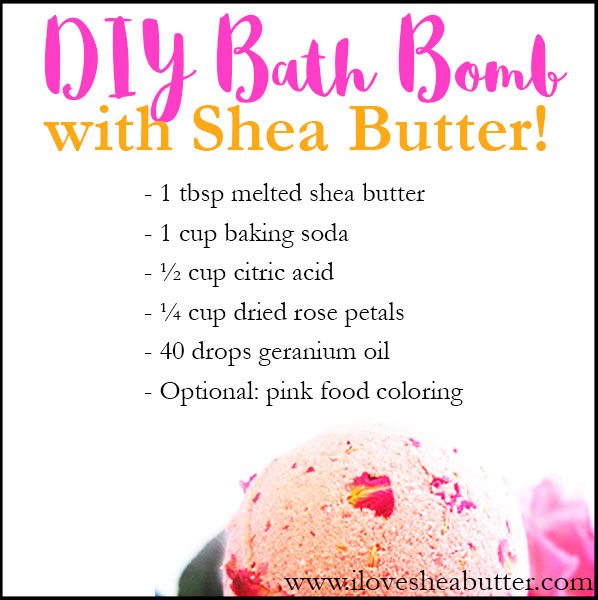 What you need
Directions
Dump the baking soda, citric acid and dried rose petals into a large bowl. Stir with a whisk till there are no clumps.
Now add the geranium oil, melted shea butter and pink food coloring. Stir again.
When the mixture starts clumping, spray the witch hazel on it. While spraying, use your gloved hand to try to bring the ingredients together into an irregular ball. Spray as much witch hazel as you need to form a ball. But don't add too much as you'll end up spoiling the bath bomb. Just use enough to form a solid shape with your hand.
Now tightly press the ball you formed into bath bomb molds.
Let it sit in the bath bomb mold for 24 hours to harden.
Once the time is up, gently pop the bath bombs out of the molds.
Ready to use! Just drop one bath bomb into a warm bath and have a long soak!
Tips
Add any other essential oil of your choice. My recommended ones are lemon for a citrus burst, lavender for a relaxing nighttime bath and chamomile for a calming bath.
You can blend the rose petals first to make them easier to mix up for the bath bomb mixture.
Store the bath bombs in a clean dry container.
Make sure your bath tub won't be stained with the food coloring before adding it to your recipe!
Have you ever tried making DIY shea butter bath bombs? I'd love to hear your recipe!