I know, I know. First, bath bombs then bath melts now bath cookies! But I can't get over DIY shea butter bath products. They make skin oh-so-soft! And bath cookies…oh the name sounds so yummy and they look good enough to eat! But no eating them – they are sooo not edible lol. You simply can't resist making these DIY shea butter bath cookies!
And the best part? They're DIY no bake bath cookies! So you totally don't need to turn on the oven to bake anything here. Okay, let's get on with the recipe:
DIY No Bake Bath Cookies with Shea Butter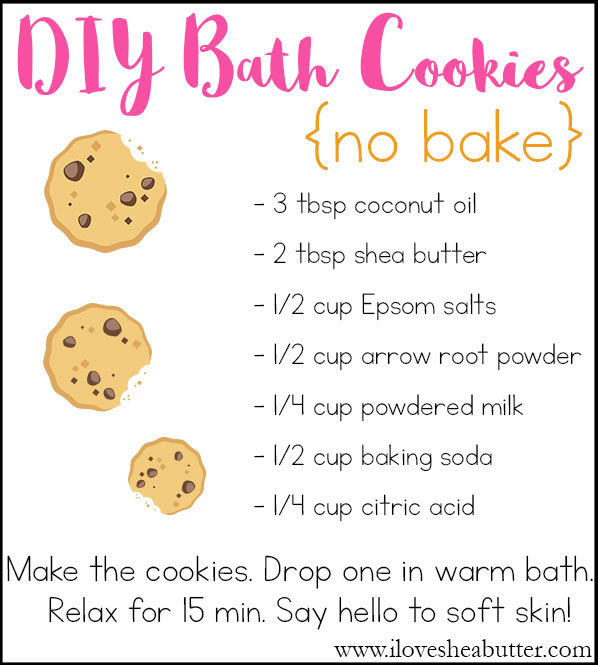 What you need
Directions
Melt the coconut oil and shea butter using a double boiler.
Meanwhile, add the Epsom salts, arrow root powder and powdered milk to a large mixing bowl. Mix well with a whisk until no clumps remain.
Mix the baking soda and citric acid together as well until no clumps remain. Then mix it with the above mixture.
Now when the shea/coconut mixture has melted, remove from heat and let it cool for 2 minutes.
Then slowly pour the liquid into the large mixing bowl where all the dry ingredients are mixed up.
Stir well with the whisk until you form a dough-like consistency.
Put on some gloves and roll tbsp-sized dough into balls then flatten to make the bath cookies.
After rolling, place them on parchment paper to harden for 1-2 days.
Store the cookies in a clean dry container.
To use, drop a bath cookie into a hot/warm bath. Relax for 15 minutes.
Say hello to soft skin, baby!
Note: The bathtub will be a bit oily so be careful when getting out!