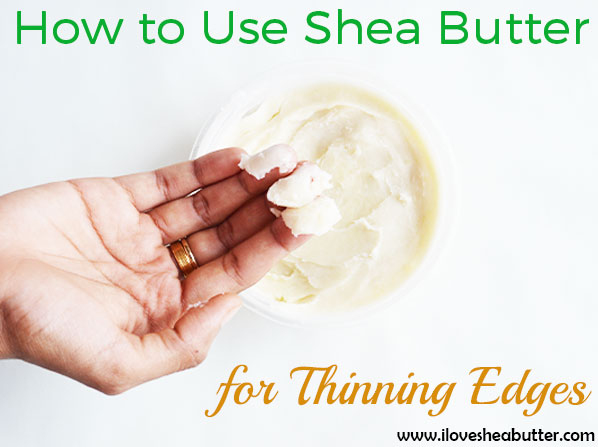 Every woman (and man) out there dreads thinning edges. They can instantly bring down your confidence levels and make you look like you're going bald. But not so fast! You can salvage your beautiful hair and prevent any more breakage by using some amazing products of Nature. For example, shea butter!
Of course, you also have to up your intake of hair growth boosting foods like salmon, almonds, spinach, eggs and sunflower seeds. After all, nutrition plays a big part in hair growth.
Now when your diet is all okay is when you can think about applying treatments. And not just any treatments but natural treatments. Natural treatments can be done at home with the right natural products and the best part is that they have no side effects.
In this post, we're going to look at how you can use shea butter for thinning edges. Can it help grow back lost hair? And fix sparse edges? How should it be used? Let's find out below!
What is Shea Butter?
It's simply a plant butter extracted from the sundried nuts of the Shea tree. The nuts are removed out of Shea fruits, sun dried then cracked and boiled. This releases buttery fat which is collected and sold as Shea butter.
How Does Shea Butter Help Hair Growth?
As seen in this post of mine where I talk about shea butter for hair growth, a dry scalp is one of the major causes of hair fall. It can be due to harsh weather, dehydration, dandruff, scalp infections and others. Shea butter solves dry scalp by sealing moisture and lubricating dry patches. It also combats itchiness which is one way hair tends to fall off.
Shea butter is also rich in nutrients such as fatty acids and vitamins. These nutrients nourish the hair follicles, keeping them healthy enough to strongly hold the hair strands in place.
Also, massaging the scalp with shea butter also promotes circulation which triggers hair growth.
How to Use Shea Butter for Thinning Edges
#1: You can use shea butter straight from the jar onto your thinning edges. Just get a tsp and massage it deeply on the affected areas. When you're done, wrap your hair with a scarf and go to bed. Wash your hair the next morning, if you want. However, shea butter on its own may not be enough to kick start hair growth on your thinning edges. You need to work with hair growth promoting oils like…you guessed it! Jamaican black castor oil and essential oils, of course. So check out #2 below.
#2: Make a hair growth mix! And I'll show you how…
What you need
Directions
Measure out and place the shea butter, aloe vera gel and the rose water in the blender.
Blend till smooth. Then add the rest of the ingredients and blend again till smooth and creamy.
Transfer the mixture into an amber glass jar.
Apply on your edges while massaging firmly. Do this every night then cover your hair with a scarf or soft cloth. Also throw an old towel over your pillow to protect it from oil stains.
You can wash your hair in the morning or on your next wash.
Use consistently and wait for results! You'll be so glad to see your edges growing back again! Some people see results after 40 days but I say it can take up to 90 days! Just record each and every day and don't forget to apply!