Treating Eczema on the Face
Eczema is a skin condition that causes inflammation in the skin and leads to the formation of vesicles, skin irritation, itching and redness. It is undoubtedly the most common and bothersome skin problem among individuals these days. Luckily, there are so many natural remedies for eczema on the face and other areas. Eczema is a skin disorder often leaves scars and causes discoloration of the skin that can be disturbing for the sufferer. In some cases, it also makes your skin swollen, irritated and itchy. Though it is difficult to point out the cause of your eczema, these are some common factors that contribute to the condition:
Genetics
Immune system dysfunction
Chronic stress
Dry skin
Food allergies
Environmental factors like pollution
Why Use Natural Remedies for Eczema on the Face?
You can use natural remedies to treat eczema on the face. Natural remedies have an edge over the other medical treatments available out there. This is because home remedies are safe and free from any side-effects, unlike medical treatments that include steroids. Using natural remedies is also a lot more affordable and effective in treating eczema than using those expensive creams and medications that offer you little benefit.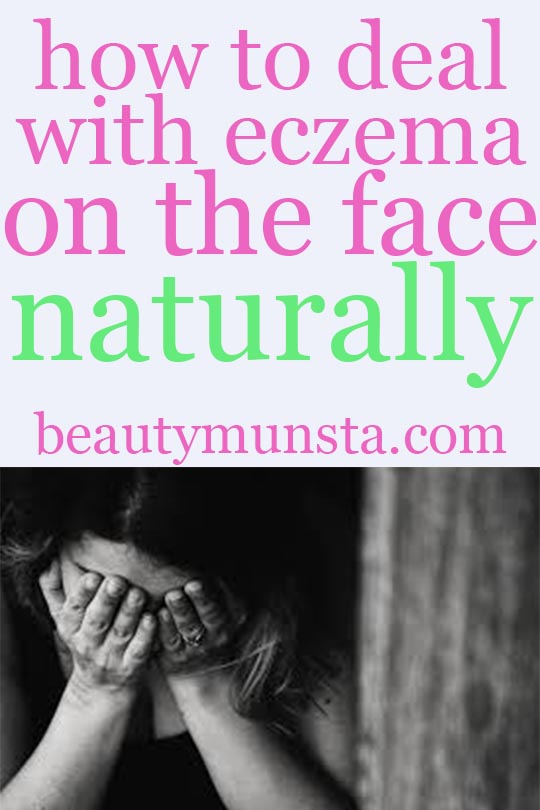 Top 10 Natural Remedies for Eczema on the Face
Here are the top 10 natural remedies for eczema on the face:
1. Oatmeal
Rich in carbohydrates, omega-3 fatty acids and iron, oatmeal is one of the best natural remedy available to treat eczema. This is one of the best natural remedies for eczema on the face. Make an oatmeal face mask by creating a paste out of oatmeal and chamomile tea. Apply the paste on your face for 15 minutes. This softens dead skin and provides relief from itching. Gently, wash off the face mask. Pat dry, and apply a scent-free moisturizer with rich oil content. Also read: DIY Eczema Face Mask with Honey & Oatmeal
2. Olive Oil
Olive oil is one of the oldest oils known to man, originating from the Middle East in ancient times. Olive oil is excellent for the skin. It comes loaded with anti-inflammatory properties and omega-3 fatty acids and it alleviates psoriasis and eczema. All you need to do is to take some extra virgin olive oil and apply it on to your face 1 – 3 times a day. You can also use this oil for cooking to heal your skin from the inside out. Read: How to Wash your Face with Olive Oil
3. Aloe Vera
Comes packed with calming and soothing properties, aloe vera is a natural remedy that promotes healing and treats psoriasis and eczema. It offers instant cooling for itchiness brought up with eczema. You can also grow your own aloe vera plant at home. Take aloe vera leaf and extract the gel. Apply aloe vera gel to your face as many times as you need to. Avoid if you have aloe vera allergy, like I do. Otherwise, check out: 3 DIY Aloe Vera Gel Recipes for Skin
4. Fish Oil
Fish oil is another wonderful natural remedy for eczema on the face and anywhere in the body. It helps treat skin irritation and redness. Fish oil contains omega-3 fatty acid which helps in treating various skin disorders.  Eat grilled fatty sea fish daily. Or take supplements of 3-10gms of fish oil every day to heal your skin.
5. Evening Primrose Oil
Using evening primrose oil is the best way to soothe irritated skin. Evening primrose oil comes loaded with gamma-linolenic acid as well as omega-6 fatty acids that prevent inflammation in the body and reduce eczema.
6. Coconut oil
Coconut oil is one of the best natural moisturizer that can help you get rid of many skin troubles due to its antibacterial and other properties. As damaged and inflamed skin is more prone to bacterial infection, coconut oil serves as a powerful remedy to treat the problem from the root. Use cold-pressed or virgin coconut oil on to your face twice daily as a moisturizer. You can also try oil cleansing with oils like olive oil and coconut oil. However, be wary of coconut oil if you have acne.
7. Turmeric
Known for its antibacterial and anti-inflammatory properties, turmeric contains curcumin, which is a potent remedy to treat various skin disorders. To treat eczema on the face, simply mix turmeric powder in water, dip a cotton ball in it and cleanse your face with it.  You can also consume turmeric as a supplement every day to gain its benefits.
8. Tea Tree Oil
Tea tree oil is rich in antimicrobial, anti-inflammatory and medicinal properties, making it very popular in skin care.  You can use tea tree oil in combination with a carrier oil like coconut oil to heal dry and inflamed eczema. Try out these tea tree oil remedies:
9. Flaxseed
Another good source of omega-3 fatty acids are flaxseeds. Consuming flaxseeds blocks arachidonic acid, a chemical formed by the body responsible for causing inflammation. The good thing about flaxseeds is that it is easy to consume. You can add flaxseed powder to your smoothies, salads as well as veggies. Try to take 1 tablespoon of flaxseeds every day for quick results. Read: Flaxseed Face Mask for Beautiful Skin | Vegan Face Mask Secrets
10. Sunflower Oil
Sunflower oil is another great remedy for eczema that keeps bacteria at bay and protects the outer layer of your skin from damage and infections. It also hydrates the skin and alleviates itching and skin inflammation. You can add sunflower seeds to your regular diet. You can also use sunflower oil to oil cleanse your face through oil cleansing, so you don't have to use soap which can exacerbate eczema.