Dandruff is annoying and embarrassing but it doesn't have to be a permanent problem. Use this DIY scalp scrub for dandruff removal and be amazed with a clean, healthy scalp!
What is Dandruff?
Dandruff, medically known as seborrheic dermatitis, is one of the most common scalp disorders that affects everyone at some point in time.
For many, dandruff is just dry peeling skin that doesn't bother much. But for others, dandruff can be a real problem, especially when there is too much flakiness, itchiness and hair loss.
If you go to your doctor with a dandruff complaint, you'll get prescribed powerful anti-dandruff shampoo that probably doesn't smell good and is extremely harsh on the skin. It may work well, but it also gets your scalp addicted to the formulation and may make your hair dry and lifeless.
That's why it's better to try out safe, natural remedies like this DIY scalp scrub for dandruff before you actually decide upon getting strong prescription shampoos.
Benefits of Using Natural Ingredients
Conventional dandruff removal treatments such as shampoos actually contain extremely harsh ingredients that are not good for your health.
Some of the dangerous ingredients in dandruff shampoos include:
Pyrithione zinc – skin irritation, eye membrane irritation, skin rashes, hives, allergies and hair loss
Sulfates – irritate the respiratory system, irritate mucosal membranes, eye irritant, disrupt the endocrine system, pose dangers to the reproductive system, causes hormonal imbalances
Propylene glycol – strips down healthy hair proteins, causes hair breakage, irritates the scalp
If you want to get rid of dandruff, while saving your hair and your health, you may want to consider using a natural dandruff-busting recipe instead!
DIY Scalp Scrub for Dandruff Using Natural Ingredients
This simple diy scalp scrub for dandruff removal uses completely natural ingredients that will not only remove dandruff, but will also leave your hair strong and your scalp balanced and healthy.
Here are the benefits of the ingredients that we will be using in this recipe:
» Baking soda – highly alkaline, detoxes the scalp, exfoliates the scalp, removes dandruff stuck to the scalp, cleanses the scalp
» Coconut oil – nourishes and moisturizes the scalp, makes the scrub smooth and easy to apply
» Essential oils – tea tree oil is antibacterial and prevents infections on the scalp; geranium oil balances the skin on the scalp, lavender soothes inflammation and reduces dandruff.
How to Make DIY Scalp Scrub for Dandruff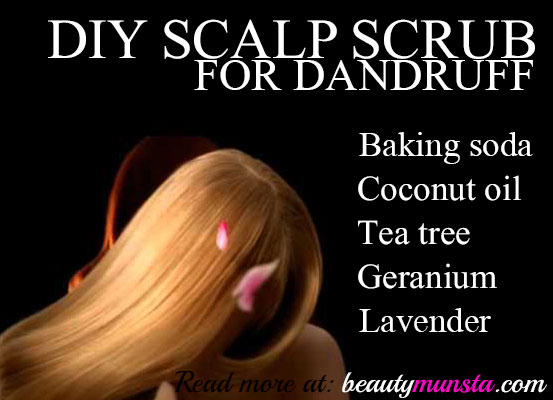 What you need:
For the scrub:
Scalp rinse:
¼ cup of apple cider vinegar (get it here)
½ cup of water
Method:
In a bowl, mix the baking soda with coconut oil and essential oils.
On to your wet hair, apply your scrub on all areas of your scalp using your fingers.
You will feel a tingling or burning sensation as the baking soda reacts with the water and exfoliates your scalp.
Gently massage your scalp for 2 – 5 minutes.
Now rinse off the scrub with plenty of water.
Once you are sure the baking soda and dandruff pieces have been washed off your scalp, you now need to use the apple cider scalp rinse to balance the pH of your scalp.
Simple pour the scalp rinse slowly all over your scalp.
Now if you are poo-free, you can use any of these natural shampoo alternatives to wash your hair. Or you can use an organic sulfate-free anti-dandruff shampoo like this one.