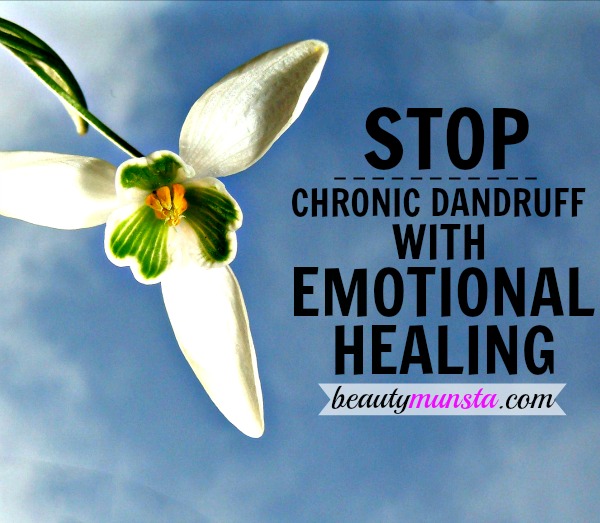 Did you know that dandruff is the most commercially exploited skin disorder? Almost everyone has suffered from dandruff at some point in their lives and for some people, dandruff is a chronic and severe condition that can't seem to go even after using multiple treatments including 'anti-dandruff' shampoos which contain sulfates and other harsh chemicals that actually ruin the scalp's natural pH. If you have been plagued with dandruff for years and years, then you must try using EFT tapping – which involves no drugs at all – to get rid of those flakes once and for all!
Before we discover how you can use EFT for dandruff, let's briefly look at the various types of dandruff.
Types of Dandruff
Dandruff is a non-inflammatory skin condition affecting the scalp that is caused by a number of factors including dry skin, oily skin, a yeast-like fungus known as Malasezzia, dirty scalp, sensitivity to hair products and other scalp irritants. The common symptoms of dandruff include oily flakes of dead skin on the hair and an itchy scaly scalp.
There are 3 types of dandruff and they include:
Oily Scalp-Related Dandruff
This type of dandruff is characterized by oily flakes of dead skin that litter the scalp and fall off. Oily Scalp dandruff appears due to improper scalp hygiene. When you don't wash your hair regularly, stale sebum collects in the hair follicles together with dirt, grime, bacteria and pollution, ultimately combining to form dandruff flakes.
Dry Scalp-Related Dandruff
Dry scalp-related dandruff normally occurs during the dry cold winter but can also arise in people with a dry skin types and also due to dehydration. Here, the skin of the scalp is so parched and dehydrated that it starts peeling and flaking off. Dry scalp related dandruff can also cause severe itching and scalp may appear scaly with huge dandruff flakes.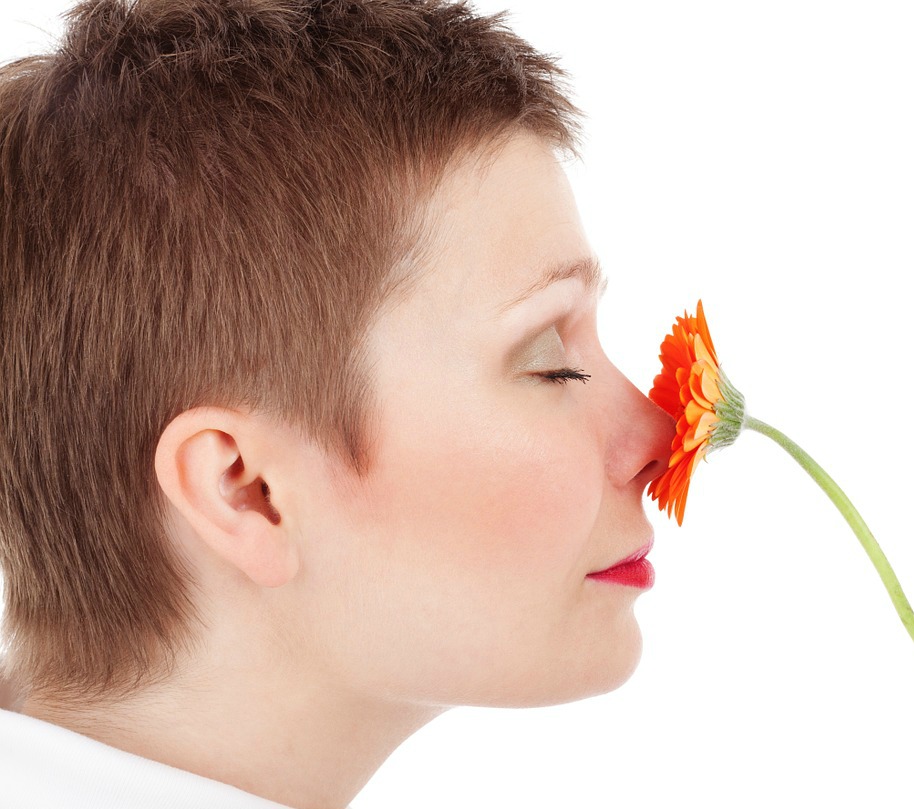 Yeast-Related Dandruff
A type of yeast-like fungus known as malasezzia causes this type of dandruff. The yeast is found in every human scalp without causing dandruff but when there is excess sebum production and the scalp is not washed properly leading to clogging of hair follicles with stale sebum, the fungus goes out of control and starts feeding on the excess oils. The action of the fungus causes new skin cells to form which results in excess dead cells that form dandruff and irritate the scalp.
Disease-Related Dandruff
Just like the name suggests, this type of dandruff is as a result of diseases such as inflammatory skin conditions like eczema, psoriasis, shingles and others. In addition to dandruff flakes, it also comes with itchy skin, inflammation, sores, blisters and pain.
How to Use EFT for Dandruff
EFT Tapping | What Is It
EFT tapping, Emotional Freedom Technique in full, is a form of psychological acupressure, borrowed from 5000 year old Eastern medicine. It is a powerful technique of self-healing that enables a person to naturally heal him/herself using the power of positive affirmations and tapping certain important meridian points in the body. The miracle of EFT is that anyone can use it and heal themselves within minutes and cure any dis-ease including mental, chronic and diagnosed illnesses. You can use EFT for practically ANYTHING – to remove any negative feeling you may be having at the moment, to cure migraines, to improve any health condition including cancer, to overcome a traumatic event in your life and so much more!
EFT for Dandruff | How to Tap
People are using EFT tapping to naturally heal illnesses like heart disease and cancer, what's stopping you from using it to get rid of your dandruff? Follow this EFT tapping sequence to stop dandruff once and for all.
The Setup
► Put away everything you are doing at the moment. Take off your glasses (if you have any) plus any wrist jewelry or watch.
► Close your eyes and take a deep breath.
► Think about and focus on the problem at hand. It might be how fed up you are of having dandruff, or one of your peers, friends, colleagues or family members noticing and pointing out your dandruff or the irritated and itchy way your scalp feels. Rate the feeling/problem on a scale of 0-10.
► Know the affirmation/affirmations that you are going to use then start saying them aloud while tapping the Karate Chop Point (the outer edge of the hand on the opposite side of the thumb) with four fingers, three times each hand.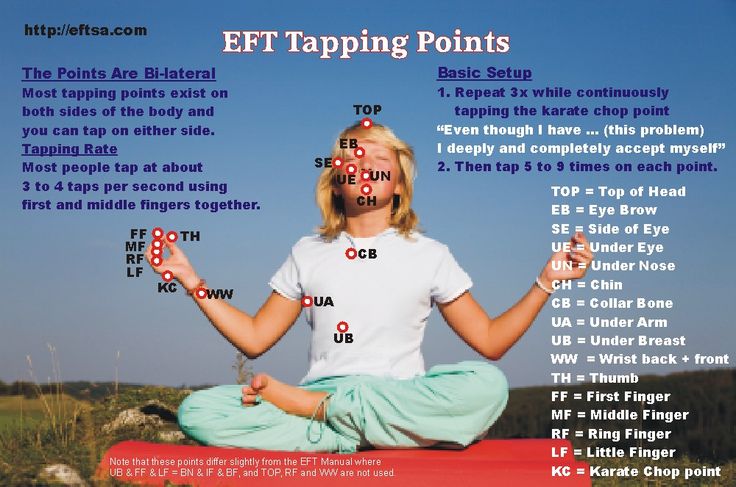 EFT Tapping Sequence
► Next, move on to the rest of the tapping points starting with the one at the crown of the head down to the last point.
► When the last point has been tapping while voicing the affirmations aloud, you will notice how calm, peaceful and relaxed you feel. It's time to stop and concentrate on the problem again. How do you feel about it after tapping? Has the intensity of the problem reduced? Rate it again from 0 to 10 and if it is above 5, you can do another session of tapping. This time, you can tweak the affirmation a bit so you will be saying, "Even though I still feel terrible about my itchy and icky dandruff, I deeply and completely love and accept myself."
► You can tap for any number of times until you can rate 0 on the scale. At this point, switch to saying different affirmations such as: "My scalp is clean and free of dandruff," I am free of dandruff forever, and so on," "My dandruff is clearing."
5 Positive Affirmations for Dandruff
Even though I have dandruff, I completely and deeply love and accept myself.
I love and accept myself even with itchy and flaky dandruff.
I choose to live a happy and fulfilling life even though I suffer from chronic dandruff.
Even though I tried all kinds of treatments for dandruff, (think of all the treatments and remedies you tried out), I still deeply and wholly love and accept myself.
Nothing, not even dandruff, is stopping me from loving myself the way I am (and living my life the way I want).
Purification Body Mind Vibrational Remedy Lotion 3.8 oz. for Anger, Resentment made with Bach Flower Essences and Pure Essential Oils
.