EFT & The Mind-Body Connection
The human body and mind are powerful tools that have the ability to create illnesses as well as cure them. Negative emotions and feelings, for example: anger, depression, resentment, anxiety, fear and jealousy, connected to a certain person, object of traumatic experience, unconsciously lead to a build-up of toxic energy. This bad energy stored in cellular memories can cause a great deal of mental and health problems. EFT tapping works by releasing these negative emotions that create blockages within the body's natural energy system which not only disrupt the emotional state of our mind but also makes our bodies vulnerable to disease, whether mental, diagnosed, chronic or physical. EFT tapping clears the disruption in the body's energy system, thereby eliminating the negative emotional response that causes numerous health conditions including pain, hair loss, skin conditions and others.
What Causes Wrinkles?
Wrinkles are creases, folds and deep lines on the surface of the skin that are part of the natural aging process. However, sometimes premature wrinkles and fine lines appear on the skin due to a wide variety of external and internal factors including too much sun exposure, UV radiation, smoking, stress, depression and dehydration, among others. All these factors result in excessive free radical activity in the body, which leads to wrinkles, fine lines and other forms of premature aging. Free radicals are unstable molecules that rob healthy cells of oxygen, making them dull and lifeless, thereby causing a number of health conditions including cancer and premature aging. A few effective ways of preventing premature wrinkles include:
Shading your skin from the sun by wearing sunglasses, hats and long clothing.
Drinking enough water since dehydration leads to dry skin, which is more prone to wrinkles.
Avoid alcohol consumption.
Stop smoking.
Avoid stress in your life.
Eating a balanced diet rich in vitamins and minerals. Include foods such as fatty fish like salmon.
Using EFT tapping technique to clear negativity that unconsciously contributes to premature wrinkles.
Applying essential oils.
Moisturizing your skin using oils such as coconut oil, olive oil and rosehip oil, among others. Oil keeps your skin supple and free from premature fine lines and wrinkles.
How to Use EFT Tapping for Wrinkles
The Setup Stage The Setup is the initial or starting point of the tapping sequence.
► Identify the Problem. It might be depression that your skin is getting wrinkles, frustration that nothing you do is making your skin looking younger or it might be a problem that's not connected to wrinkles such as anger towards your co-worker, friend or family member. This underlying emotional reason might be a metaphysical cause of wrinkles and premature aging.
► Evaluate the Problem. Concentrate on the problem and rate its intensity on a scale of 0-10, 1 being the lowest level of intensity and 10 being the highest.
► Form the affirmation. While tapping the Karate Chop Point (the outer edge of your palm opposite your thumb) with four fingers, say the following affirmation three times: Even though I have (a few wrinkles on my face), I deeply and completely love and accept myself. Insert any other phrase that suits how you feel about that particular situation in the brackets above.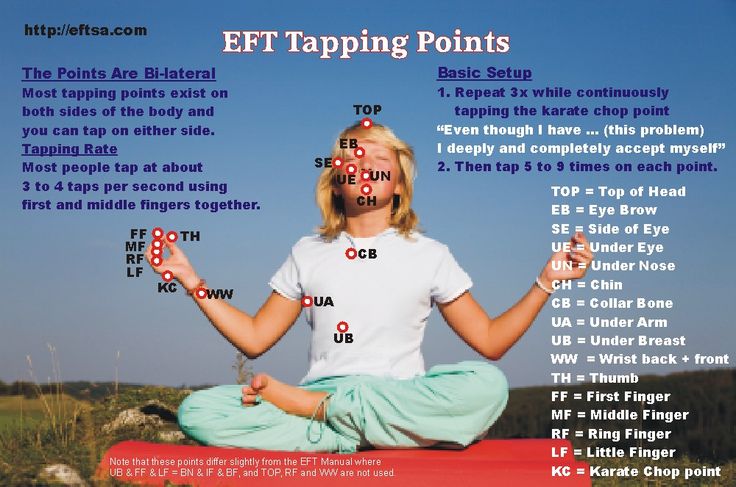 Tapping Sequence Now that the Setup Stage is complete, move on to tapping the rest of the meridian points from the point at the Crown of the head to the last tapping point while voicing the affirmation(s) you formed in the setup stage. Remember that the order and sequence of the tapping points are not in chronological order as you can even make the point at the Crown of the Head the last tapping point.
After completing the tapping sequence, focus on the problem again. How do you feel about it after tapping? Once again, rate the intensity on a scale of 0-10. If you find that the intensity is still severe, repeat the tapping sequence until intensity reduces or vanishes. This time, you can tweak the affirmation to something like this: Even though I still feel bad about the wrinkles on my face, I deeply and completely love and accept myself.
On completion of the tapping sequence, you can now insert positive motivational phrases in replace of the affirmation such as:
My skin is youthful and radiant.
I intend to remain youthful and vibrant every day of my life.
My skin is becoming more and more youthful every day.
EFT Phrasing: More Affirmations for Wrinkles
Even though my skin looks wrinkly and aged, I deeply and completely love and accept myself.
Even though I feel so frustrated when I see the wrinkles around my eyes, I deeply and profoundly love myself.
It doesn't matter if my skin looks and feels old, I still truly and deeply love myself.
Even though I get very depressed thinking about my aging skin, I deeply and completely love and accept myself.
Best Essential Oils for Aging Skin
While using EFT tapping for wrinkles, I recommend you also use the natural healing power of essential oils to nourish your skin from the outside. Here is a list of the best essential oils for aging skin plus my own homemade essential oil blends and recipes to make!
Tap Your Way to Beautiful Skin | More Resources
→ All You Need to Know About EFT Tapping for Psoriasis
→ How to Tap Eczema Away
→ Quick Guide to EFT Tapping for Shingles
Change Your Life with The Best EFT Products