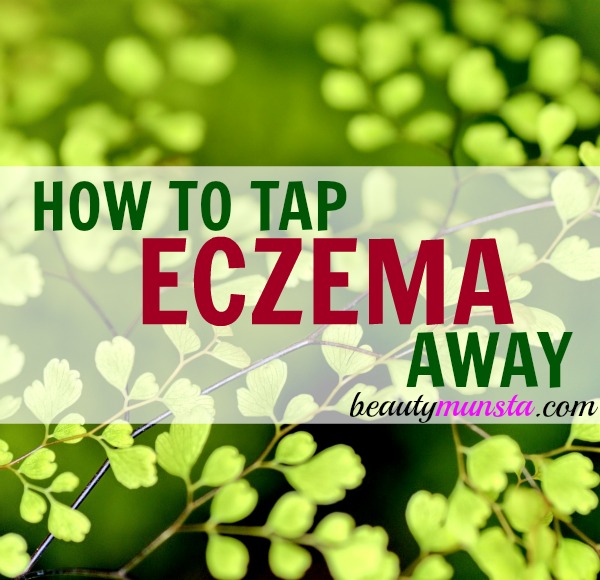 Heal with the Power of Your Mind
If you have eczema or have a friend, child, colleague or family member suffering from it, then you must try using EFT tapping. EFT tapping, also known as Emotional Freedom Technique or simply 'tapping', is a powerful psychological technique that uses the power of voicing out positive affirmations while tapping certain key meridian points in the body to remove emotional disturbances that cause dis-ease in the body.
As we already know, everything in this earth, including our bodies is made up of energy. Negative feelings and emotions such as hate, anger, resentment, depression, anxiety, worry and others lead to build up of toxic energy that end up creating disease and disorders in the body. EFT tapping works in eliminating the negative emotions that are responsible for creating a disruption in the flow of the body's energy system. When these energy patterns in the body are disrupted due to emotional or physical trauma, the path of energy between neurons goes out of control, thereby making the body vulnerable to all kinds of disorders – chronic, diagnosed or mental. When you let go of these negative emotions through emotional tapping is when the body's energy flow can be stabilized.
How to Use EFT Tapping for Eczema
The Setup Stage
→ The initial stage of EFT tapping is called the setup stage because this is where you pinpoint the problem, describe it, rate it on a scale of 0-10 then form the appropriate phrase before you start the EFT tapping sequence. Let's go through the setup stage looking at EFT tapping for eczema:
→ Choose the problem at hand, it could be anything that's getting under your skin lately – maybe the pain and itchiness of eczema or how bad your skin looks, or depression, or even something not related to eczema but something that triggered the eczema such as your anger towards a friend or family member or a traumatic event in your life.
→ Describe the problem. For example, it could be itchy and painful eczema or unbearably dry and inflamed eczema.
Focus on the problem and rate its intensity on a scale of 0-10, 0 being the lowest intensity and 10 being the highest. How do you feel about the problem? If the eczema is severely itchy, you can rate it at 10, mild itching can be a 3, etc.
→ Form the affirmation. Even though I have unbearably dry and inflamed eczema, I deeply and completely love and accept myself.
→ Using four fingers, tap the Karate Chop Point (the outer edge of your palm opposite the thumb) with gentle but firm pressure, while voicing out the affirmations.
→ That's it! Now you're ready to move on with the rest of the tapping sequence.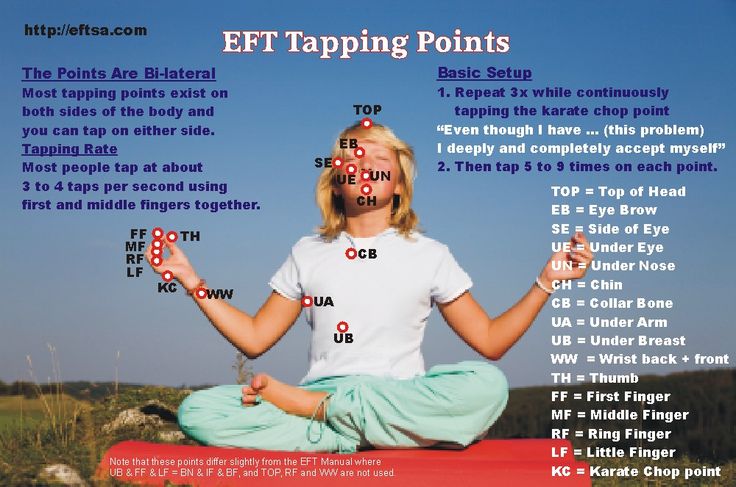 Tapping Sequence
→ Tap each of the meridian points, starting with the point at the crown of the head up to the point at the back of the wrists while voicing out the affirmations.
→ After tapping, take a deep breath and rate the intensity of how you feel about the problem. If it is more than 3, repeat the tapping sequence and evaluate again.
→ Some people tap until the rate on the scale falls to zero but you don't have to make it long and dreary- if you find that you are tired, stop and continue later.
EFT Phrasing | 5 Affirmations for Eczema
Even though my dry itchy eczema is driving me crazy, I deeply and completely love and accept myself.
Even though I have this terrible urge to scratch, I deeply and completely love and accept myself.
With or without this dry, painful and itchy eczema, I choose to be happy and deeply and completely love and accept myself.
Even though my skin is inflamed, painful and itchy, I deeply and completely love myself.
Nothing in this world, not even my painful itchy and dry eczema, is stopping me from deeply and wholly loving and accepting myself the way I am.
DIY Homemade Recipe to Soothe and Calm Eczema
My special twist to EFT tapping for pain or skin disorders is massaging a homemade healing cream, salve, ointment or balm made with natural herbs, oils and essential oils on the affected areas while focusing on the problem(s) and voicing the affirmations. Trust me, it works a charm since you are using two treatments at a go: one psychological and another, physical.
While gently massaging the cream on your psoriasis patches, say your affirmation: Even though I have this dry itchy inflamed and painful eczema, I truly and deeply love and accept myself.
Your subconscious mind will not only hear the affirmations you are saying but also see your dedication to heal the eczema as you massage the treatment in.  Below I've listed one of my favorite recipes to relieve painful, itchy and inflamed eczema.
Homemade Cooling Whipped Eczema Cream Recipe
Here's the recipe for my DIY eczema cream you can make and massage onto your eczema while using EFT:
Ingredients
Directions
► Soften the raw shea butter in a double boiler. Create your own double boiler by adding the shea butter in a heat-safe container and placing that container in a pan filled with a couple inches water. Heat on a medium flame.
► When soft enough to stir with a spoon, turn off the flame and remove the container from the pan. Add the rose water and raw honey only.
► Now using a hand mixer, whip the shea butter, rose water and raw honey till you get a white fluffy mixture. Then add the coconut oil and essential oils. Whip again with the hand mixer for about 3 minutes or until well combined. Voila!
► Your whipped eczema cream is ready! Transfer to a clean amber jar like this one.
Purification Body Mind Vibrational Remedy Lotion 3.8 oz. for Anger, Resentment made with Bach Flower Essences and Pure Essential Oils
Don't have time to make your own recipe? Try this amazing purification body mind remedy lotion that helps get rid of negative feelings and calm the mind.
.                                                              
List of Best Essential Oils for Eczema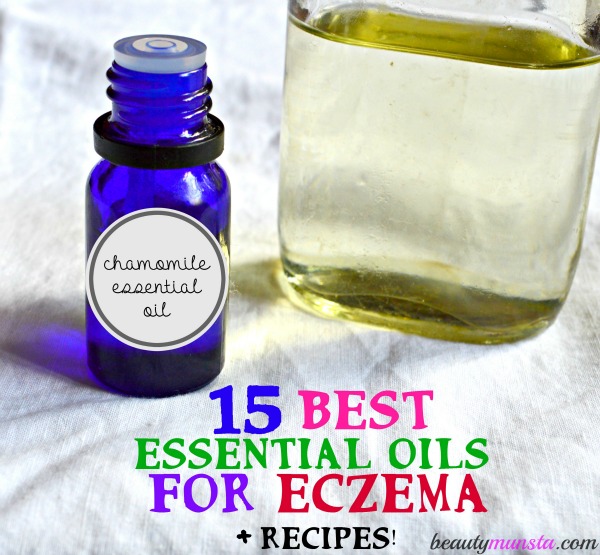 If you are interested in the natural healing power of essential oils, then you must check out this extensive list of 15 best essential oils for eczema which includes my own homemade DIY recipes.