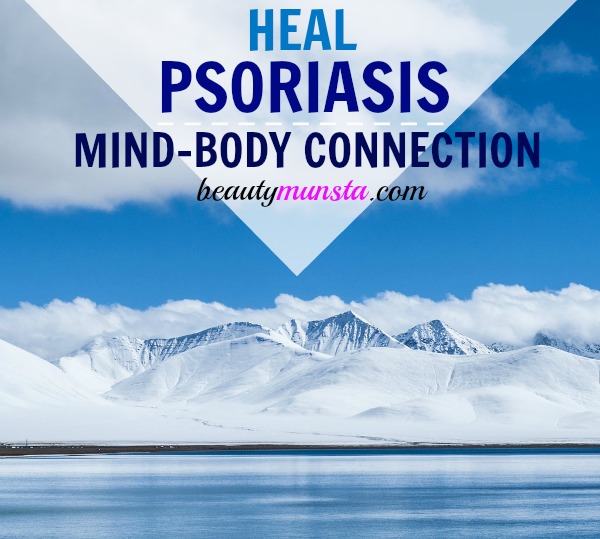 Psoriasis – The Body is Attacking Itself
Psoriasis falls under the category of autoimmune diseases, where by the body is attacks its own cells. In psoriasis, this manifests as dry, scaly and itchy red spots or patches on the skin. These are usually found all over the body but are most common on the knees, elbows and scalp. Scientifically speaking, the proteins called cytokines, which are responsible for controlling them immune system's response to inflammatory response against invaders, begin a long-lasting process of attacking the body's own skin cells. This is why (aside from topical steroid creams), the only treatment offered by Western medicine for psoriasis are immune system suppressing drugs, which restrain the immune system altogether to prevent psoriatic attacks.
Causes of Psoriasis
To date, the exact cause of psoriasis has not been discovered. However, we do know that psoriasis is a genetic condition, with some individuals being more prone to suffering from it than others. Psoriasis is triggered by environmental factors, lifestyle and stress.
Researchers are still studying the causes of psoriasis – but here's the thing, they're only looking at psoriasis on the physical level – but what about the dimension everyone seems to be ignoring? The metaphysical/spiritual/emotional level. That's right. Almost every disease out there is a physical manifestation of some type of emotional distress or disruption. Disease first begins in the mind and then spreads to the body. Not everyone agrees with this concept but the deeper you look into it, the more you will discern the existence of the mind-body connection.
Mind – Body Connection
Western medicine is slowly starting to acknowledge that there may be a connection that links the mind and the body, with techniques such as hypnosis, guided meditation, yoga, biofeedback and relaxation being used to treat many conditions alongside routine treatments.
Ancient medicine recognized the mind-body connection more than 1000 years but it is only recently that research in this field is being carried out in the West. For example, a scientific study carried out by the University of Calgary has shown that practicing meditation/mindfulness or being involved in support groups provides positive changes in breast cancer survivors, even at the cellular level. Scientists found that telomeres (the protein complexes located at the end of each chromosome) retain their length in breast cancer survivors who practice meditation or participate in support groups while the telomeres in the control group shortened. Telomeres are important because their length indicates the general health of the body, with shorter telomeres being linked to a diseased state while longer telomeres signify health.
Now that we know that the mind-body connection is a fact, and not just a theory, let's look at the possible emotional causes of psoriasis below.
Metaphysical Causes of Psoriasis
Psoriasis could be caused by:
The fear of being hurt
Running away from responsibility
Apathy and deadening of the senses
Denying your own feelings and emotions
Feeling that you don't 'fit in' to a place, or society's norms
Irritation at a certain situation in your life
Is it Possible to Heal Psoriasis with the Power of the Mind?
They say most diseases begin from the mind – so it's only logical to conclude that those same diseases can be healed with power of the mind. Many doctors would agree with this concept because it is well known that mental stress is the cause of many diseases and conditions like heart attacks, migraines, strokes and blood pressure. It is also known that happier people fall sick less often and tend to live longer! By harnessing the power of the mind, we can heal any disease, including skin diseases like psoriasis. One of the most powerful tools to heal psoriasis is EFT Tapping.
How to Use EFT Tapping for Psoriasis
EFT stands for 'Emotional Freedom Technique, ' and it is one of the most effective healing tools that involves tapping several 'energy meridians' or 'energy pathways' on the body while saying positive affirmations. This technique was developed by Dr. George Goodheart in the 1960's, and it is based on the ancient Chinese medicine of acupuncture.
The only difference is EFT is needle-free! Dr. Goodheart found that he was able to heal his patients by simply manually tapping on the meridian points of his patients' bodies, rather than using needles. And the best part about EFT is you don't need someone else to do it for you (although a certified EFT coach may be necessary in some cases) – this is a self-help tool that you can start using right away to treat your psoriasis. You've got nothing to lose. Try it and you will be astounded with the results!
EFT Tapping for Psoriasis – Where to Begin
► Begin by sitting comfortably on a chair and be sure to take off your glasses and watch, if you have any. Gently breathe in and out and start focusing on the problem you are working on, i.e, psoriasis.
► On a scale of 1 – 10, rate the intensity of the feelings you have surrounding your issue with psoriasis. Note how you feel.
► Lightly begin the outer edge of your left hand (opposite side of the thumb) using the fingers of your left hand. This is an important energy meridian point (called the karate chop point), which you will use to bring your problem into focus. While tapping on this point say the following statements to bring your psoriasis into focus:
I'm feeling irritated at this moment…
I feel like scratching myself…
I'm tired of suffering from psoriasis…
I feel embarrassed because of this psoriasis…
I really want to get rid of this psoriasis…
I want to eliminate the traumatic event in my life that triggered this psoriasis
► Now begin tapping on the rest of the meridian points on your body (shown in the image below), while saying the following statement:
Even though I'm suffering from this psoriasis, I deeply and completely love and accept myself.
► Say the above phrase out loud while tapping on the points shown in the image below: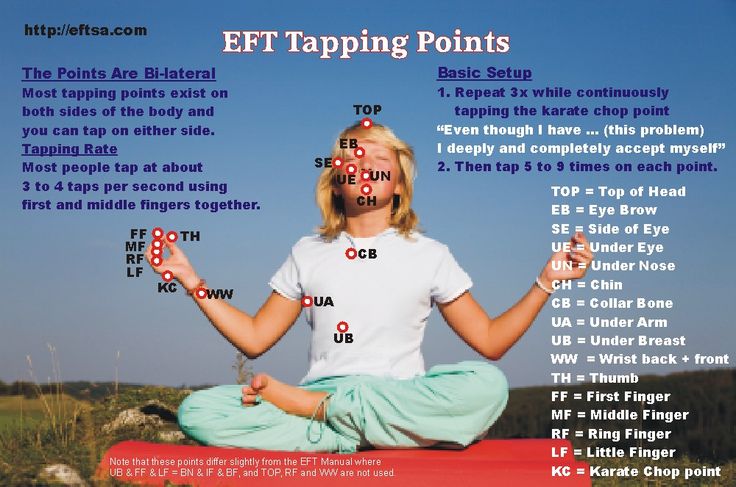 While tapping, you may get certain imagery, thoughts or memories in your mind. Take note of these thoughts – they could be clues to the trauma or traumas in your life that could have triggered your psoriasis. You can then adjust your EFT phrasing accordingly. For example, if you started suffering from psoriasis after you moved into a new school, or after the death of your close friend, that could be the even that possibly triggered your psoriasis, and you can work on it by saying, "Even though I moved to a new school and feel like I don't fit in, I deeply and completely love myself." Here are more effective affirmations for psoriasis:
More EFT Phrasing: 5 Effective Affirmations for Psoriasis
Even though I'm angry and irritated with this psoriasis, I deeply and profoundly love myself.
So what if I have psoriasis…I love myself unconditionally!
It doesn't matter if I have psoriasis – I love and accept myself the way I am!
Even though I may not be able to pinpoint the traumatic event in my life that caused this psoriasis, I forgive myself, I love myself, and I'm ready to move on!
I'm deeply in love with myself right now, even though I'm suffering from itchy and painful psoriasis!
Purification Body Mind Vibrational Remedy Lotion 3.8 oz. for Anger, Resentment made with Bach Flower Essences and Pure Essential Oils
.                                                          
Other Resources for Psoriasis