Psoriasis, an autoimmune disease characterized by scaly, itchy, dry, red/white patches on the skin, is one of the oldest skin conditions to be recorded. The word psoriasis comes from the Greek word psora which means 'to itch'. Various treatments were used throughout history to treat psoriasis until today's commercial psoriasis creams, light therapy and topical steroids. Out of all these treatments, the safest ones that really work to cure psoriasis are herbs and essential oils. Find out the best essential oils to treat psoriasis and recipe in this post.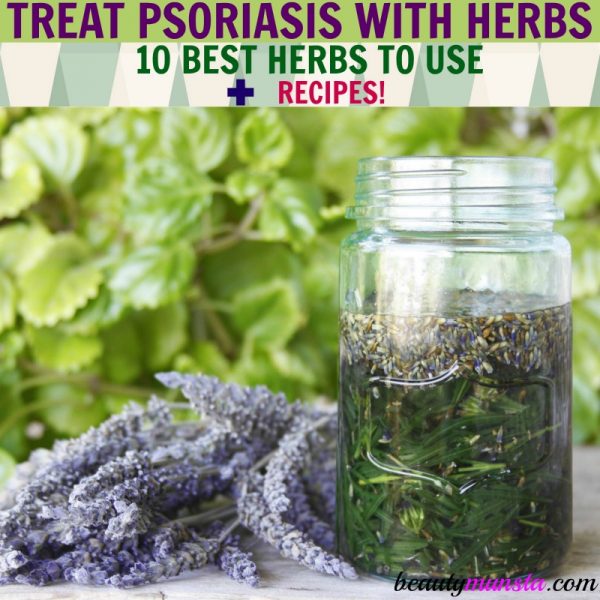 Commercial psoriasis treatments including creams and topical steroid treatments can only provide temporary relief to dry itchy and inflamed patches and may come with serious side effects such as skin thinning, rashes, changes in pigmentation, easy bruising, redness and dilated surface blood vessels, among others. Not to mention, prolonged use of these topical treatments & applying them to widespread areas of skin, can affect internal organs because 60 % of what we apply on our skin goes directly into the blood stream.
Long ago, people used herbs to make herbal drinks and ointments that would soothe a range of skin conditions. Ancient Egyptian scrolls described the making of a salve with various herbs that would be spread all over the skin after which the person would be instructed to sit under the sun to bring relief to psoriasis symptoms.
Caution: Please consult your doctor/healthcare professional before using any of these herbs to heal your psoriasis. If you are pregnant, breastfeeding or have any chronic conditions/allergies, avoid using any of these herbs before consulting your doctor.
How to Heal Psoriasis Naturally with Herbs
Here are the 10 best herbs to heal psoriasis naturally plus homemade recipes and DIY topical treatments you can make at home to effectively manage dry itchy psoriasis.
1. Skull Cap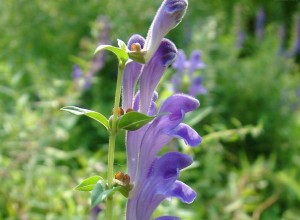 Scientific Name: scutellaria baicalensis
Origin: North America
The name skullcap comes from the Latin word scutella, a small dish or tray which is in reference to the appearance of the flower's sepals during the fruiting period. This powerful herb was used by the Cherokee for the treatment of a number of ailments including women's problems, kidney disorders and diarrhea. Due to its strong antioxidant and anti-inflammatory properties, skullcap is one of the best herbs for psoriasis. It helps soothe inflammation, reduce itching and calms redness.
2. Aloe Vera
Scientific Name: Aloe Barbadensis, Aloe Indica, Aloe Barbados
Origin:  Africa
Aloe vera is popularly used in skin, beauty and first aid care products because of its soothing and healing properties. The history of aloe vera in skin care goes back more than 5000 years. It was used to treat a myriad of skin conditions including burns, dry skin, itching, sores, rashes and many more. For healing psoriasis naturally, aloe vera can either be ingested or applied topically. Its skin soothing and cooling properties calms inflammation, cools red & irritated skin and reduces itchiness.
3. Turmeric
Scientific Name: Curcuma longa
Origin: India

Turmeric is an herb/spice that is popularly used in the ancient Ayurvedic medicine. The key ingredient in turmeric is curcumin, a compound with powerful anti-inflammatory properties that are said to rival those found in conventional drugs such as ibruprofen. When treating psoriasis, turmeric can be used both internally and externally: You can incorporate turmeric powder in your diet by adding it in curries, soups, smoothies, drinks and more to benefit from its powerful healing powers or you can make this topical mask to soothe your skin:
4. Cayenne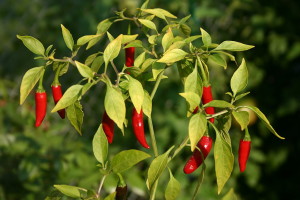 Scientific Name: Capsicum annuum 
Origin: Mexico, Central America, West Indies, parts of South America
Cayenne pepper, also known as red hot chilli pepper and cow-horn pepper, is a great remedy for healing psoriasis naturally. The main ingredient in cayenne pepper is capsaicin, a compound that is said to reduce the pain and itching of psoriasis. Creams containing capsaicin are used to treat a number of conditions including psoriasis. One study (1) found that use of topical capsaicin, in a double-blind, placebo-controlled trial of 200 people , improved itching and the general symptoms of psoriasis. A psoriasis patient (2) shares a secret tonic that kept his skin smooth and clear of psoriasis after a month:
5. Milk Thistle
Scientific Name: Silybum marianum
Origin: Mediterranean region
Being a powerful anti-inflammatory, milk thistle is said to help reduce inflammation and also slow down excessive cell growth. The key ingredients in this potent herb that help control psoriasis are a group of compounds known as silymarin. Taking milk thistle tea is an effective way to naturally heal psoriasis.
6. Chamomile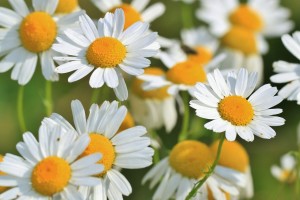 Scientific Name: Matricaria chamomilla
Origin: Asia and Europe
The use of chamomile in medicine dates back to thousands of years ago. Ancient civilizations such as Ancient Egyptians, Greeks and Romans used it to treat colds, abscesses, insomnia, stomach ulcers and skin conditions such as acne, eczema and psoriasis. It's anti-inflammatory and skin soothing properties make it a key ingredient in many psoriasis creams. Here's a homemade cream you can make with chamomile essential oil:
7. Slippery Elm
Scientific Name: Ulmus rubra
Origin: North America
Slippery elm, derived from the inner bark of the tree, gets its name from its slippery/mucilage component. It was used by the Native Americans since ages ago to treat burns, boils and other skin injuries and conditions. Slippery elm bark tea is recommended to be taken in the morning before breakfast (3) for the treatment of psoriasis.
8. Wintergreen
Scientific Name: Gaultheria pro cumbens
Origin: North America
Native Americans used wintergreen leaves to treat many ailments including sore throats, respiratory problems, headaches, fever, tooth decay, rheumatism, joint problems among others. Wintergreen essential oil is also used externally as a folk remedy to cure disorders such as psoriasis.
9. Evening Primrose
Scientific Name: Oenothera biennis
Origin: Mexico, Central America

Evening primrose oil, extracted from the seed of the evening primrose plant, is a natural home remedy for psoriasis. It is rich in omega 6 fatty acids and contains GLA, which is a particular type of omega 6 fatty acid that is known to be effective against itchy skin conditions such as psoriasis. Evening primrose oil has powerful anti-inflammatory properties and reduces skin redness.
10. Dong Quai
Scientific Name: Angelica sinensi
Origin: China
Also known as 'female ginseng', dong quai is a powerful herb which has been used in Traditional Chinese Medicine for over 2000 years. Although most popularly known for treating female problems, dong quai also helps heal psoriasis. According to Medscape, by consuming dong quay and then receiving ultraviolet light therapy or natural sunlight, patients are self-administering a form of psoralen-UVA (PUVA) therapy (4) , which is effective in the treatment of psoriasis.
Note: Since this herb is said to be very potent, please refer to your doctor before using it.
11. Lavender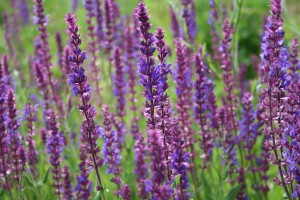 Scientific Name: Lavandula
Origin: Mediterranean, Middle East, India
Lavender is an herb that is popularly known for its skin soothing properties. It's antibacterial and antiseptic properties soothe burning, inflamed and itchy psoriasis patches. Relaxing baths can be prepared using lavender, oatmeal and dead sea salt bath bags.  In a clean cheese cloth, wrap a handful of dried lavender, steel cut oatmeal and dead sea crystals. Drop this into your hot/warm bath water and squeeze to soften it. Soak in the milky water to soothe and soften scaly skin.
References
(1) Ellis CN, Berberian B, Sulica VI, et al. A double-blind evaluation of topical capsaicin in pruritic psoriasis. J Am Acad Dermatol. 1993;29:438-442.
(2) http://www.growyouthful.com/comment-ailment-remedy.php?ailmentNo=2&remedyNo=91
(3) http://www.edgarcayce.org/are/holistic_health/data/prpsor3a.html
(4) http://www.medscape.com/viewarticle/567028_2