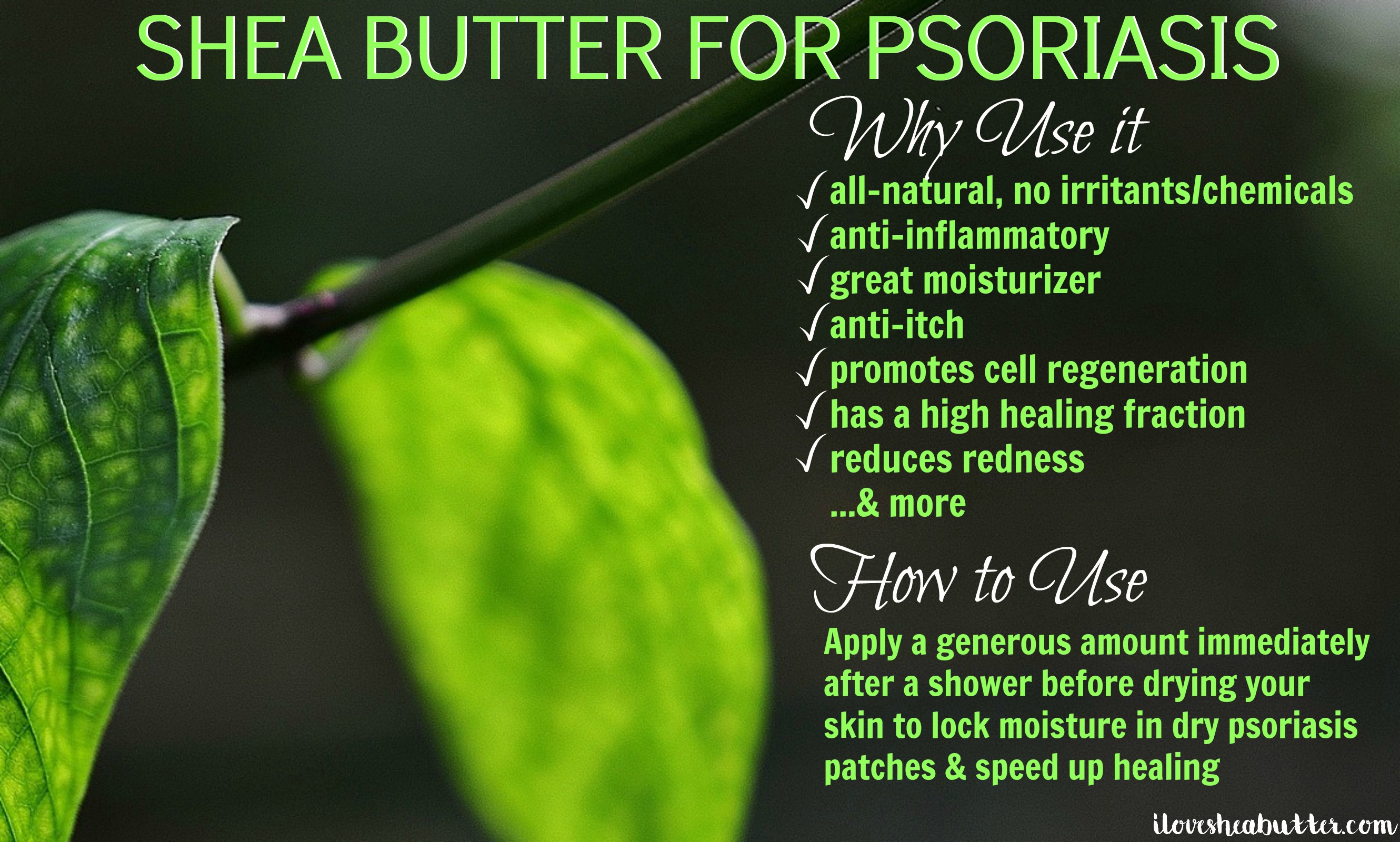 Psoriasis – an Itchy Predicament
Characterized by dry white patches or red itchy patches on the skin, psoriasis is a skin condition that is on the rise amongst adults and children alike. Psoriasis has more recently been characterized as a recurring autoimmune condition, where by the immune system starts attacking its own body cells, and as with most autoimmune diseases, there is no cure for psoriasis today.
If you have or suspect you have psoriasis, the number one action to take is to visit your doctor for a consultation. This way you can at least be certain of what you are suffering from and then you can decide a treatment plan. However, modern medicine only has chemical treatments for psoriasis, which include creams containing salicylic acid, coal-tar, retinol, calcipotriene and steroids. Most of these tablets and creams have side effects, may cost you a lot of money and you may want to try out natural remedies such as essential oils, herbs and of course, SHEA BUTTER.
What is Shea Butter?
Shea butter is a wholesome, plant-based nut butter extracted from the seeds of the African Karite tree. Shea butter is special because it is only found in some parts of Africa, and it is only now that the World is coming to know of this nutritious, highly beneficial butter.
Shea butter is known as the Gold of the Women in Africa because of the love and labor with which these women tend to the trees, harvest the seeds and extract the butter. It is a source of livelihood for many African families. After gathering the seeds/nuts, the women cleanse them of any topical dirt/soil particles and boil them altogether to soften the hard exterior of the nut. The nuts are then opened and the fatty portion, which is light yellow to an off-white/ivory color, is scooped out and boiled again to get rid of impurities and to derive a soft butter. This butter is then filtered using a fine mesh, resulting in pure and smooth shea butter, which is incredibly rich in many vitamins, minerals and fatty acids.
What makes Shea Butter Good for Psoriasis?
Not surprisingly, shea butter is an extremely useful and soothing natural remedy for all types of skin conditions, including psoriasis. Just take a look at the properties that make shea good for psoriasis.
Rich in Vitamins: Vitamin A, E and F are found in shea butter. All 3 of these vitamins play a part in promoting healthy skin.
Vitamin A (retinol) is found in many psoriasis creams and helps in the regeneration of healthy new skin cells, which can replace scaly psoriasis cells.
Vitamin E, known as the Skin Protector, helps protect the skin against UV damage and reduces inflammation in the skin.
Vitamin D, the sunshine vitamin has only recently shot to fame and is prescribed by doctors for all sorts of problems including arthritis, depression and even cancer. But shea, an ancient nut butter actually contains a notable about of Vitamin D, which is a miracle to stave off psoriasis flare-ups.
Vitamin F is also known as fatty acids, such as linoleic, stearic, oleic acids, which are natural fatty chains which play the part of moisturizing, hydrating and soothing scratchy dry psoriasis on the skin.
What Type of Shea Butter to Use on Psoriasis
There are three kinds of shea butter: raw shea butter which means the shea butter undergoes no processing at all, unrefined shea butter, which means the shea butter has been filtered and refined shea butter, which has been refined and deodorized. You can use any type of the above listed shea butters but if your psoriasis skin is affected by the natural nutty scent of shea butter, then you can go the refined shea butter which has been deodorized, though it might not contain as much nutrient-content and healing power as raw/unrefined shea butters. You might also want to try Shea butter Nilotica, which is a rare type of shea butter only found in East Africa, it has a high content of soothing & lubricating oleic acid that makes it so soft and creamy plus it has a very mild nutty & pleasant scent.
Other Remedies to be used in conjunction with Shea Butter
If you are going the natural route in managing and treating your psoriasis, you may as well consider other remedies to use alongside shea. These include:
– Aloe Vera Gel: Known to calm inflamed skin, aloe vera gel cools red itchy skin and soothes psoriasis.
– Lavender Oil: Extracted by steam distillation of lavender flowers, lavender essential oil can be diluted with shea butter and applied on psoriasis to cool the skin, reduce inflammation and heal damaged skin.
– Chamomile: A herbal flower used since ancient times to soothe inflammatory skin conditions such as eczema, acne and psoriasis. You can make chamomile-infused oil by placing a handful of dried chamomile flowers in a mason jar, then filling it to the top with olive oil or another soothing oil of your choice. Leave the oil to infuse in sunlight for about 2 weeks before its ready to be used. If you don't want to make your own, just buy pure roman chamomile essential oil and dilute it with shea butter.
Do not be afraid of your doctor
It is essential to go to your doctor and have a consultation and even discuss a treatment plan. You can use allopathic treatments in conjunction with shea butter, all you need to do is discuss this with your medical practitioner. Your doctor may even prescribe you oral vitamins, which you can take for a more wholesome treatment.