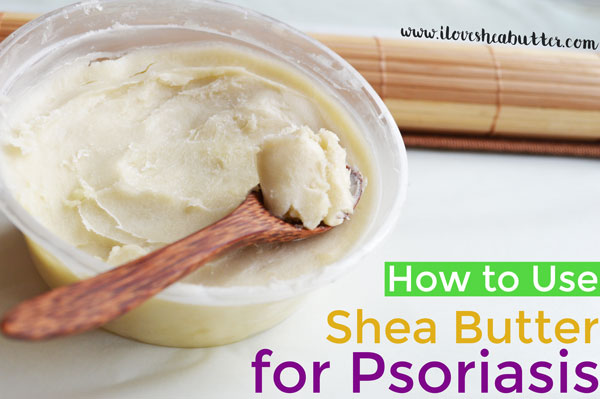 Psoriasis is an autoimmune disorder whereby the body's immune system mistakenly attacks its own skin cells. It is a debilitating physical condition where skin cells renew at an alarmingly fast rate of around 3 – 4 days instead of the normal 28 days. Psoriasis leads to epithelial damage of skin cells, causing red scaly patches on the skin that are dry and itchy.
While there is a wide range of allopathic treatments available for psoriasis relief, more and more people are now turning to alternative treatment options to avoid the side effects that come with conventional creams.
Once such alternative remedy is shea butter! This luxurious butter is a plant-based oil that's solid at room temperature, making it a smooth cream that easily melts when it comes in contact with body heat. It contains an array of nourishing nutrients that are very helpful in managing irritable psoriasis patches. Take a look at some of the key nutrients in shea butter that make it helpful for psoriasis:
Nutrients in Shea Butter that Help Psoriasis
Vitamin A: Ever wondered why raw shea butter is yellow or has a slight tint of yellow to it? That's because it's rich in beta carotene, a plant pigment that gives it that beautiful yellowness. Beta carotene is also known as plant-based vitamin A and it's a champion anti-oxidant that is noted for its ability to protect skin from sun damage and even the skin tone making it a great substance for sun damaged and aging skin types. It also increases cell turn over and regeneration in the epidermis (outer most) layer of skin, which makes it very effective for treating skin conditions associated with epithelium damage, including psoriasis and eczema!
Vitamin E: Also known as tocopherol, vitamin E is a powerful antioxidant that keeps skin smooth, soft and youthful. Its thick consistency shows that it is a deep moisturizer with intense lubricating properties good for flaky and scaly psoriasis patches. According to MDHealth, psoriasis patches can be repaired by the application of vitamin E to the affected areas. It also states that vitamin E can relieve the itchiness and inflammation caused by psoriasis.
Vitamin F: Another more recognized name of this vitamin is fatty acids. Shea butter is full of them! There's oleic acid (55%), linoleic acid (8%), stearic acid (45%) and others that are incredibly lubricating and give relief to dry psoriasis patches. These fats also protect the skin from other germs that can irritate psoriasis and they soothe pain as well as reduce inflammation.
Properties in Shea Butter Good for Psoriasis
→ Emollient – Substances that seal moisture into skin, emollients are intensely hydrating and lubricating. Shea butter is rich in vitamin F, also known as fatty acids, that create a protective layer over skin, preventing water loss and keeping skin free from skin irritating germs that can further aggravate psoriasis.
→ Anti-Inflammatory – Shea butter is rich in cinnamic acid esters, which are known to be powerful anti-inflammatory agents that also help minimize skin redness. It also contains up to 55% oleic acid, a fatty acid that is anti-inflammatory and readily absorbs into skin. By reducing the inflammation prevalent in psoriasis patches, shea butter can be used to manage and calm the itch, dryness and pain.
→ Skin Softening – Being a heavy moisturizer which at the same time sinks effortlessly into skin, shea butter nourishes and softens rough scaly and dry skin, keeping it healthy and moisturized.
→ Soothing – Incredibly fast at calming skin irritations like bug bites, rashes and poison ivy stings, shea butter can also be extremely soothing for dry itchy scaly and painful psoriasis patches.
→ Wound Healing – Shea butter contains a main component known as allantoin that speeds up the rate at which wounds heals. If you're psoriasis it too itchy and scratchy that it draws blood and forms wounds, shea butter can be used as a healing ointment to protect the wounds from germs and help soothe the pain.
Best Shea Butter Types & Brands for Psoriasis
Every psoriasis sufferer is unique and can react differently to various types of shea butter, including:
✓ Raw Shea Butter from Perfect Body Harmony (where to get it) – This is the purest form of shea butter, packaged straight from shea butter extraction so it doesn't have any chemicals, bleach or other additives mixed in it. It's the best option for those who have psoriasis and want to treat it naturally. However, it has a smoky and nutty smell which some people find unpleasant (I actually like it!) so if your psoriasis is affected by strong scents, then you would want to check out the other brands listed below:
✓ Refined Shea Butter from Chemistry Connection (where to get it) – Stripped of its nutty scent and yellow color to make it white and odorless, this shea butter can be used for people who don't like the smoky and nutty scent of shea butter and whose skin reacts to scents. It may have a lower nutrient content compared to raw shea butter but it's a good emoillent and moisturizer all the same.
✓ Shea Butter Nilotica from Slice of Nature (where to get it) – This is a special type of shea butter that's got from the rare shea trees found only in East Africa. What makes it different from Shea butter Paradoxa (the common shea butter) is its soft creamy consistency – which is due to its high oleic fatty acid content, it's light yellow color and pleasant nutty scent. It doesn't need much 'rubbing in' like the usual shea butter so it's good for those with sensitive and painful to touch psoriasis.
Research Concerning Shea Butter for Psoriasis
One particular psoriasis study (1) mentions shea butter in its investigation: it was a naturopathic research conducted to determine the efficiency of Ichthyotherapy (therapy with a unique fish species known as the 'Doctorfish of Kangal' or scientific name Garra rufa which gently scrape off and feed on the scaly psoriasis skin). It mentioned that after the psoriasis patients had soaked in a bathtub containing the fish and thereafter had UV exposure, they applied a skin lotion treatment consisting of glycerine, shea butter and aloe vera extract.
This shows that shea butter is a good skin soother and moisturizer for psoriasis sufferers.
Though there hasn't been much research on shea butter for psoriasis in particular, there's plenty of anecdotal evidence from many people who have used it with success. The benefits of using shea butter for psoriasis are very clear: when you apply it on your psoriasis patches, you'll automatically notice your itchiness has subsided, dry skin is moisturized and the health of the skin is much more improved!
How to Use Shea Butter for Psoriasis
Below are two effective ways to use shea butter for psoriasis relief and treatment:
1. Direct Application
Since shea butter melts rapidly with body heat, you can use it directly on your skin by scooping a liberal amount with clean finger tips and massaging it gently on the affected areas.
2. Make a Cooling Psoriasis Cream

This cooling cream contains other healing ingredients that are good for psoriasis including:
Coconut oil, an antimicrobial oil that's also creamy at room temperature which is rich in good fats and has healing properties
Tea tree oil, that's a disinfectant and anti-itch agent
Chamomile oil, known to reduce inflammation and calm aggravated skin.
Peppermint oil, which has analgesic properties to reduce pain and a high menthol content to numb pain as well as cool irritated psoriasis.
Here's how to make this cooling psoriasis cream:
What you need
Method
Melt the shea butter and coconut oil in a double boiler. Once melted, leave it in the refrigerator for about 15 minutes to partially solidify.
Then add the essential oils and beat the ingredients with a hand mixer till you get a fluffy white mixture. It may take 3-5 minutes. For a fluffier texture, beat it for longer.
All done! Now scoop the cooling psoriasis cream in a clean container and store in a cool dry place.
To use, smooth a little gently over affected skin after a shower before toweling off.
References
(1) https://www.ncbi.nlm.nih.gov/pmc/articles/PMC1697753/v