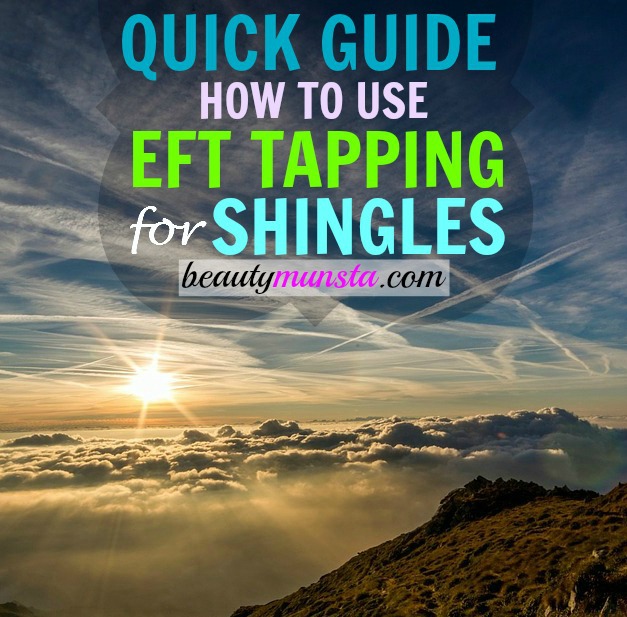 What is EFT?
EFT or Emotional Freedom Tapping is an amazing and powerful psychological healing technique which involves focusing your positive thoughts, emotions and energy (what we call 'tapping energy') to naturally heal and treat illnesses of all types be it mental or physical. Basically, EFT is all about tapping – tapping your positive energy into key meridian points on your body, while saying affirmations and optimistic statements. With EFT tapping, you can heal chronic and diagnosed illnesses alike just with the power of your mind.
How to Use EFT Tapping for Shingles
Shingles – What It Is 
Shingles, also known as herpes zoster/zoster, is a painful skin rash caused by the varicella zoster virus. It occurs when the varicella zoster virus also known as dormant chicken pox virus is reactivated in your nerve tissues. It affects a small strip or area of skin in one side of the face or body. Other symptoms of shingles include itchy red blisters, write more
EFT Tapping for Shingles | How it Works
When you do EFT tapping, you are eliminating all the toxic negative energy surrounding the underlying reason or trauma of why you are suffering from shingles. This unknown emotional disturbance can be hard to pinpoint – what exactly is the emotional reason for why I'm suffering from shingles? Most shingle sufferers have some sort of emotional disturbance or what, in EFT lingo, is called a 'short circuit' that brings on shingles, aggravates it and impedes naturally healing. EFT tapping completely purges this crippling disturbance or blockage that is hindering you from healing and moving on with your life.
Here's a quick look at the locations of the EFT meridian points that will need to be tapped. You will need to tap these points while saying your affirmations out loud.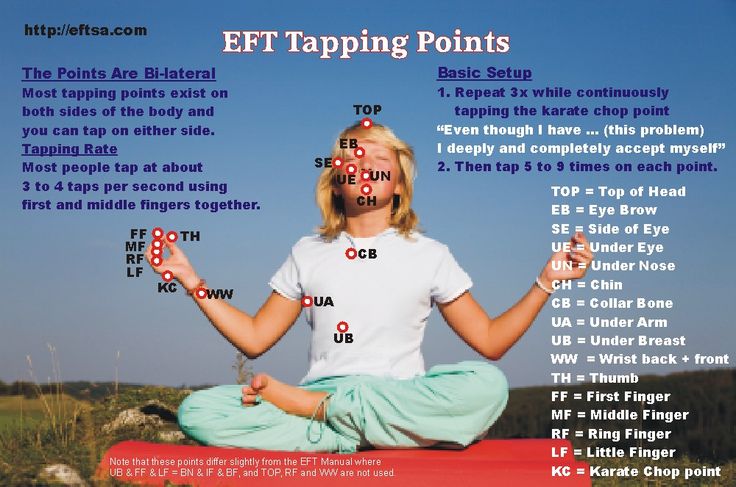 The crown of your head
Just above your eyebrows
The side of your eye
Under the eye – at the top of the cheekbone
Under the nose
The chin
Just below the collar bone
Underarm – the sides of your rib cage
All you have to do is lightly tap these meridian points with your fingertips (not fingerpads) with pressure, but not too much so as to hurt yourself, while saying the affirmations. It's recommended you remove your glasses, watch or arm jewelry before tapping. Taking deep breaths before the session also helps refresh the mind.
Now let's get started! To begin with, we need to establish what problem you are tackling and put the mind's focus on the particular problem. In this case, we need to think about the Shingles and all the problems it comes with. This introductory step is also known as The Setup, and is a crucial step that greatly improves the effectiveness of the EFT healing process.
The Setup
► Think of what is troubling you or getting under your skin. It could be pain associated with shingles, itching, discomfort and the way your skin looks, among others. Or, it can be a whole other thing – something that's not even related to shingles at all. It can even be something like your anger towards your co-worker, spouse or child. It also could be triggered by the memory of a traumatic event in your life.
► Consider how you feel about the problem right now. Rate it on a scale of 0-10. 0 being the lowest intensity of feeling or emotion/pain/discomfort and 10 being the highest.
► While saying the affirmation aloud, start tapping the Karate Chop Point, which is the outer edge of the hand on the opposite side of the thumb, with four fingers. Do this three times.
EFT Tapping Sequence
► Now that you are done with the Setup, continue the sequence by tapping the rest of the meridian points! From the crown of the head work downwards until the last point.
► After completing the sequence, you will feel relaxed and calm but focus on the problem again. Is it intense as it was before you started tapping? Rate it again. If it's more than 5, tap again and evaluate. You could use a different affirmation like, "Even though I still feel horrible about my shingles, I deeply and completely accept and love myself."
► Now that you've worked at getting rid of the negative feelings and emotions, you can start saying positive motivational affirmations such as:
'My skin is beautiful, supple and radiant.'
'I love my skin just the way it is.'
'Step by step my body is healing and my skin is clearing.'
EFT Phrasing: 5 Amazing Affirmations for Shingles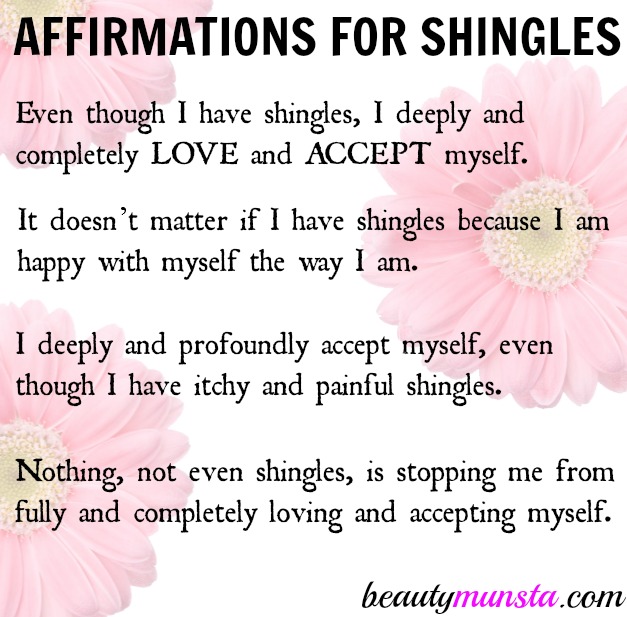 Here are 7 affirmations to get you started while doing EFT tapping for shingles. You can select one of them and keep repeating while tapping or say each of them at different meridian points. Feel free to add in your own positive statements that you feel will help you and use them! Please share some of your own affirmations down in the comments below!
1.         Even though I have shingles, I deeply and completely love and accept myself.
2.         It doesn't matter if I have shingles because I am happy with myself the way I am.
3.         I deeply and profoundly accept myself, even though I have itchy and painful shingles.
4.         Nothing, not even shingles, is stopping me from fully and completely loving and accepting myself.
And finally, the ultimate affirmation to use when EFT tapping for shingles:
5.         I love these shingles, I was wondering when I was going to get them, everyone I know has had them, I was feeling left out, I love these shingles and all they represent, and I totally and profoundly accept and love myself as I am today. (Joanne Harvey, MSW)
Things to Know While Saying the Affirmations
While voicing the affirmations, there are two main points that you must take note of. Read them below:
It doesn't matter if you don't believe in what you are saying, for example, you're saying you love yourself even though you have shingles but you actually don't love yourself with shingles. It doesn't matter, just continue saying the affirmation even though you don't believe it or you are doubtful – it won't affect anything and definitely won't slow down your healing. Now you might be wondering how it works if you don't believe or are doubtful. It's simple – what makes you doubtful or refuse to believe in the first place is the conscious mind. The conscious mind is 'rational' – it's a voice saying, 'Look at you, you've got horrible skin because of shingles – you know you're lying when you say you love yourself, you're supposed to HATE it.' But EFT tapping focuses on the subconscious mind. The subconscious mind is precious and child-like and will accept and believe anything you say, even though you say it without really believing.
You don't have to say the affirmation with conviction or feel the feelings of love and acceptance while voicing the affirmations. You can say it with a boring monotone voice or in an energetic brisk tone – it doesn't matter. As long as you are tapping the meridian points while saying them, the subconscious mind is peeking through and listening intently to what you are saying and the electromagnetic energy will flow directly through your body and work its magic.
Purification Body Mind Vibrational Remedy Lotion 3.8 oz. for Anger, Resentment made with Bach Flower Essences and Pure Essential Oils
.