Here are some of the best natural remedies for perioral dermatitis to reduce flare-ups and get PD under control once and for all!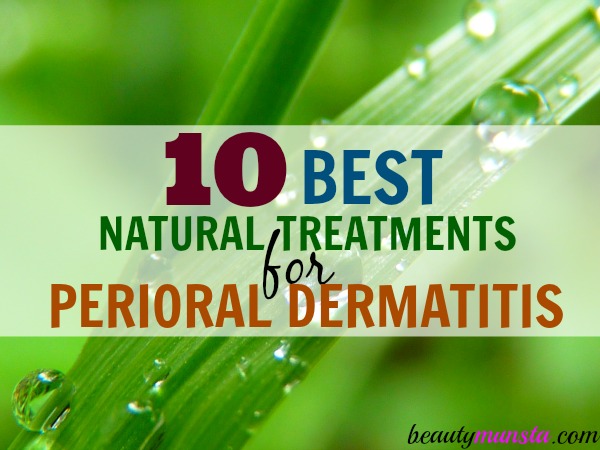 What is Perioral Dermatitis?
Perioral – around the mouth
Dermatitis – inflammation of the skin
Perioral dermatitis is a skin condition characterized by inflamed red blotchy & blistered skin with rashes, mild peeling and occasional burning and itching. According to the American Academy of Dermatology, the exact cause of perioral dermatitis is unclear although it is said to be some form of rosacea or seborrhea dermatitis. Its symptoms are similar to  inflammatory skin conditions such as eczema and acne.
Conventional treatments for perioral dermatitis, including steroids and antibiotics like tetracycline, may provide temporary relief but also come with side effects that can be nasty for some people. If you have had negative reactions to commercial perioral dermatitis medicine or just want safe and natural alternatives to treat perioral dermatitis, then check out the top 10 natural remedies and recipes listed below!
Top 10 Natural Remedies for Perioral Dermatitis
Note: This article is only for informational purposes and is not intended to diagnose or treat perioral dermatitis or any other condition. Please consult your doctor/health care professional before using any of these natural remedies for perioral dermatitis. Many of the ingredients listed below are not safe for pregnant or nursing women.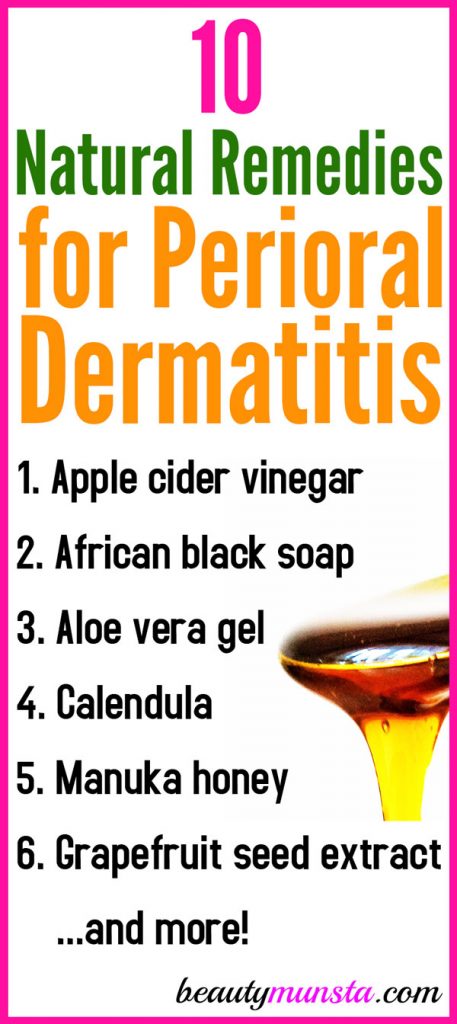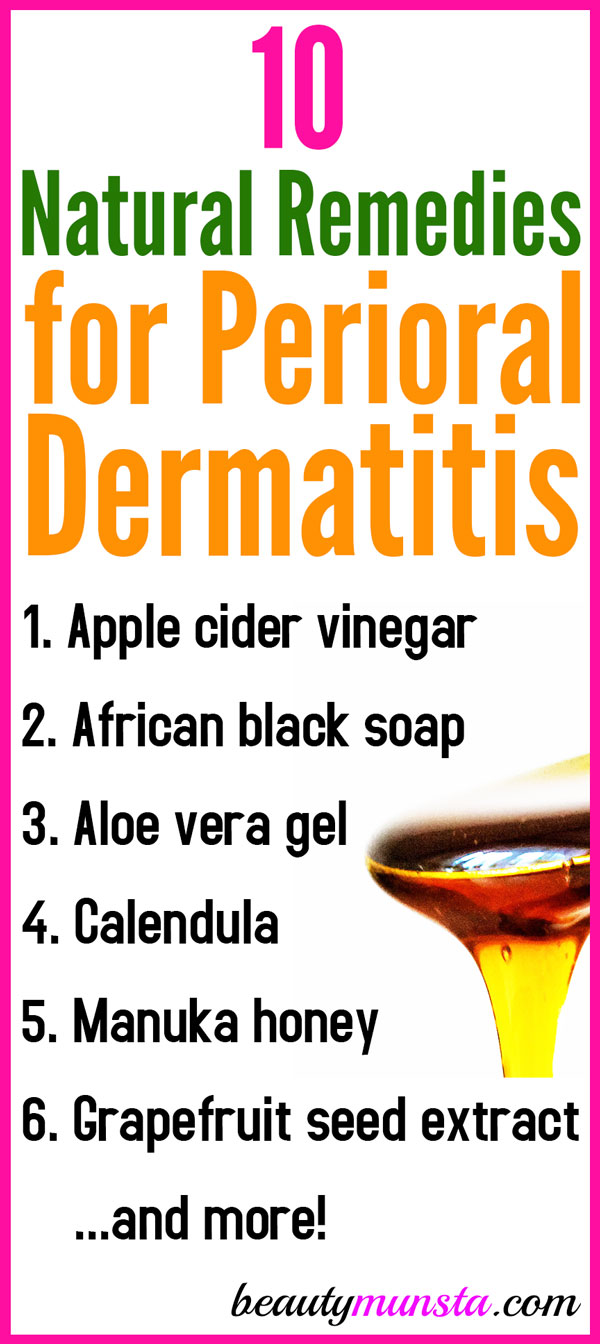 1. Apple Cider Vinegar
It might seem totally wrong applying acidic apple cider vinegar to your already inflamed, red and painful skin but organic apple cider vinegar (with the mother) is in fact the best natural remedy for perioral dermatitis. This is because it is rich in beneficial bacteria that fight off the bad bacteria known to aggravate perioral dermatitis. It also contains strong anti-inflammatory properties that reduce inflamed and blotchy red skin. Some people say apple cider vinegar dries out their PD (perioral dermatitis) but that's because they don't properly moisturize their skin afterwards! Always ensure to moisturize well – use natural moisturizers such as coconut oil or shea butter. Don't miss: 20 Beauty Benefits of Apple Cider Vinegar
Anti-Bacterial ACV Toner: Fill a 4 oz spray bottle almost to the top with distilled water. Next add 1 tsp of apple cider vinegar and 2 drops of lavender essential oil. Replace the spray top and shake well to mix everything up. After cleansing your face, mist this toner with your eyes closed. Let it dry then go ahead and moisturize.

2. African Black Soap
You might have heard of how effective African black soap is for acne but did you know that it's also a very good natural product for treating perioral dermatitis? Just like its name suggests, African black soap originates from Africa, where Nigerians and Ghanaians have been using it for centuries to cleanse their skin. Traditional black soap is made of a mixture of water, the ashes of plantain skins, cocoa pod powder and palm oil. It is very gentle on skin so it's great for cleansing perioral dermatitis affected skin. Don't miss: 12 Beauty Benefits of African Black Soap for Skin & Hair + DIY Recipes
Since the raw form of African black soap is kind of hard to use, I prefer liquid black soap that's already in a ready-to-use form. It's just like liquid face wash and it's very mild. You can try it out if you like:
3. Greek Yogurt
Greek yogurt is soothing and cooling when applied to the skin which helps calm inflammation, redness and takes away pain. It is also rich in good bacteria, making it a powerful antibacterial agent that helps eliminate bad bacteria on the skin. Don't miss: Greek Yogurt Face Mask
Greek Yogurt Face Mask: Instantly soothe and cool inflamed and painful skin using this greek yogurt face mask! Mix 1 tbsp of greek yogurt and a pinch of turmeric powder in a small bowl. Using a soft cosmetic brush, apply the mixture onto your face and leave it on for about 7 minutes before rinsing off.
4. Manuka Honey
Being a miracle cure for almost any ailment on the planet, manuka honey is one of the best natural remedies for perioral dermatitis. It is rich in powerful antioxidants and nourishing nutrients that heal and calm inflamed and painful skin. Honey is a natural skin soother and it provides instant relief to PR affected skin. Don't miss: Top 5 Manuka Honey Face Mask Recipes
Manuka Honey Face Wash: Have you heard of using raw honey alone to cleanse your face? It's incredibly effective in treating a myriad of skin problems including acne and eczema! All you have to do is store a manuka honey jar in your bathroom cabinet. Wet your face with warm water then scoop out a teaspoon and massage this onto your face for a minute. Rinse off and pat dry.
5. Aloe Vera Gel
Experience a cooling and soothing sensation on your irritated skin with pure aloe gel. It is a natural sealant which locks moisture into the skin, thereby eliminating dry skin associated with perioral dermatitis. Aloe vera is also a powerful anti-inflammatory that reduces inflammation and calms redness. Don't miss: My Allergic Reaction to Aloe Vera – Please Read
Try to look for a pure aloe vera gel with no icky artificial fragrance added to it. You can try my favorite which is from Amara Organics! Lily of the Valley Aloe Vera Gel is good too so if you find that, then you can use it!
Cooling Face Gel: Make a cooling face gel by whipping up 1/4 cup of aloe vera gel with 2 drops of tea tree essential oil with a hand held whisk. Transfer the gel into a 2 oz amber glass jar. Apply liberally on your irritated skin for relief.

6. Tea Tree Essential Oil
Tea tree essential oil is extracted by steam distillation of the leaves of the Melaleuca Alternifolia plant. It is a powerful anti-fungal and antiseptic essential oil which makes it one of the best natural remedies for perioral dermatitis. Did you know – 14 Terrific Tea Tree Oil Uses for Skin
7. Calendula
Long ago, herbalists used calendula to treat a variety of inflammatory skin conditions due to its powerful antibacterial, antiseptic and anti-inflammatory properties. Calendula speeds up healing, reduces inflammation, moisturizes skin and soothes itching. You can use calendula gel, which is very soothing for perioral dermatitis:
8. Evening Primrose
Evening primrose can be taken internally in form of supplement capsules or applied topically as an oil to naturally treat perioral dermatitis. It is rich in gamma linoleic acid, also known as GLA, which are omega 6 fatty acids that is a powerful antioxidant and anti-inflammatory agent. Read more: 10 Beauty Benefits of Evening Primrose Oil for Skin & Hair
To treat PD, get a evening primrose oil capsule and snip the edge of it with a pair of sharp scissors. Squeeze out the oil and apply it gently on your affected areas. Repeat nightly or you can even use it as your moisturizer for PD.

9. Coconut Oil
Coconut oil is an excellent moisturizer that keeps skin smooth and heals peeling dry skin. It also contains antibacterial and anti-inflammatory properties that protect the skin from germs and soothe inflammation. Check Out these Beauty Benefits of Coconut Oil on Face
10. Grapefruit Seed Extract (GSE)

Extracted from the seeds, membranes and pulp of grapefruit, grapefruit seed extract (GSE) is a popular natural remedy for perioral dermatitis and many people have used it with great results. It is a potent anti-fungal, antiseptic and anti-inflammatory agent. It also purifies the skin from deep within and fights off infection. You can take it internally or apply externally (diluted with water).
Foods to Avoid with Perioral Dermatitis

Please ensure to avoid eating hot and spicy foods like peppers, hot sauce and spices like cinnamon and nutmeg. Also, foods like sour cream, yogurt, vinegar and citrus fruits should be consumed in moderation since they aggravate the red inflamed and sensitive skin around your mouth.
More Perioral Dermatitis Info
12 Foods to Eat with Perioral Dermatitis 
7 Foods to Avoid with Perioral Dermatitis 
What Not to Eat with Perioral Dermatitis 
Soothing Relief – Shea Butter for Perioral Dermatitis