It's always fascinating for me to learn what people long ago used for soap, shampoo, moisturizers, etc because all of these things definitely did not contain any kind of chemicals whatsoever. Reading about what Cleopatra used to keep her skin flawless or what ancient Chinese women used to promote silky hair without any artificial ingredients is very inspiring for anyone who wants to be beautiful naturally.
What is African Black Soap?
Now, if you're someone who's interested in natural beauty, I'm sure you must have heard of a natural skin & hair cleansing ingredient known as African black soap. Just like its name suggests, it's from Africa – ancient women from Ghana, Nigeria and neighboring countries made this soap from all natural ingredients for clean, healthy & beautiful skin and hair! Let's look at the ingredients in local handcrafted African black soap below!
Ingredients in Local Raw African Black Soap
Traditional African black soap made by local women is made from the following ingredients: plantain skin ashes, cocoa pod leaves/powder, palm leaves, palm oil/palm kernel oil & shea/cocoa butter. That's it! Simple as it sounds, this natural soap only contains 5 basic ingredients that do an effective job of cleansing skin & hair without stripping off the skin's natural oils like conventional soaps and shampoos do.
Other optional ingredients, such as honey, shea butter, cocoa butter, etc, may be added to make the soap more healing, cleansing and moisturizing.
Below, is what each of the ingredients do to promote healthy skin:
Plantain & Palm Leaves– Has a high content of minerals and vitamins, such as iron and vitamin A & E, which are all vital for healthy skin. Vitamin E is known as the 'skin protector' and it is a powerful antioxidant while vitamin A boosts collagen production. These leaves also contain allatonin, which is also an ingredient in Shea butter that helps renew and regenerate skin cells thereby helping reduce scarring and blemishes.
Cocoa Pod – Rich in antioxidants that fight off premature aging and also contain anti-inflammatory properties that soothe eczema, acne & other inflammatory skin conditions. Also tones, firms and tightens skin as well as repairs & renews damaged cells.
Palm Kernel Oil/Palm Oil – Has a high content of lauric acid that is a potent antibacterial agent. Also contains two forms of vitamin E, tocopherol and tocotrienol, that both ward off free radicals & UV damage as well as help in cell renewal and regeneration. Palm oil also has anti-inflammatory properties and is useful in treating eczema, psoriasis and acne.
Shea/Cocoa Butter – Rich in vitamin A, E, K and essential fatty acids. Known to moisturize skin, fade dark marks, spots & acne scars as well as heal damaged skin, burns & sores. Also used to treat inflammatory skin conditions and reduce the appearance of wrinkles and fine lines.
As usual, before using African black soap, make sure you aren't allergic to any of the ingredients it contains.
Where to Get African Black Soap & How to Use
There are many versions of African black soap out there. But this natural organic & fair trade African black soap from Ghana is a gem!
The best way to use the raw version is by taking it apart, molding it into a ball (this is to make sure it's smooth without any rough edges) before lathering up your face. Be sure to create just a little lather when using it to cleanse your face (you can use a lot if using for shaving) as you do not want to dry out your skin. Rinse your face with tepid water then pat dry with a fluffy towel. Use a pea-sized amount of coconut oil/your moisturizer immediately to moisturize. That's it!
Another great way to use raw African black soap is by cutting up the block of soap into small chunks then soaking it in 1/2 cup of filtered water overnight. When dissolved, pour into a foaming soap dispenser and top with water as necessary. Pump a little on your palm, lather up and use as a facial cleanser or body wash for beautiful skin!
Something more usable and effective than the bar form is this liquid African Black Soap! Seriously, it's liquid form! Meaning you can easily put it in a pump bottle and use it as facial cleanser or shampoo! It's my new fav! You may even add essential oils for scent and other properties.
13 Uses & Benefits of Raw African Black Soap for Skin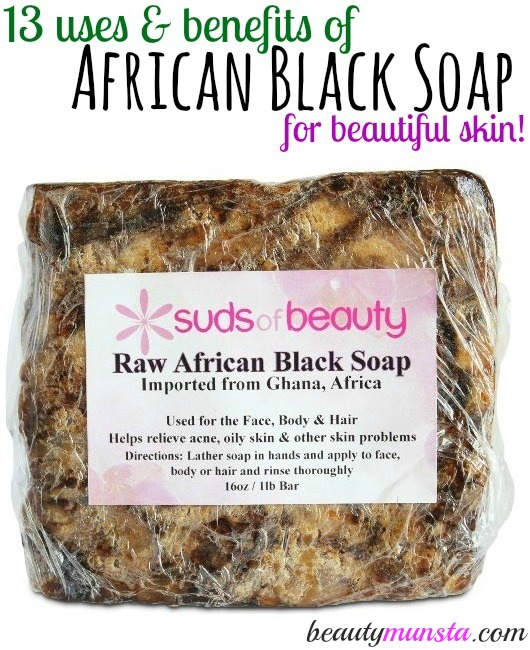 Now, from the picture above, you must have noticed this African black soap is not really visually appealing. This shouldn't bother you at all, given that many natural and handmade products may not look so good on the outside as they do not contain all the harmful chemicals and artificial colorings that give them a pretty scent and a fancy look. Though it doesn't look so pretty on the outside, African black soap does have a natural & pleasant fragrance that won't irritate even the most sensitive of skin types. It smells a lot like incense, which is itself soothing and calming. Let's look at some of the benefits of raw African black soap for beautiful skin below!
1. Cleanses Skin
Just like any other soap, African black soap does an effective job of cleansing your skin, ridding it of dirt, grime, dead cells, excess sebum and germs. However, unlike other soaps, African black soap does not completely strip your skin of its natural oils, thereby keeping it smooth and moisturized in addition to cleansing it.
2. Good for Sensitive Skin Types
African black soap is a popular choice for those with sensitive skin types that are prone to redness, rashes and other skin infections. If your skin reacts negatively to commercial soaps or even gentle soaps such as liquid castile soap, then you must try using African black soap. It contains absolutely no hidden ingredients that can irritate the skin.
3. Soothes & Heals Eczema
The ingredients in African black soap have powerful anti-inflammatory properties which soothe and calm eczema. Instead of using harsh commercial soaps and body washes for eczema, lather up with African black soap instead and notice how soothed your skin feels afterwards!
4. Reduces Blemishes & Dark Spots
One of the miraculous properties of African black soap is its ability to reduce blemishes and even out skin discolorations. The nutrient-rich ingredients have something to do with this skin lightening effect. The pure oils and butters in African black soap are rich in vitamin A, E and essential fatty acids that help lighten discolorations and reduce scarring.
5. Fights Facial & Body Acne
Need a gentle but effective cleanser for acne-prone skin? Then try out African black soap! It's gentle, contains no chemicals and is a valuable acne-fighter! It's also especially good for people with back acne. Use it twice a day to cleanse your face and body – in the morning and at night before bed for best results.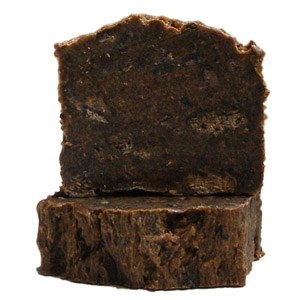 6. Calms Psoriasis
Got dry, itchy and flaky psoriasis patches? Then quit using harsh body washes and cleansers that contains skin irritating chemicals & fragrances and use African black soap instead. It's gentle, anti-inflammatory, antibacterial and has moisturizing properties as well.
7. Reduces Oily Skin
The natural cleansing and exfoliating action of African black soap removes excess sebum from deep within the pores and on the skin's surface.
8. Minimizes Fine Lines & Wrinkles
Did you know that African black soap is rich in antioxidants? Ingredients, such as cocoa, are powerful antioxidants that ward off notorious free radicals that steal oxygen from healthy skin cells which causes them to become lifeless. Using African black soap helps keep away premature wrinkles and fine lines.
9. Evens Out Dark Spots
The vitamin and mineral-rich ingredients in African black soap, such as plantain leaves & shea butter which are both rich in allatonin, help lighten and reduce dark spots and marks on the skin.
10. Unclogs Blocked Pores
If you suffer from congested pores, use African black soap to deep cleanse and purify your skin from deep within without stripping natural oils.
11. Helps Fade Acne Scars
Ingredients such as palm kernel oil as well as shea butter help moisturize skin and naturally lighten and fade out acne scars. Did you know that acne scars look more pronounced when the skin is dehydrated and flaky? Moisturizing helps reduce the appearance of acne scars and fades them faster. The exfoliating properties also help slough off dead skin that normally collects above the acne scar.
12. Soothes Razor Bumps
Use African black soap during shaving to moisturize the skin thereby minimizing razor bumps. You can also use it after shaving to soothe & calm the red skin.
13. Eliminates Fungal Skin Infections
African black soap has anti-fungal and antibacterial properties that fight off bacteria, fungus and other microbes that cause skin infections.