Do you know how amazing African black soap is for your body? Check out 12 amazing beauty benefits of African black soap in this article!
What is African Black Soap?
African black soap is a type of soap that has been made and used by African women for centuries. It's made using all natural ingredients and it cleanses skin really well. The basic recipe consists of these main ingredients: cocoa pod ash, plantain peel ash, camwood, palm oil and water. Other ingredients such as shea butter or cocoa butter can be added to give it a more moisturizing effect.
Today, African black soap is exported from West Africa to the outside world. People rave about it because it's all natural and has so many gorgeous benefits for the skin and hair.
Where to Get African Black Soap
There are many types of African black soap out there: some are the true all natural recipes but many are store-bought versions that are manufactured in factories and contain chemical additives found in normal soap. I recommend you look for authentic African black soap to reap it benefits. The original African black soap doesn't look so appealing – it's chunky, discolored (brown & black) and comes in a shapeless form. BUT don't judge a book by its cover because this soap is truly wonderful for you!
I like this cheap but true Raw Organic Pure African Black Soap from Natural Cosmetics. It comes in blocks that make 1 pound (16 oz). You can buy Dudu Osun African Black Soap.
I also love, love love, LIQUID AFRICAN BLACK SOAP! It's so convenient and easy to use since it comes in liquid form. You absolutely don't need to spend time breaking your blocks of African soap into chunks. It's like ready to use African black soap. I recommend this 16 oz bottle of Raw Organic Liquid African Black Soap by Incredible in Nature.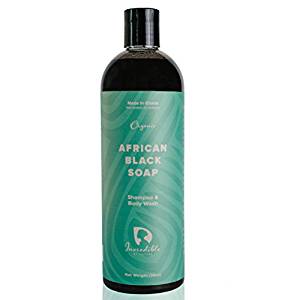 12 Beauty Benefits of African Black Soap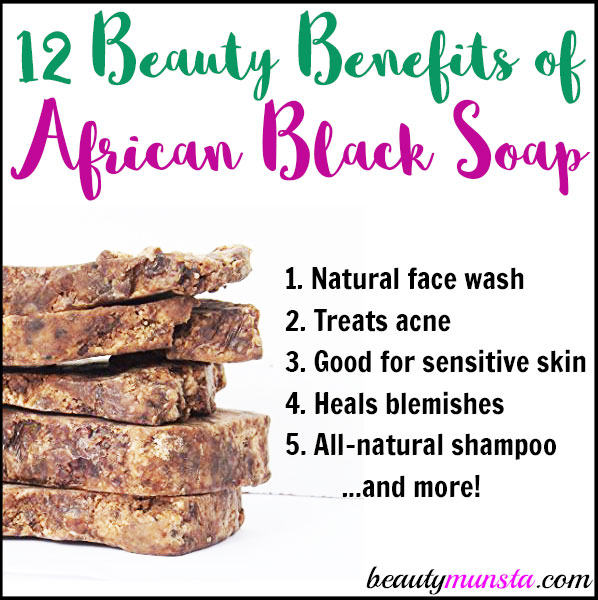 1. Cleanses Facial Skin
You can use African black soap to cleanse your precious facial skin. It deeply purifies skin and removes dirt and stale oils. Here's how to make a DIY African black soap face wash:
2. Treats Acne Prone Skin
Got acne prone skin? Ditch conventional face washes and use black soap instead! Simply follow the above face wash recipe but instead of vitamin E oil, add argan oil since this is non-pore clogging and more suited to acne prone skin.
3. Good for Sensitive Skin Types
If you have easily irritated skin that turns red when you use any kind of product, then African black soap is for you! It is very gentle yet leaves skin clean and fresh.
4. Treats Eczema
Eczema sufferers have to be careful when choosing soaps and body washes. I have a good DIY Eczema Body Wash on the blog. But African black soap is also a good product to use as a body wash too. Here's a recipe for body wash starring black soap:
DIY African Black Soap Body Wash: Go to the recipe here.
5. Reduces Oily Skin
Stop being a Grease Face by using African black soap to clean your skin! It is not alkalinic like store-bought facial cleansers and it helps balance out the skin's pH and sebum production. This helps reduce over oily skin.
6. Heals Blemishes
Whether it's acne scars, dark spots, black marks, black soap is going to help you. Regularly using it as a face wash or body wash helps lift off dark dead skin that covers the top of the blemish.
7. Acts as a Natural Shampoo
Yup, you can concoct your own natural shampoo using African Black Soap! It leaves the scalp and hair feeling and looking clean, soft and silky. Try my recipe:
8. Treats Fungal Infections
If you suffer from fungal skin infections, scalp fungal infections, nail fungus, yeast infections, then use African black soap in form of DIY shampoo and body wash. Get the recipes above.
9. Deep Cleanses Pores
You can make a pure-purifying facial mask with African Black soap! The recipe is as follows:
DIY African Black Soap Facial Mask: Simply break off a tiny chunk of the African black soap and place it in a bowl. Now pour 1 tbsp of hot water and let it dissolve. Once dissolved, add 2 tsp of baking soda, 1 tsp of raw honey and 5 drops tea tree essential oil. Mix well then apply onto your face and neck in gentle circular motions. Let it sit for 15 minutes then rinse off well. Behold squeaky clean skin that glows!
10. Minimizes Wrinkles
The ingredients used to make African black soap contain powerful antioxidants. These antioxidants fight off free radicals that create wrinkles by stealing oxygen from healthy skin cells.
11. Prevents & Soothes Razor Bumps
Use African Black Soap as a shaving soap to prevent razor bumps and bumps! It's gentle, leave your skin silky and has a cleansing effect on the pores. Mix in a foaming soap dispenser bottle: 1 part liquid African black soap, 2 parts distilled water and ½ part grapeseed oil. Shake well and use as a shaving soap.
12. For Psoriasis

When you have psoriasis, using normal store-bought soap is a no-no. You're supposed to use medicated soap to prevent irritating your skin. But even medicated soaps can be harsh and drying on skin! So if you're into DIY and natural stuff, make a cleansing and healing DIY Body Wash by combining 1 cup liquid African black soap, 2 cups distilled water, 2 tbsp vegetable glycerin and 2 tbsp vitamin E oil in a foaming soap dispenser bottle. Store in the refrigerator. It will last 1 ½ months.
Hope you enjoyed reading these 12 Beauty Benefits of African Black Soap! Be sure to try out the recipes I've provided and come share with me your results! xoxo