Beautymunsta.com brings you 12 ballistic beauty benefits of baobab oil, a precious oil that offers a lot for beautiful skin, hair and more!
The baobab tree is native to Africa. Many ancient African fables and poetry mention this majestic tree that can live for up to 6000 years! In these fables, spirits are said to dwell in the hollowed interiors of the tree.
The tree is also known as 'Tree of Life' because its nutrient-dense fruits act as nourishing food in the dry season. These trees also store gallons of water in their vast trunks, which is why elephants, elands and other animals chew on the bark during the dry season.
Baobabs also produce fruits that are said to be one of the most nutritious foods on earth. Baobab powder, made from the fruits contains more antioxidants that any other fruit in the world, and is being touted as an amazing superfood today.
But the fruit has also been used to produce another extraordinary product: baobab oil. African women have used this oil for centuries as a natural source of vibrant beauty!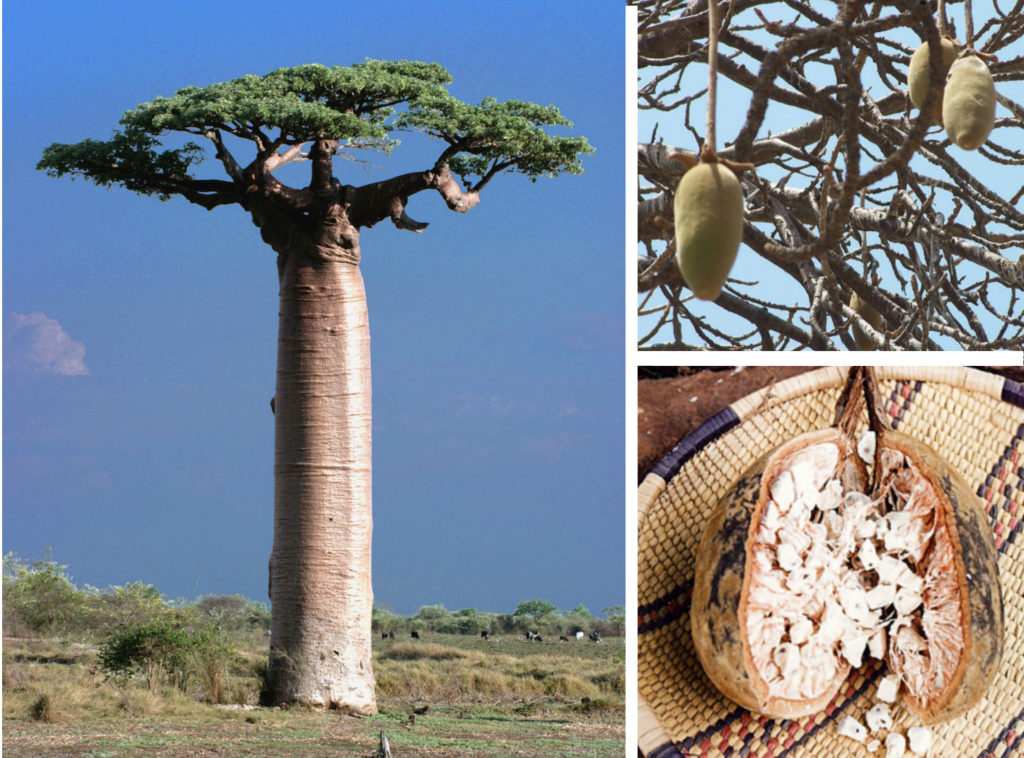 Let's explore the ingredient profile then move on to the beauty benefits of baobab oil!
Baobab Oil Profile
♥ Scientific Name:
Adansonia digitata
♥ Other Names:
Baobab oil is also known as baobab seed oil
♥ Origin:
The baobab tree is native to Africa, where African women used the fruit from which the oil is extracted for natural beauty & health purposes
♥ Color and Smell:
Baobab oil has a golden yellow color. Its scent is light and slightly nutty
♥ Texture:
Baobab oil has a silky and smooth texture on skin. It is easily absorbed and has a non-oily feel.
♥ Shelf Life:
2 years
♥ Comedogenic Rating:
2
♥ Precaution & Tips:
Pregnant/nursing women should consult a doctor before using baobab oil.
Before using it, do a patch test by applying a drop of baobab oil on your inner arm. If there's irritation within 1-2 hours, do not use the oil.
Do not ingest baobab oil. It is for external use only.
Components of Baobab Oil
Baobab oil contains all the three omega fatty acids: omega 3, 6 and 9. It is also rich in exotic fatty acids that are rare in other oils. Some of them include:
Dihydrosterculic acid
Malvalic acid
Sterculic acid
Baobab oil also contains:
Arachidic acid
Linoleic acid
Oleic acid
Palmitic acid
Stearic acid
Vitamin A
Vitamin D
Vitamin E
Vitamin K
12 Beauty Benefits of Baobab Oil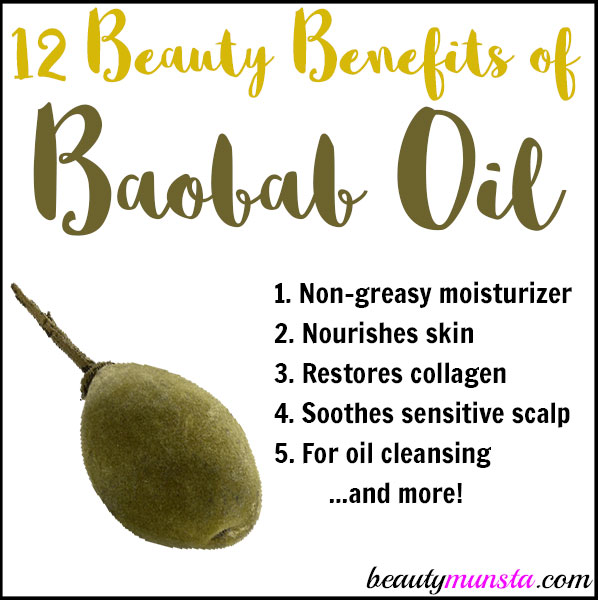 1. Non-Greasy Moisturizer
Baobab oil has a silky smooth texture. It doesn't leave a greasy coat on the skin, but instead sinks right into it. If you're looking for a light easily absorbing oil, baobab should be one of your first choices.
2. Nourishes Skin
This exotic oil has a boatload of nutrients, did you notice?! It's rich in Vitamin A, E, C, D and K plus is filled with omega 3,6 and 9 fatty acids! All these nutrients sink deep into the skin and nourish the skin cells. This promotes optimum function of skin cells, maintaining healthy skin.
3. Rejuvenates Damaged Skin Cells
Whether your skin has been damaged by the sun, use of too many harsh skin care products or feels sensitive and looks inflamed, baobab oil is here to help. First off, it contains very many nourishing nutrients that heal skin from deep within. Secondly, it's anti-inflammatory properties will do their best to reduce inflammation and reduce redness.
4. Restores & Boosts Collagen Production
Baobab oil has copious amounts of Vitamin C! This is exciting news for anyone looking for ageless skin! Vitamin C is THE vitamin for anti-aging, some my say. That's because it stimulates collagen production in the skin and promotes restoration of collagen in aging skin. You can combine baobab oil with collagen-boosting essential oils to get youthful beauty:
5. Oil Cleansing
The nice and light texture of baobab oil makes it a great oil for oil cleansing! Oil cleansing is a method of washing your face using oils and hot water. Though it sounds counterintuitive, it actually works very marvelously. The good and healing oil (or oil blend) is massaged onto dirty skin then a soft washcloth is wrung out in hot water and dabbed onto the skin. This allows the good oil to go deep inside and push out the stale oils and gunk stuck in the pores. Make an oil cleansing blend recipe with baobab oil:
DIY Oil Cleansing Method Recipe: Fill a 4 oz amber PET plastic bottle halfway with jojoba oil. Now add 2 tbsp of baobab oil. Also add 5 drops of sea buckthorn oil. Close the bottle and shake well to mix everything up. Store in your bathroom cabinet. Massage a few drops of the oil on your face then proceed with the oil cleansing method.
6. Eye Serum
Keep your under eye skin looking youthful by using baobab oil as an eye serum. You can make a gentle anti-aging eye serum as follows:
Anti-Aging Eye Serum: In a 1 oz glass dropper bottle, add 3 tsp of baobab oil and 2 tsp of jojoba oil. Now add 3 drops lavender essential oil. Shake well. Apply just a drop under each eye using your ring finger (this finger puts the gentlest pressure).
7. Massage Oil
Want a nourishing skin healing massage oil? Try baobab! It has a great texture that feels silky smooth on skin and it leaves skin non-greasy but moisturized at the same time.
8. Good for Oily Skin
Due to its linoleic acid (omega 6) content, baobab oil is a good choice for oily skin. People with low linoleic acid levels in their skin have more oil production. So consider combining baobab oil with other oils high in linoleic acid to manage your oil production.
9. Anti-Inflammatory Properties
Eczema, psoriasis, rosacea and other inflammatory skin conditions can be naturally treated using baobab oil. You can apply a suitable amount on affected areas right after a shower/bath. Apply it on wet skin for best results.
10. Soothes Sensitive Scalp
If you have a sensitive, easily irritated and inflamed scalp, consider making a healing hair oil using baobab oil:
11. Promotes Glossy Hair
Don't shy away from using baobab oil on your lovely locks! It absorbs seamlessly into hair, making it look glossy and silky!
12. Reduces Stretch Marks
Baobab oil is also good for reducing and preventing stretch marks. It's high vitamin content helps with this. It preserves the skin's elasticity and is said to stimulate collagen and elastin synthesis under the skin to heal stretch marks.
Where to Get Baobab Oil
Baobab oil is definitely something you should have in your arsenal of beauty oils! I like and recommend 100% Pure Cold Pressed Baobab Oil from Renewalize. It comes in a 4 fl. oz dropper bottle.