Going vegan is great for your health and weight, but are you aware of the beauty benefits of going vegan?
Are There Any Beauty Benefits of Going Vegan?
Everyone knows veganism is incredible for health, great for our animal friends and amazing for the environment.
But maybe you're still not motivated enough to go vegan yet? Well, you need to take a look at the BEAUTY benefits of going vegan – it might just be the last push you need to take the plunge!
7 Beauty Benefits of Going Vegan
Once you go vegan, you'll notice immediate effects on the state of your skin, hair and even your mood and mindset!
Here are some of the beauty benefits of going vegan: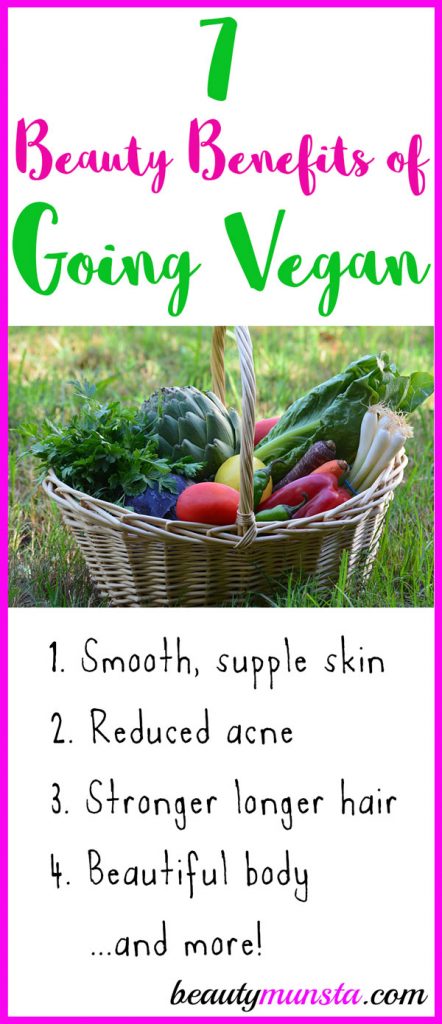 1. Smooth, Supple Skin:
When you go vegan, you'll automatically be drinking a lot of water since you'll be conscious about getting healthier. But what's more, in a plant-based diet, you'll be eating lots of water-rich foods such as melons, cucumbers, and other fruit which are rich in alkaline water. Vegans call this "eating your water" and this alone gives you amazing beauty benefits. Proper hydration makes your skin more moisturized, less dry, smoother and more supple and healthy-looking.
2. Reduced Acne:
We know that meat and dairy products actually aggravate and cause acne to form. Dairy products like cheese and ice cream and meat products all create an acidic state in the body and cause inflammation which can manifest as acne and pimples. By going vegan you completely eliminate this problem and this does wonders for healing acne. People have healed so many skin conditions by going vegan such as eczema, a rash-like condition that doctors haven't found the cause for!
3. Stronger, Longer Hair:
A vegan diet is rich in nutritious vegetables and fresh greens. Almonds, sprouts, lentils, kale and spinach are just some of the foods vegans consume on a daily basis. Bustling with vitamin B, vitamin K, potassium, selenium, omega 3 fatty acids and more, these are nutrients that your hair LOVES. This can help you get stronger, longer and shinier hair within 2 weeks!
4. Thicker Eyelashes:
Are you craving for thicker eye lashes? The numerous vitamins, minerals and nutrients in vegan foods can help you grow thicker eyelashes which are the epitome of a beautiful face! Other vegan remedies for thicker eye lashes include applying castor oil on them, which has worked so well for me!
5. Beautiful Body:
By going vegan, you expel high calorie junk foods as well as saturated fats from your diet. Eliminating meat, animal fat and fattening diary from food intake automatically cuts down calories from your life. This will help you tone down your weight and give you a leaner, fitter body, which is one of the indicators of beauty and health! Eating lots of plant-based foods also helps flush out toxins and excess water retention (edema) from your body, helping you look less bloated and lighter and fresher!
6. Better Nails:
When you lack nutrients because of eating a Standard American Diet (SAD), your nails are going to be brittle, dull and rough looking. Imagine eating coffee and toast for breakfast; chicken and fries for lunch and spaghetti and meat balls for dinner (not to mention countless refined, packaged snacks in between). Yes, your tummy will get filled up, but that kind of eating is devoid of nutrients! On a vegan diet, you'll be eating more fresh, plant-based foods that are full of nutrients. This will help you turn around the health of your nails and make them stronger and healthy-looking!
7. Anti-Aging Effects:
As we get older, we become more concerned about looking younger! After all, looking youthful is a huge factor in looking beautiful, right?! On a diet filled with meat, white carbs and toxic foods that rampage your body cells, you'll actually be speeding up the natural process of aging. This is why we have so many young people actually looking older. Premature wrinkles and aging can be averted with a vegan diet. Plant based foods are rich in antioxidants, which fight the free radicals that wreak havoc on our cells. I mean, haven't you seen the pictures of 70 year old vegans that barely look 21?! They are a true testimony of the beauty benefits of going vegan!

What beauty benefits have you experienced by going vegan? Please share below – they might motivate others go vegan too!