Coconut oil is beloved all around the world today. It has so many health uses. Now let's look at the particular beauty benefits of coconut oil on face.
Also known as copra oil, coconut oil is an edible oil that comes from the kernel of coconuts collected from the coconut tree or palm. The mined oil can be used for cosmetic products as well as for cooking.
In its natural state, the scent of coconut oil is the same as the scent of the coconut fruit itself. Fractionated coconut oil is the most used type for skin care and cosmetics.
Coconut oil has been in existence for thousands of years. Although coconut fruit has been used widely in Arica, India, Central and Southern American regions for years, it did not receive the name coconut until the 1600s. The subtropical and tropical regions form the nature habitats for coconut palm.
Coconut oil assumes a whitish color when it is in it solid form, but it is colorless at temperature greater than 30°C. Also, coconut oil has a melting point of 25°C. When is beaten with a little quantity of water it forms a white mixture, or else, it is not soluble in water at room temperature. In addition, coconut oil has antifungal and antibacterial properties. It is a good moisturizer too.
Beauty Benefits of Coconut Oil on Face
Coconut oil can be used in different ways to enhance the face. So let's check out the beauty benefits of coconut oil on face:
1. Facial Cleanser
One of the most popular beauty benefits of coconut oil on face is that it can be used as a face cleanser. Naturally, coconut oil contains antifungal and antibacterial properties and it's good for atopic dermatitis. It serves as a good moisturizer for the face. In applying the coconut oil, rub the oil on your face in a circular motion, with a gentle but thorough massage and that is it! However, it should be noted that if you are prone to acne, avoid this method of applying coconut oil, unless you are sure of your skin's tolerance to coconut oil.
Don't miss: DIY Soap-Free Facial Cleanser Recipe
2. Lip Moisturizer
Coconut oil can also be used as a moisturizer for the lips after exfoliating. Simply use some coconut oil to dap your lips to make them moisturized and shiny. You can use an organic lip balm made from coconut oil or use your own do-it-yourself (DIY) blend.
For Pouty Lips: DIY Lip Plumper Recipe with Peppermint and Cinnamon!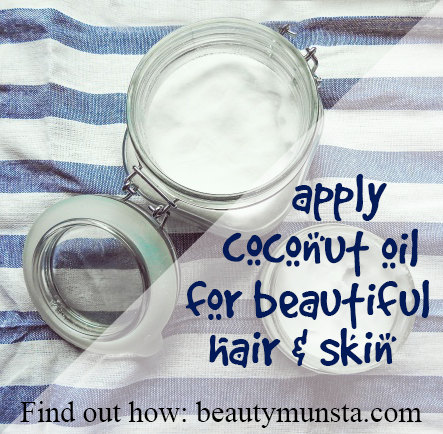 3. Face Highlighter
You can as well use coconut oil as a highlighter for the cheeks. You can give your face a little highlighter by applying a decent amount of coconut oil on your makeup then leave it to dry. It will appear like your skin and will glow. This is probably the reason why some makeup brands use coconut oil as part of the base ingredients for their makeup products.
Pamper Your Skin: Homemade Serum for Glowing Skin
4. Makeup Removal
Coconut oil can also be used as a makeup removal – it will even remove mascaras that are waterproof. Simply apply a bit of the oil on your makeup. You can use a cotton ball to apply it. Coconut oil can be used to remove inky and waxy makeups while it leaves the parts that are delicate hydrated. Wash your face after applying the oil as makeup removal.
Make Your Own: DIY Eye Makeup Remover
5. Add Pout to Your Lips
Furthermore, you can add glamour to your pout with your DIY coconut oil tinted gloss. To prepare this, just mix an old lipstick with a little quantity of coconut oil then apply to the lips. Should your lips require more Total Lip Coverage (TLC), firstly scrub the lips to exfoliate them. Mix some brown sugar with honey, then use a soft toothbrush to apply the mixture on the lips in a circular motion to exfoliate them. Allow the mixture stay on your lips for a while before wiping them off with a damp cloth.
More Lip Care: DIY Manuka Honey Lip Balm | Heal & Moisturize Chapped Lips
6. Reduction of Wrinkles
Coconut oil has also been found to be effective for reducing facial wrinkles. There is a protein called collagen in the inner layers of the skin, which helps the skin become elastic. When this collagen breaks down, it needs to be repaired to avoid wrinkles and that is exactly what coconut oil does – it helps in the rejuvenation of collagen, thus improving wrinkles.
Don't Miss the Miracle: Coconut Oil and Baking Soda for Wrinkles
7. Oil Cleansing
One of the best oils to use to cleanse the face is coconut oil. In fact, it is the recommended oil for the process of oil cleansing. Oil cleansing is a soap-free technique of washing the face where coconut oil is massaged onto the face and a muslin cloth is dipped in hot water, wringed and placed over the face. This process is repeated 3 – 4 times to totally clean and exfoliate the face. Oil cleansing with coconut oil is much more beneficial than using soap. It is also more effective at removing grime and toxins from deep within the pores.
Oil Cleanse Like a Pro: 6 Oil Cleansing Method Recipes for All Skin Types
Can You Use Coconut Oil on Face Skin?

Most people are concerned about using coconut oil on the face for a number of reasons. Some people are concerned that coconut oil may tan the face – but it's actually has sun protection factors and can protect against UV rays.
Some people are concerned that coconut oil can cause acne. While it's true that coconut oil has a high comedogenic rating (tendency to clog pores), many people use coconut oil and face no acne problems. You'll have to try and see how your skin reacts to coconut oil. But if you have acne-prone skin, it's best to stay away from applying coconut oil on face.
Where to Buy Coconut Oil
When it comes to your face, you want to make sure that you are only applying the safest and best products. I recommend you use organic, cold pressed coconut oil from trusted sources like