Find out 7 beauty benefits of soap nuts in this post! When I first heard of soap nuts I was intrigued! They're all natural and sustainable cleaning products that form a lather just like soap. You can use them many times before discarding.

What are Soap Nuts?
Soap nuts are also known as soap berries. They originate from India and Nepal.
Soap nuts come from the soap nut tree (scientific name: Sapindus mukorossi). The fruits are small black berries, about one inch in diameter. To get soap nuts, the berries are deseeded and dried in the sun which forms a dry shell.
The dry shell is what you buy as soap nuts. They are not actually nuts, so don't worry about being allergic to them if you're allergic to nuts.
Why are they called soap nuts? Because they act like soap! Yes, that's right! Ancient Indians have been using them to wash their hair, clothes and bodies for ages.
When dried and boiled, they create a liquid that is soapy and forms a lather. Here's how to make soap nuts liquid:
How to Make Soap Nuts Liquid for Beauty
Pound or grind up 10 soap nuts using a mortar & pestle or coffee grinder. This helps release more saponins as compared to just using the soap nuts whole.
Add the soap nuts powder to a pot followed by 1 ½ liters of water. Boil the water for 30 minutes.
Turn off the heat and let it cool down completely before straining it into a jar with a muslin cloth. You can actually add the muslin cloth wrapped with the soap nuts in the washer for one load of laundry.
Store the soap nuts liquid in the refrigerator for up to 2 months. If you want to make a smaller batch, then use these measurements: boil 2 soap nuts for every one cup of water.
Use the soap nuts liquid in the following ways:
7 Beauty Benefits of Soap Nuts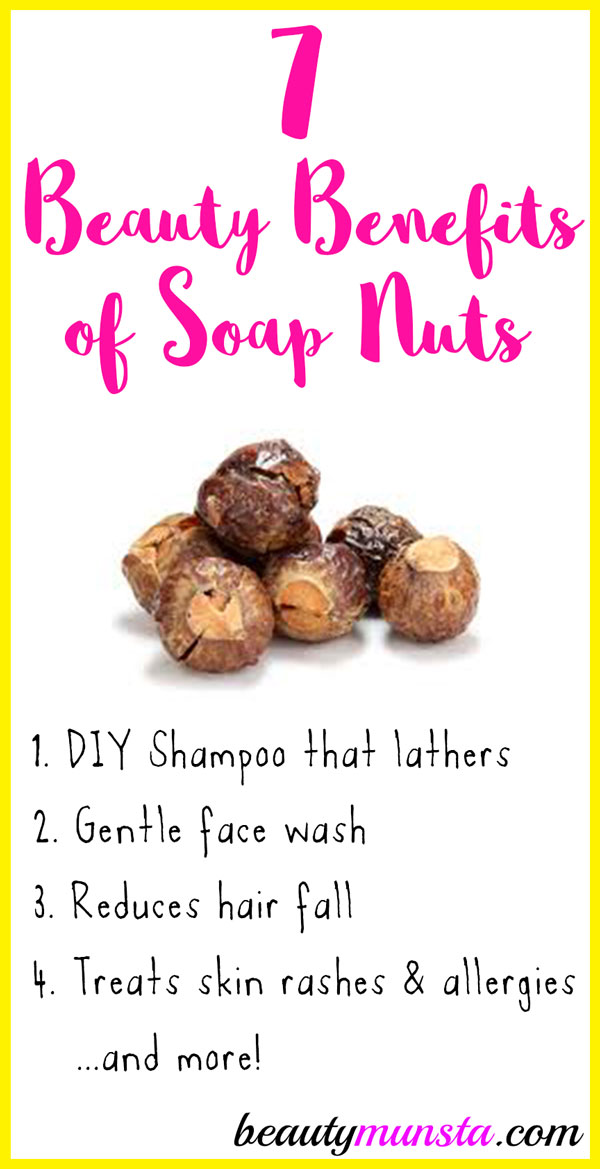 1. Natural Shampoo that Lathers
This is by far the best beauty benefit of soap nuts! Since ancient times, the number one use of soap nuts has been for hair care. These nuts are rich in saponin, which is a natural cleansing agent. It's also what makes soap nuts form a lather.
Cleansing Soap Nuts Shampoo: Prepare soap nuts liquid as described in the above section. Now add 1 and ½ cups of water to the mixture. Finally add 1 tbsp baking soda and 7 drops rosemary essential oil (promotes hair growth and a healthy scalp). Shake well to mix everything up and use as shampoo! Afterr rinsing off the shampoo, pour an apple cider vinegar rinse on your hair (2 tsp apple cider vinegar in 2 cups water). When your hair is damp, you can use a tiny amount of coconut oil as a leave in conditioner.
2. Gentle Face Wash
Using soap nuts as a face wash is a wonderful way to limit the amount of chemicals you use on your face on a daily basis. A soap nut face wash is very gentle on the skin and can be used on people with sensitive skin, rosacea, eczema and psoriasis.
Gentle Face Wash: Pour ¼ cup soap nuts liquid (how to make instructions above) into a foaming soap dispenser then top with ½ cup distilled water. Next add 3 drops tea tree essential oil and 3 drops lavender essential oil. Shake well. Use twice: in the morning and at night time.
3. Treats Skin Rashes & Allergies
You know how skin with rashes and allergies is irritated even more when using store-bought cleansers/soap? That's because these cleansers tend to strip all of the skin's natural sebum away – leaving it feeling stiff, tight and dry. But soap nuts do not leave skin feeling dry! They actually helps treat and soothe allergies. Soap nuts are also hypoallergenic and non-toxic! You can even use it for babies.
Simply combine ¼ cup of soap nuts liquid in a foaming soap dispenser then add ½ cup distilled water. Gently soap up the affected area or your entire body and rinse off with cool water. Your skin will feel refreshed and soothed!
4. Reduces Hair Fall
In Ayurvedic Indian medicine, soap nuts is a herb that's recognized for its hair loss preventing benefits. If you've been experiencing hair loss, please try soap nuts as a shampoo! You can use the shampoo recipe I shared in point 1 above!
5. Cleansing Foot Soak
Instead of using soap in your foot soak/pedicure next time, use soap nuts liquid! It leaves your feet soft and smooth! Just add ¼ cup of soap nuts liquid to a tub of warm water then add 1 tsp coconut oil. Soak your feet for 15 minutes.
6. DIY Jewelry Cleaner
Want to clean expensive jewelry without tarnishing it? Use soap nuts liquid! Simply place your jewelry in a bowl then pour in 1 tbsp of soap nuts liquid and fill the bowl with water. Let it soak for 20 minutes then gently scrub with an old toothbrush.
7. Get Rid of Yellow Nails
Yellow nails are unsightly, there's no doubt about that. But if you want to remove those stains gently without making your nails brittle, try soap nuts liquid!
Yellow Nails Soak: Simply add 2 tsp to a large bowl then top with warm water. Add a squeeze of a whole lemon as well and ½ tsp olive oil. Soak your nails for 10 minutes then scrub gently with a nail brush. Behold sparkly white nails!

How have you used soap nuts in your beauty routine? Share below!