Use this homemade serum for glowing skin and get amazed by the results! Your skin will become radiant and supple!
It's easy to achieve glowing skin right at home by making your own homemade serum using skin brightening oils. These are some of the carrier oils and essential oils for skin brightening that we shall be using in this recipe:
Argan oil: This smooth golden oil is one of the best for skin brightening. It makes skin silky soft and smooth as well as gives it a youthful appearance.
Rosehip oil: Extracted from rosehips, rosehip oil is excellent for promoting wrinkle-free and scar-free skin. Yes, it helps fade away all sorts of scars, revealing fresh glowing and soft skin underneath!
Sesame oil: Sesame oil is got from sesame seeds and believe it or not, it's one of the cheapest skin brightening carrier oils out there! It helps brighten and lighten the skin tone while keeping skin supple and elastic.
Lemon oil: Possibly the best essential oil for skin lightening, lemon oil promotes skin lightening, skin brightening and skin whitening. It also boosts collagen production.
Geranium oil: This oil balances the skin sebum production, thereby maintaining the right amount of sebum on the skin. Geranium oil beautifies skin and increases collagen as well!
Also Read: 11 Carrier Oils for Skin Brightening, Skin Lightening and Get the Glow: 7 Essential Oils for Skin Brightening
Homemade Serum for Glowing Skin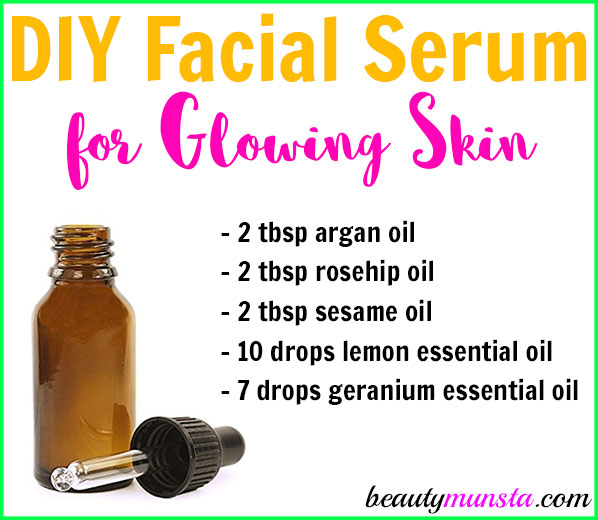 What you Need
Directions
Using a small funnel, add 2 tbsp of argan oil, 2 tbsp of rosehip oil and 2 tbsp of sesame oil into your amber glass dropper bottle.
Next carefully add 10 drops of lemon essential oil and 7 drops of geranium essential oil.
Close the bottle and shake well to mix up all the oils.
Your homemade serum for glowing skin is ready! Store in a cool dry place. It can last for more than a year, if handled and stored properly without contamination.
Use only at night time by massaging about 4 drops all over your clean face.
Remember to only use this homemade serum for glowing skin at night time because it contains photosensitive lemon oil that shouldn't be worn on skin that's exposed to sunlight! Here's to glowing skin!