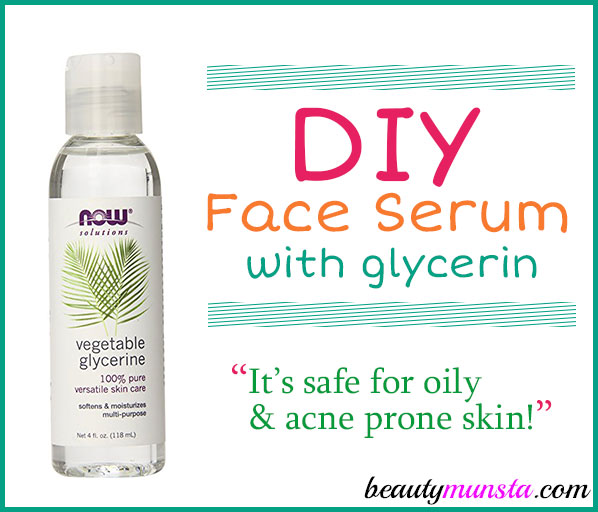 Face serums are skin care products that people use to deliver powerful nutrients into the skin. They keep skin looking fresh, glowing and youthful. Serums are supposed to be used right before moisturizing your clean skin.
They can be moisturizing since they use ingredients that hydrate skin. However, if your skin is oily, a serum can act as a moisturizer, without you needing to add another layer of moisturizing product!
Today, we're going to be looking at a DIY face serum recipe with glycerin! Glycerin, or vegetable glycerin as it's also known, is an amazing product for skin. It's cleansing as well as moisturizing and feels refreshing on skin. It can be added to any of your DIY skin care products including face wash, moisturizer and face serum! Pure vegetable glycerin is naturally derived from vegetable oils. It's also non-comedogenic, meaning it's safe to use for oily or acne prone skin types because it won't clog up pores!
Before we move onto the recipe, I want to put a small note on which kind of vegetable glycerin you should purchase. You should buy 100% pure non-GMO vegetable glycerin, without any additives. Some vegetable glycerins out there in the market are made from GMO vegetables, that make them unsafe for skin in the long run. If you're looking to buy vegetable glycerin online, I'd recommend Now Foods 100% Pure Vegetable Glycerin. It's non-GMO and a trusted brand!

Now let's move on to the DIY face serum recipe with glycerin!
DIY Face Serum Recipe with Glycerin
Note: This DIY face serum recipe is safe for oily and acne prone skin types! I added geranium essential oil because it is skin balancing and even fights hormonal acne! It also boosts collagen production which is super beneficial for youthful skin!
What you need
Directions
Into an amber glass dropper bottle, pour in the measured quantities of pure aloe vera gel and vegetable glycerin. Do this with the help of a funnel.
Now add the rose water and argan oil.
Lastly add the geranium essential oil.
Cap the bottle then shake well to mix up all the ingredients.
Store your DIY face serum in a cool dry place.
To use, place about 2-4 drops on your palm then rub both palms together and apply on your face right after cleansing (and toning, if you do it). Massage it in then apply your usual moisturizer. If you have oily or acne prone skin, then you can try using the serum as a moisturizer! It's hydrating and nourishing on its own! But if it's not that moisturizing for you, use a moisturizer like shea butter.
So that's it! Try this DIY face serum recipe with glycerin and get ready for glowing and wrinkle-free skin!