Learn how to moisturize oily skin naturally with 6 helpful tips and recipes!
Do you really need to moisturize oily skin? Yes, you do! All types of skin needs to be moisturized to balance out oil production. Imagine you don't moisturize oily skin – you just wash your face with your usual face wash then pat your face dry and leave it just like that. Many people do this to dry out their face. But this actually makes your skin to go into an overdrive to make up for the lost oils and start producing even more oils and you'll find your face greasy by the end of the day!
Can you moisturize oily skin without making it look greasy and gross with breakouts? Yes, you can! By selecting your oils carefully (see below)and making your own face creams and serums to regulate your sebum production, you can manage oily skin beautifully! Below, I'll show you how to moisturize oily skin naturally:
How to Moisturize Oily Skin Naturally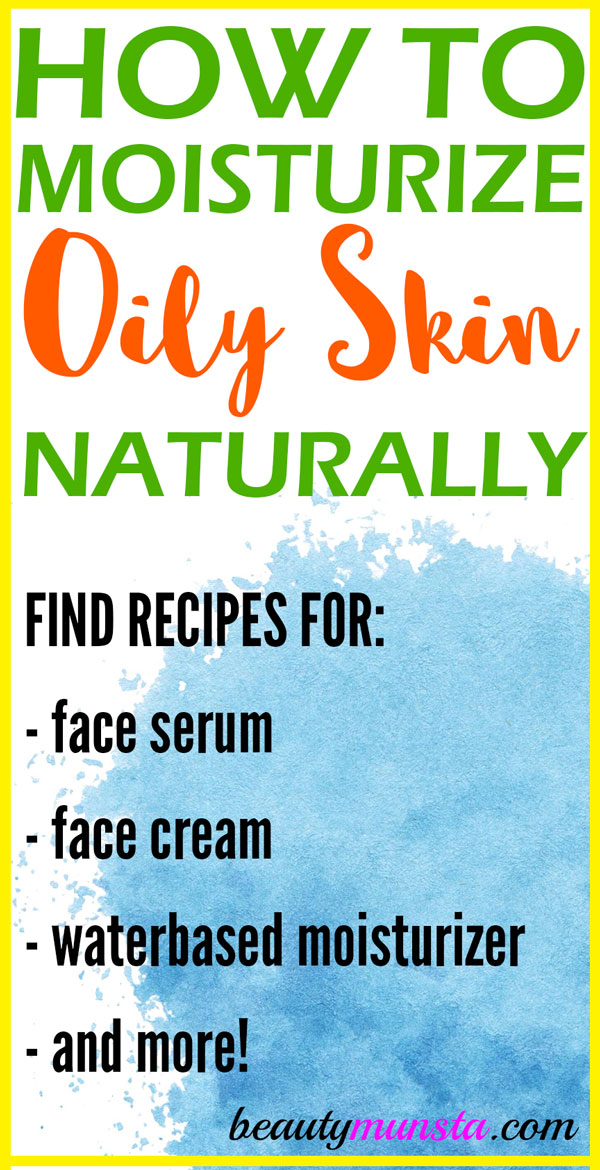 1. Select an Oil(s) Good for Oily Skin
You can moisturize your skin with natural oils even if you have oily skin. It doesn't mean that oils are only for moisturizing dry skin. The only thing is, you have to know which kind of oils you need! There are two main factors to consider here:
The comedogenic rating of an oil: This is a scale from 0-5 showing how much an oil can clog up pores, with 0 for 'absolutely won't clog pores' and 5 for 'will definitely clog pores'. Choose oils with a comedogenic rating of 0-2. To be safe, invest in oils that have comedogenic ratings of ZERO. These include: argan oil, hemp seed oil, sunflower oil, shea butter (not exactly an oil but an excellent moisturizer), prickly pear oil, safflower oil, watermelon seed oil and others.
Is it a 'dry' oil or 'heavy' oil? Dry oils exist. These oils are those that when you apply on your skin, do not leave it feeling oily, or greasy but sink in rapidly, leaving your face 'dry'. Heavy oils on the other hand when applied, do not sink in your skin which leaves a heavy greasy feeling on your skin. Dry oils you should consider include hemp seed oil, moringa oil, grapeseed oil, apricot kernel oil and rosehip seed oil.
Oils rich in linoleic acid: These include black seed oil, evening primrose oil, sunflower oil, argan oil, rosehip oil, etc. People with acne prone and oily skin have little to no amounts of linoleic acid in their skin. This makes their sebum thick and sticky, causing a greasy face and breakouts. Linoleic acid makes skin produce high quality sebum that is not thick and sticky. Read more: Top 10 Carrier Oils High in Linoleic Acid
2. Make your Own Face Serum for Oily Skin
Face serums are nourishing products that deliver powerful nutrients into your skin. Make a sebum-regulating face serum to balance out excess oils on your skin! You will need some oil control essential oils and 'dry' oils for this serum recipe!
What you need:
1 oz moringa oil
2 oz grapeseed oil
10 drops lemon oil
5 drops rosemary oil
5 drops tea tree oil
5 drops cypress oil
4 oz amber glass dropper bottle
Directions:
Pour the oils into your amber glass dropper bottle using a small funnel.
Cap tightly and roll the bottle gently between your palms. Do not shake. This is to combine the oils without creating air bubbles that can make your oils go rancid quicker.
Apply 3-4 drops on your face after moisturizing and toning.
3. DIY a Face Cream
Make your own face cream with good ingredients that won't grease up your face or cause breakouts! You can try this nice face cream recipe for oily skin:
What you need:
¼ cup shea butter *doesn't clog pores
1-2 tsp argan oil
4 drops tea tree oil
4 drops geranium oil
4 drops lavender oil
Small amber glass jar
Bowl & whisk
Directions:
Place ¼ cup of shea butter into a bowl then add 1-2 tsp of argan oil.
Beat the mixture with a whisk to make it silky and creamy.
When that consistency is achieved, scoop it up into a small amber glass jar.
Store in a cool dry place.
To use, scoop out a pea-sized amount and dot it all over your face.
Massage it in and voila! Your face has been moisturized naturally!
4. Use a DIY Water-Based Moisturizer
If you're wary of using oils on your face, try making your own water-based moisturizer! I have a recipe for it on the blog! Go here:
5. Try Oil Cleansing
The Oil Cleansing Method is a popular all-natural way of cleansing your face – using oil! Don't get scared! It actually works because the good oils you use help push out the bad oils stuck within your pores, together with dirt, dead cells and other impurities. The oils also help regulate your sebum production, deeply moisturize skin cells and help keep skin youthful!
What you need:
3 tbsp hemp seed oil
3 tbsp moringa oil
4 tbsp sunflower oil
Bottle for storage
Directions:
Combine the oils in an clean bottle in your bathroom cabinet.
Gently massage 1/2 to 1 tsp of the oil blend onto your face for a minute or two to dissolve dirt and excess sebum on your skin and within the pores.
Next get a washcloth and wring it out under hot water.
Press the washcloth on your entire face to open pores and allow the oils to sink in.
After you do this, wring out the washcloth again in hot water then close your eyes with your head tilted back and put the washcloth on your face. You're gently steaming your face at this step.
Now wipe off the excess oils from your face with the washcloth then splash cold water to close off pores.
Voila! Your skin will feel cleansed, moisturized and supple!
6. Make Moisturizing Face Masks
Face masks are great ways to provide extra nourishment deep into your skin cells. By making a moisturizing face mask, you will pump up your skin cells with much-needed moisture so that your skin is not dehydrated in the inner layers. Remember skin that looks oily on top can actually be thirsty inside! So moisturizing face masks can help locks in moisture and nourish skin cells at the same time!
One moisturizing face mask I love and recommend is as follows:
What you need:
1 tsp water
2 tsp brown sugar
1 tsp raw honey
Small bowl
Your skin care oil (can use hemp oil, argan oil, jojoba oil)
Directions:
Begin by mixing the above ingredients in a bowl till well combined.
Next, apply your skin care oil onto your face.
Using clean fingers, scoop up the mixture you created in step one and gently apply it all over your face (don't scrub!), avoiding the area around the eyes.
Leave it on for 5 minutes then rinse off with cold water.
Pat your face dry and voila! Your skin will be moisturized and hydrated from deep within!

In which of the ways above are you planning on moisturizing your skin naturally? Share below!